Do you remember that one person who never needed sleep, ever? Of course not, because that person never existed! There's a popular phrase that mentions, "Sleep is for the weak." But this phrase is just flat-out wrong. Healthy lifestyles involve healthy amounts of sleep.
Beds come in many different shapes and sizes. Have you considered getting a new bed in the near future? If so, then you may be wondering which choice would work best for your lifestyle. This choice is going to change your life. And we're here to help you make that choice.
Just how many types of beds are there? And what are their dimensions? Which bed is the best for your particular sleeping situation? Do you have the answers to these questions?
Don't worry about a thing. We've got you covered, just like the sheets on a mattress. All of the vital information will be coming right up. And stay tuned for more in-depth details of each bed!
A Quick Low-Down On The Beds
What is one of the most important factors when choosing a bed? If you said "size," then you're absolutely correct. How big is your room? Will more than one person be sleeping in this bed? Are any pets sleeping on it? Size matters! Let's take a quick peek at those dimensions.
Crib (28" X 52")
For: infants and toddlers
Twin Bed (38" X 75")
For: toddlers, children, and single adults
Twin XL Bed (38" X 80")
For: toddlers, children, and single adults
Full Bed (54" X 75")
For: children, single adults, couples, and single adults with pets or children
Full XL Bed (54" X 80")
For: children, single adults, couples, and single adults with pets or children
Queen Bed (60" X 80")
For: children, single adults, couples, and single adults with pets or children
King Bed (76" X 80")
For: couples, couples with children, and couples with pets
Split King Bed (38" X 80")(38" X 80")
For: couples, couples with children, and couples with pets
California King Bed (72" X 84")
For: couples, couples with children, and couples with pets
So, were you able to get a basic idea of what kind of bed you're looking for? We sure hope so. Maybe you have a handful of options in your head. Next up, we'll be going over the fine details of each bed. Ready to learn a little more?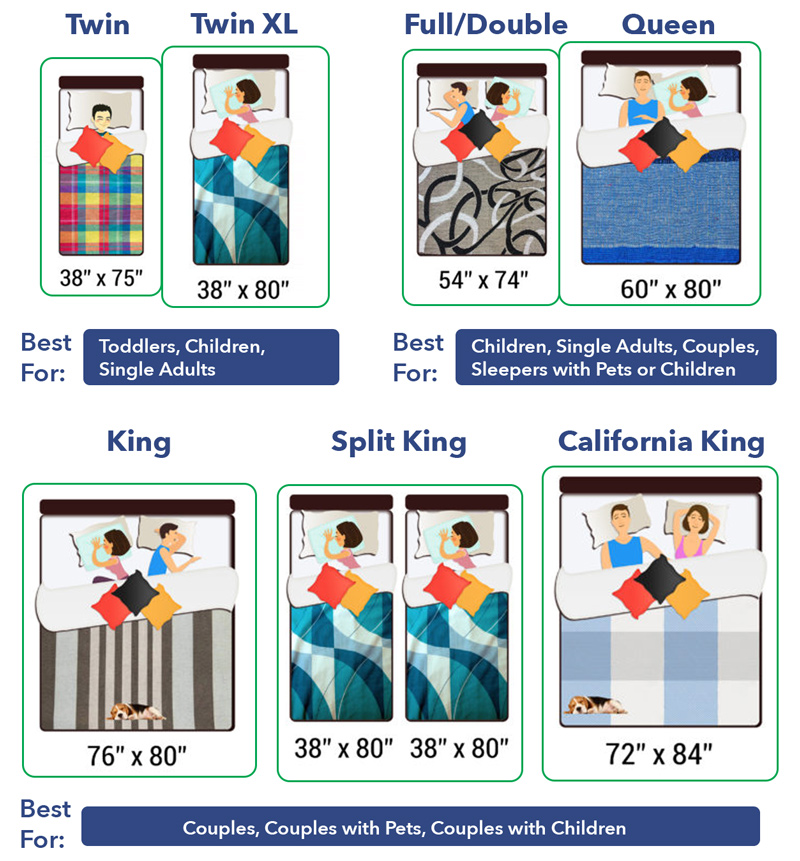 Cribs: For The Little Ones
The dimensions for cribs are 28" X 52". And this size is the same throughout the industry. What does this mean for you? It means that, no matter which crib mattress you get, it's going to fit in your crib. That takes a little bit of stress out of shopping.
Ready for some more good news? Here we go: toddler beds have the same dimensions as cribs. And what exactly does this mean? It means that you will have no problem making the transition from a crib to a toddler bed whenever the little one is ready. You can use the same mattress.
But what's the difference between a toddler bed and a crib? Basically… a toddler bed is a crib without the high rails. Do you need a crib? If so, you should consider the long-term. Look for a crib that can be easily-changed into a toddler bed.
Twin Beds & Twin XL Beds
Twin beds are 38" X 75". This is the smallest size you can get for adult mattresses. But twin beds aren't just for adults. Children who have outgrown their toddler beds will be comfortable in a twin bed. Talk about versatility!
If you're a single adult living in a small room or an apartment, then this bed will probably do the trick for you. You can easily optimize your available space with a twin bed. Also, twin beds are typically lightweight and easy to move. Many of them come with wheels or folding options.
But what if you're a bit on the tall side? If this is the case, then you should consider a twin XL bed. These beds are 5" longer than their counterparts, with dimensions of 38" X 80".
Here's a piece of important information: make sure that your bed frame matches with your mattress choice. For example, the XL mattress isn't going to fit in the frame of a standard twin bed. Use caution when you're purchasing one of these.
Full Beds & Full XL Beds
Full beds can also be called double beds. Their dimensions are 54" X 75". So, what is the ideal sleeping situation for a full bed? Well… these beds work great for children, single adults, and couples. Also, a full-grown adult can sleep comfortably with a child or a pet on this bed.
Full beds can fit a variety of sleeping situations. But the most common is that of the active, single sleeper. Do you move around a lot when you're in bed? A full bed will allow you to do just that, without falling overboard. You'll have plenty of space to spread out.
Just like twin beds, full beds have an XL option. The bigger version is 54" X 80", and is for people who are a little taller than average. Just be sure that you pay attention and make sure that your bed frame and mattress size actually match. You won't be able to fit a full XL mattress on the standard-size full bed. And you don't want to lose sleep over a bad shopping decision.
Queen Beds: Super Popular
Queen-size mattresses are the most popular in the United States. Their dimensions are huge compared to the previously mentioned beds. Queen beds are 60" X 80". And what kind of sleeping situation can you expect out of a queen bed? Well… children, single adults, and couples can all sleep comfortably on this massive mattress. Couples who are sleeping with children or pets may find a queen bed a bit crowded, though.
If you have a small room, then you shouldn't consider a queen mattress. Your room should be at least 10' X 10' if you want a queen bed to fit comfortably. This is a minimum, but it's actually recommended that you have 12' X 12' of room space.
If you're a tall person, you won't have an issue with a queen bed. Let's assume you're 6' tall. Even if you're completely stretched out, you will still have 8" of space left. Not too bad, right? Queen beds are just as long as the XL versions of the twin beds and full beds.
King Beds & Split King Beds
King beds are absolutely monstrous. Their dimensions are 76" X 80". If you plan on getting one of these bad boys, make sure you have a room that's at least 12' X 12'. You're going to need all of that space if you want something on your floor other than the bed itself.
King beds are just as long as queen beds, so tall people will have nothing to worry about. But king beds are 16" wider than queen beds. This leaves you with loads of space for all sorts of sleeping arrangements. Couples will be able to sleep comfortably on this bed. Kids and pets will be able to tag along too. King beds are the same size as 2 twin XL beds side-by-side. That's huge.
But what are split king beds? Basically… all together, these beds are the same size as your typical king bed. Here's the thing: split king beds use two same-sized mattresses beside each other. Each mattress is 38" X 80". What kind of sleepers will use this option? It's ideal for 2 sleepers who have different sleeping styles. Each mattress can fit the need of the individual.
California King Beds: The Biggest Of Them All
That's right… California king beds are the biggest in the market. They're 72" X 84". You're going to need at least 12' X 12' of space in your room to properly fit one of these kings. And who are these beds for? Well… they're for multiple sleepers who may toss and turn a bit. Couples with children or pets will be able to sleep comfortably on this monster.
It's good to keep in mind that the California king bed is longer than a typical king bed. But it is not quite as wide as the standard. Tall people will have no issues on this bed. You could very-well fit your family on this bed. Just be sure that your room has enough space.
It should be stressed that this bed is mainly for very tall people. We're talking 84" in length, which is 7'. With this in mind, you may be able to see that the California king bed really isn't that popular of an option. Most people looking for a king bed will go with the standard size.
Some Questions To Ask
So, have you found a bed that works best for you and your lifestyle? We have some important questions that you should ask yourself before venturing out on your next sleep expedition. Choosing a bed is a life-changing decision, and it's one that shouldn't be rushed. If you can confidently answer these questions, then you should be well on your way to a solid decision.
How big is your room? This question is a big one. Beds come in all different sizes. And you'll want to leave some space in your room for objects other than your bed.
Will you have to move other items in your home? This is another great question to consider. This new bed could end up changing your entire furniture setup. You'll want to put some serious thought into this before making a decision.
How are you going to get the mattress inside the room? You don't want to have a huge hassle when it comes to moving everything. Is the room in a cramped hallway? It could be difficult getting a California king-size mattress through that space.
Do you plan on moving soon? You'll need to take this into consideration. How difficult is it going to be in order to get that new bed setup? Remember that it will be that difficult to move it into a new home as well.
What is the price? You'll want to stay within your budget. Having a good sleep is very important. But being able to financially provide for the other aspects of your life is just as important.
Will you be comfortable? This could be THE most important question to answer. In the end, it's all about the comfort. Sleep is important. Most people will spend a third of their days in bed. Be sure that you test the mattresses out before making a final decision.
In Conclusion…
Sleep is not "for the weak." Sleep is what helps us maintain our strength and sanity. But not all sleep is equal. Different strokes move different folks. There are many different kinds of beds out there. But how can you be sure that you're picking the best one for your specific situation?
There are many things to consider before getting a new bed. And one of the most important aspects of a bed is its size.
The dimensions of your bed are going to play a huge role in your life. Is the bed going to actually fit in your room? How about the people or pets who will be sleeping on the mattress? Are they going to fit comfortably? These questions will need to be answered before a decision is made.
You should also consider the price of the different beds. Sure, sleep is important, but don't start pulling money out of your food-funds. Twin beds and full beds give similar experiences as queen beds and king beds, but at a fraction of the cost. Look for an easy balance.
So, what did you think? Do you feel confident in your abilities to make a decision when it comes time for a new bed? We sure hope so. If it's a good life you want to keep, be sure to pay close attention to your sleep!