Helix has a variety of different mattresses that you can use at your home. The mattresses that Helix has to offer include an assorted array of choices that cover all the unique sleeping needs you might have. You'll need to look well at what Helix offers, as the company makes many versions of their bed based on the sleeping position you prefer and whether you want something that is firm or soft.
Regardless of what you choose, you will find that the Helix mattress provides a good body that features a mix of both coils and foam. The comfortable design that isn't too hard for you to sleep on either. This review will help you identify many of the intriguing aspects of the Helix mattress that makes it a popular choice for many sleeping needs.
Who Would Like This Mattress?
People interested in a mattress that fits both their sleeping habits and their firmness preferences
People who get warm when sleeping
People of all sizes
Big and tall clients who need something a little larger
Combination sleepers
Who Wouldn't Be Interested In This Mattress?
People who aren't interested in beds that feel bouncy
Those who might struggle with trying to clean off mattresses
Things To Note
You'll come across many things in this Helix mattress review. Here's a look at what you will notice in this report:
Construction
Multiple Firmness Options
Edge Support
Sleeping Style Points
Body Temperature Considerations
How Does This Work For Couples?
Sizes and Dimensions
Base Points
Prices
Added Points
Construction
The Helix mattress is a hybrid model that includes both foam surfaces and coils. A five-part layout is used on this mattress to help provide it with the shape and feel you deserve:
1- The Soft Touch cover on the top features a plush surface that is also stitched to allow enough air to flow through the mattress. The design keeps you from being too hot.
2- The top layer features Helix's Dynamic Foam. This is a latex-like surface that features various small air pockets to all air to move through. You will experience a slight bit of a bounce off of the foam surface.
3- A layer of polyfoam appears in the next part. The foam adds a slightly more durable body that keeps you comfortable while sleeping.
4- A series of innerspring coils are near the bottom. Each coil is individually pocketed, thus ensuring the coils will conform to your natural shape.
5- The DuraDense foam base layer produces a sturdy base.
Multiple Firmness Options
An important point to note about the Helix mattress is that it comes in many forms. You can get a Helix mattress in a soft or firm style. Each individual mattress is designed with specific sleeping patterns in mind as well. These are based on how the foam cells in the mattress are arranged. Here's a look at the types of mattresses you can get for your sleeping needs:
1- The Sunset mattress is a soft mattress for side sleepers. The mattress uses a layout that provides extra pressure relief while you sleep. The design can take in high amounts of pressure produced by the reduced amount of physical contact you make with the surface.
2- The Moonlight mattress is a soft one for back and stomach support. The design provides a body contouring layout with the top and middle layers being optimized to support your lower back and hips.
3- The Midnight bed is a medium-feel mattress for side sleepers. The design adds a slightly firmer body without going too far.
4- The Dusk bed also comes with a medium feel, but this one is for back and stomach sleepers. The foam is a little denser in this model.
5- The Twilight mattress is the first of the firm ones from Helix. The foam layers are dense and will not produce a sinking feeling. The Twilight bed is best for side sleepers and can handle the heaviest weight concentrations possible.
6- The Dawn mattress is the last general choice to see. This is another firm mattress, but this offers back and stomach support with the top and middle segments being optimized further.
7- You can also look at the Nightfall mattress if you are a larger person. The Nightfall mattress is for big and tall users. The mattress offers a medium firmness and uses an added layer of high-density foam to support larger people.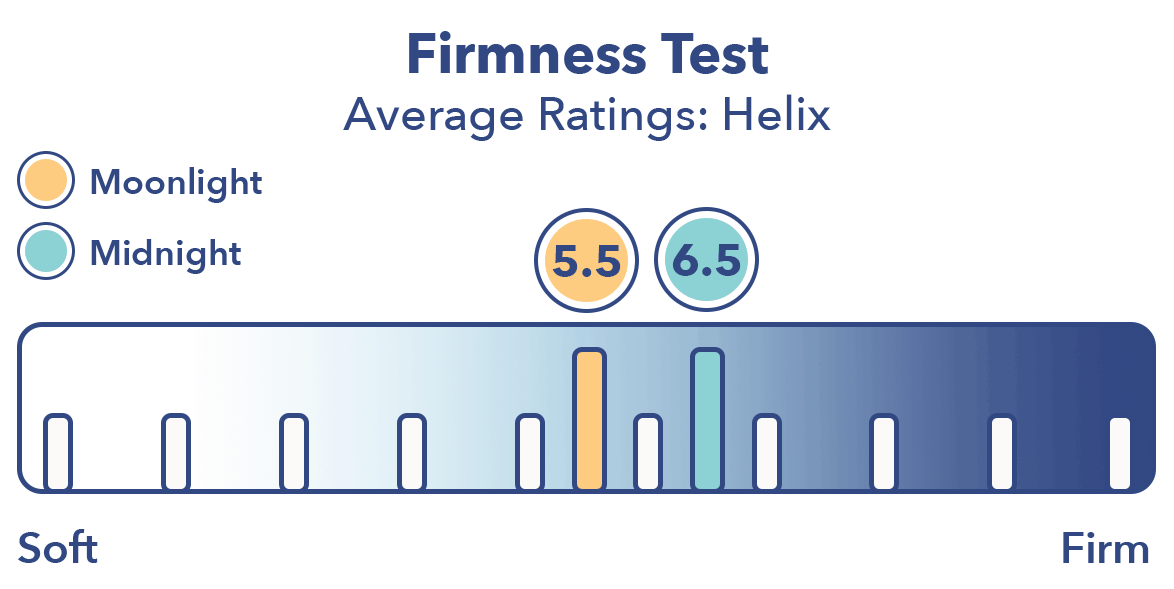 Edge Support
The coils on the outside parts of the mattress are reinforced a little more than the ones in the middle. The added reinforcement ensures the mattress will keep you in place without possibly slipping off of the surface.
Sleeping Style Points
Your sleeping style should dictate which bed you want to sleep on. For side sleepers, the Sunset, Midnight, and Twilight beds are best.
Back sleepers will find that the mattress provides enough lumbar support. Still, you should look for a model that fits your specific sleeping needs.
A stomach sleeper will enjoy the firmer versions of this mattress. The Dusk and Dawn mattresses are especially perfect.
The good news is that these mattresses are perfect for combination sleepers of all sorts. The mix of foam and coils will ensure you will feel comfortable surfaces.
Body Temperature Considerations
You will keep your body temperature down when you sleep on the Helix mattress. The hybrid design of the mattress and the comfortable and breathable cover ensure you'll stay cool throughout the night. You won't have to worry about feeling sweaty when using the mattress.
The cover on the top of the mattress does well with keeping you from feeling too hot. You even have the option to wash the cover in a machine if necessary.
How Does This Work For Couples?
The assorted variety of Helix mattresses for you to choose from will provide you with a comfortable space for sleeping. But you should also look at how you and your partner sleep based on position. The good news is that the mattress will prevent motion transfer from being a problem. The individually wrapped coils ensure that your mattress will not cause the other person in bed to be bothered by any unwanted movements.
Sizes and Dimensions
The sizes of the Helix mattress are laid out based on the width, length, and thickness of the bed in inches:
Twin – 39x75x10
Twin XL – 39x80x10
Full – 54x75x10
Queen – 60x80x10
King – 76x80x10
Cali King – 72x82x10
The Nightfall version of the bed will be larger regardless of which size you want.
Base Points
You can add the Helix mattress to any base or surface you have in your home. Make sure the mattress is sized up to the appropriate base though. Also, the bed is compatible with adjustable bases.
Prices
The prices for the Helix mattress are listed in this segment. The prices are consistent for the many variants you can look for. These values are also listed without discounts, although the company does offer various special deals throughout the year. All values are in American dollars, which is important as the product is also available for sale in Canada:
Twin – $600
Twin XL – $700
Full – $850
Queen – $995
King – $1,245
Cali King – $1,245
The Nightfall bed also costs extra. The Nightfall model ranges from $700 for a twin size to $1,440 for a Cali King size.
Financing is available for all purchases through Klarna. A 24-month financing plan is available with interest depending on the plan and how well you pay off the mattress cost. Be sure to review the terms surrounding such a plan for your payment use.
Various special offers are available, including deals like 10 percent or more off of an order. You can also qualify to get a free addition to your order, like two extra pillows.
Added Points
There are a few other things to look at when finding the Helix mattress for your needs:
A 100-night sleep trial gives you the opportunity to see how well the Helix mattress works for yourself. You will get a full refund if you decide to return the mattress before the trial period ends.
You can ask for Helix to remove your old mattress from your home, but this costs an extra $150.
A 10-year warranty is included on each Helix mattress.
All Helix mattresses are made in the United States.
You can get the mattress delivered to your home for free in three to seven business days. Free shipping is available within the continental United States. Shipping is also available to Alaska, Hawaii, and Canada, but it costs extra for those places.
A Final Word
You should see what the Helix mattress has to offer for your sleeping needs. You will love how well the Helix mattress feels as you relax after a long day. The variety of bed choices you can get from Helix will also do well for when you need something that is comfortable regardless of whether you need something soft or firm.