Brooklyn Bedding designed its Aurora mattress as a means of providing something soft and easy to sleep on. But the most essential part of the Aurora mattress is that it helps you to stay cool.
The Brooklyn Bedding Aurora mattress features numerous proprietary technologies that will keep you cool and comfortable all night long. The mattress also comes with a sturdy body that will not wear out as quickly as you might expect. Take a look at how well this mattress works when you're aiming to find a solution that fits your needs.
Who Will Love This Mattress?
Those who tend to get hot when sleeping
People who like a bouncy bed surface
People who need help with relieving pressure
Anyone who needs a bed that can fit one's foundation or support system
Combination sleepers
Who Won't Enjoy This Mattress?
Anyone looking for a bed that is a little warmer
People who don't want their beds to be far too responsive
Things to Note
There are many things that you will discover in this Brooklyn Aurora review. Here's what you will read about in this guide:
Construction
What Is TitanCool?
The Three Firmness Ratings
Edge Support
Considerations For Sleepers of All Types
How It Handles Your Temperature
How Clean Is the Mattress?
For Large or Small Sleepers?
Points For Couples
Sizes and Dimensions
Support Consideration
Price Points
Additional Things For Consideration
Construction
The Brooklyn Aurora mattress is a hybrid model that features a combination of memory foam and pocketed coil surfaces. Here's a look at how the Aurora mattress is built:
 A smooth top weave appears at the top of the mattress. The weave uses Brooklyn's TitanCool system.
A 1.5-inch CopperFlex foam surface will conform to your body's movements. The foam features insured copper to provide a comfortable and flexible surface while also reducing your body heat.
 A 2-inch TitanFlex elastic foam surface appears next. TitanFlex foam features a small cell body that responds to your movements in moments.
 A 1-inch Swirl Visco-Elastic memory foam material supports enhanced contouring. The compression support makes this a popular feature of the mattress.
 A series of 8-inch Quantum Edge coils are included. The Quantum Edge coil system entails pocketed coils that provide full physical support. The coils on the sides offer extra reinforcement. The total number of coils will vary based on the size of the mattress, but the largest sizes come with more than a thousand of these coils. These are evenly laid out around the surface.
 A 1-inch base support foam appears on the bottom. The foam reinforces the coils as they compress, thus producing a firm body that stays intact and will not wear out quickly.
What Is TitanCool?
The TitanCool system on the top weave of the Brooklyn Aurora mattress will keep your body cool throughout the night. TitanCool is a phase change molecule infusion that uses cooling gel beads inside the top weave. The gel beads liquefy at high temperatures and solidify when it gets cooler. The surface will control how warm your skin feels. The TitanCool layer goes well with the copper support inside the mattress to keep you comfortable throughout the night. The layer is ideal for those who sweat at night and struggle to try and keep cool.
The Three Firmness Ratings
You have three firmness ratings to choose from when getting this quality mattress to work for you. These are diverse options that provide different ways for you to feel comfortable and to stay relaxed when you're aiming to get to sleep:
 The Soft option has a firmness rating of 3. The Soft surface is perfect for side sleepers and provides extra pressure point relief for your convenience.
The Medium option features a firmness of 5. The mattress is ideal for combination sleepers. The contours around the layout feel comfortable, but you will still get the support you need.
 The Firm choice has a rating of 7. The Firm mattress is best for those who need added lumbar support while sleeping.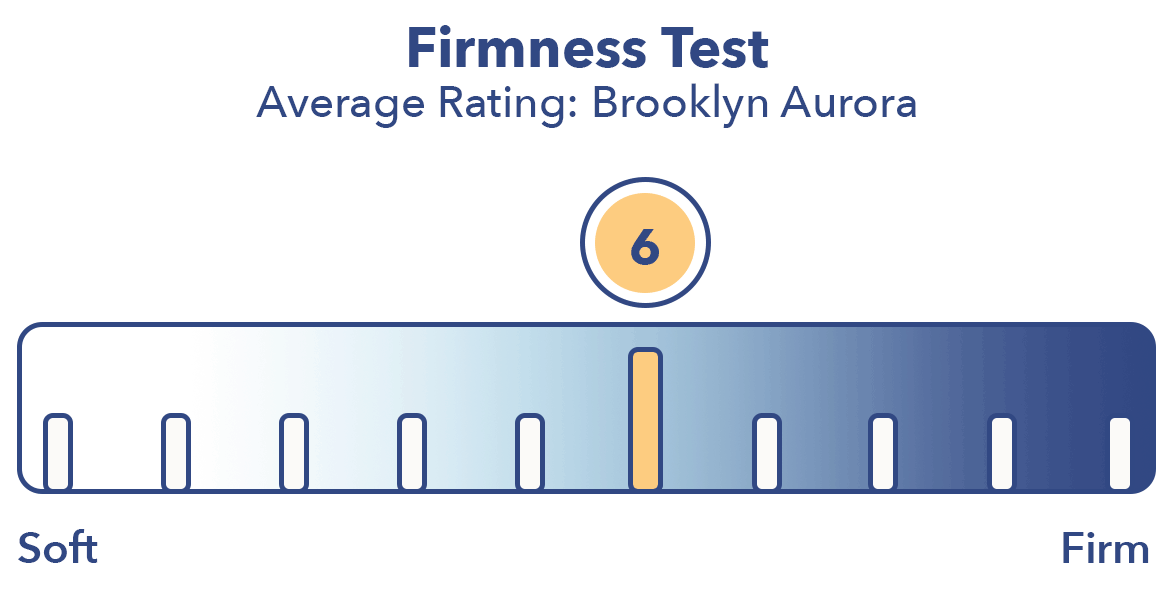 Edge Support
The Quantum Edge coil system provides a series of solid and firm coils on the ends. These coils are organized to provide a better surface for resting. The design ensures you'll have an easier time staying on the bed.
Considerations For Sleepers of All Types
Combination sleepers will have an easier time sleeping on the Medium Aurora mattress. The surface offers a comfortable texture without feeling rough on your body as you're trying to get some rest.
 Side sleepers will also enjoy the Medium Aurora mattress. The Soft model is also useful for those who want something a little deeper. These two versions of the Aurora mattress will relieve the pressure in the hips and shoulders.
 Stomach sleepers will prefer the Firm option. The design keeps the hips from sinking far too much.
 Back sleepers will benefit from any firmness option they may want to utilize. The back sleeper will enjoy how the pocketed coils will keep the body aligned.
How It Handles Your Temperature
The TitanCool surface on the Aurora mattress ensures your skin temperature is kept down to a cool 88 degrees Fahrenheit. Your average skin temperature is already at 91 degrees. Keeping the temperature down to 88 will provide you with an optimal sleep environment, thus helping you feel restored as you wake up. More importantly, you will not start to sweat or feel overly uncomfortable when sleeping on this mattress.
The added copper inside the CopperFlex foam material will help you stay comfortable as well. Copper does well-withdrawing heat away from your body, thus keeping you from feeling irritated from excess warmth while sleeping.
How Clean Is the Mattress?
The copper material inside the foam surface on this Aurora mattress makes it a clean choice for your sleep needs. The copper material is a safe item that keeps bacteria from being likely to build up around the mattress. The risk of dust mites and other difficult allergens coming about will be minimal. You also have the option to spot clean your mattress top if necessary.
For Large or Small Sleepers?
The Brooklyn Aurora mattress is useful for large and small people alike. The coils featured on the inside part of the mattress make it easier for people to sleep on without sagging or wearing the mattress out. However, heavier users may benefit a little more from the firm option. The firm setup will not cause the body to sink into the mattress, although the design will provide a comfortable feeling when used well enough.
Points For Couples
The Aurora mattress does relatively well with isolating motions. The mattress will not produce lots of pressure, but it helps to watch for where the pressure is applied. Your sleeping partner might experience more pressure if the movement occurs near the middle part of the bed.
Sizes and Dimensions
The Brooklyn Aurora mattress is available in six sizes. The mattress is sized as follows based on how many inches wide, long, and thick the unit is:
Twin – 38x75x13
Twin XL – 38x80x13
Full – 53x75x13
Queen – 60x80x13
King – 76x80x13
Cali King – 72x84x13
Support Consideration
The Brooklyn Aurora mattress works on all support systems. You can use the mattress on a platform, slat, or box spring foundation. Brooklyn also makes its own support foundations that you can buy separately if you don't already have one.
Price Points
The prices for the Brooklyn Aurora mattress are as follows:
Twin – $999
Twin XL – $1,249
Full – $1,549
Queen – $1,699
King – $2,124
Cali King – $2,124
Various promo codes can be found online to help you get a special deal on the mattress. These include offers like $200 off of your purchase. You can also take advantage of a 12-month financing program.
Additional Things For Consideration
There are a few other points that you should note when getting this mattress to work for your sleeping needs:
 You can get the mattress shipped to your home in the continental United States for free. You can also get the mattress shipped to Alaska, Hawaii, or Canada, although it would cost extra to ship to those places.
 Your mattress will come with a 10-year warranty.
You can try the mattress out for 120 nights to see if the mattress is right for you. You can return the mattress for a full refund if you are not satisfied.
You can also test different firmness options if necessary. You have the option to exchange your bed to a different firmness level after 30 days during the 120-night trial period.
Conclusion
You will appreciate how comfortable the Brooklyn Aurora mattress works for your sleeping needs. The mattress offers a comfortable surface that you will appreciate sleeping on. The great mix of foam and coils will help anyone regardless of the firmness level one requires out of a mattress or what type of sleeping pattern one might be used to.