Helix sells numerous mattresses made with both foam and coil materials. These hybrid mattresses provide an easy way for you to enjoy a good night's sleep.
The assortment of Helix mattresses out there can be confusing though. This Helix mattress review will help you identify what makes these mattresses different from one another and what particular model is right for your needs. You'll find that there are many mattresses that are ideal for your use regardless of how soft or firm you want your mattress to be. You'll also see something that fits in with your typical sleeping pattern.
Who Would Love This Mattress the Most?
People who want a good mattress that fits your specific sleeping position and firmness preference

Those with back pain issues

Anyone looking for something that can relieve pressure around your body

People of all sizes, including big and tall persons

Anyone who gets too hot when sleeping

People who sleep in many positions
Who Won't Be Interested In the Mattress?
Those who want something that's totally made of foam

Anyone who needs a mattress that doesn't cost too much
A Quick Preview
You'll learn plenty of useful details about the Helix mattress in this review. Here's a look at what you will come across in this review:
Construction Features
Types of Mattresses
Firmness
Edge Support
How Well Can It Handle Your Body Temperature?
Points For Couples
Considerations For Lightweight and Heavyweight Sleepers
What Sleeping Styles Work Best?
Sizes and Dimensions
Thickness Levels
Price Points
Additional Things of Note
Construction Features
The construction of a Helix mattress will include the following features:
The top part features a

Soft Touch cover

. The cover provides a stitched surface that is soft and stays cool.

A

comfort layer

appears under the cover. The layer features the Dynamic Foam surface, a latex material that has a soft body and can respond to pressure in moments. The layer has a latex-like feel to its body.

A thin layer of

polyfoam

appears underneath the comfort layer. The polyfoam is slightly firmer and helps support the coil system.

A

series of coils

will appear next. The coils under the polyfoam are individually wrapped and separated to ensure they don't get in contact with one another. The spaces in between the coils allow air to move through well. The best part of the coils is that they help to support your body's position while sleeping.

A

dense polyfoam layer

is included on the bottom. The polyfoam supports the overall body of the mattress.
Types of Mattresses
You have plenty of choices to consider when looking for a Helix mattress. These models are based on how soft or firm the mattress is and the type of sleeping position that the mattress can handle. The company makes such mattresses as the following:
The

Sunset

mattress has a soft surface and works for side sleepers. The Sunset mattress is made to handle your pressure points.

The

Moonlight

mattress is another soft model for side sleepers. This model contours around your body quite well. The top and middle layers are designed to handle your body's motions.

The

Midnight

model features a medium firmness level and is for back sleepers. The model offers better pressure relief.

The

Dusk

bed is another medium model for back sleepers, although it may work for stomach sleepers as well. The mattress contours to your body.

The

Twilight

bed is firm and works for back sleepers. The bed relieves pressure thanks to its dense body.

The

Dawn

mattress is a firm model with added support for the top and middle parts of the body. This is for stomach and back sleepers alike.

The

LUXE Hybrid series

features added firmness options and is recommended for back sleepers. The LUXE mattresses feature a pillow top and three foam layers to absorb motions. The foam base is a little more reinforced as well, thus providing added stability.

The

Nightfall

mattress is slightly larger in size and is recommended for heavyweight or big and tall sleepers. The medium-firm mattress is ideal for back sleepers. The extra foam layer also does well with supporting all the weight you add. The Nightfall mattress is particularly useful for people who struggle with back pains.

The

Dual Balanced

mattress offers a layout with one half being firm and the other being soft. The Dual Balanced mattress works well for side sleepers and provides great pressure relief for your convenience. This model is only available in a queen, king, or Cali king size.

The

Dual Extra

bed also features a half-firm, half-soft layout. The mattress is ideal for back and stomach sleepers alike. This is also a body-contouring model. The bed is also available only in the three largest sizes.
You can visit the Helix website at helixsleep.com to find out what mattress would work best for your needs. The Sleep Quiz on the Helix site will help you figure out what works for your needs.
Firmness
The firmness level of your Helix mattress will vary based on the model you choose. The firmness levels are as follows on a scale of 1 to 10 from soft to firm:
Sunset – 3.5
Moonlight – 3.5
Midnight – 5.5
Dusk – 5.5
Twilight – 7
Dawn – 7
Nightfall – 6
Dual Balanced – 3.5 and 7
Dual Extra – 3.5 and 7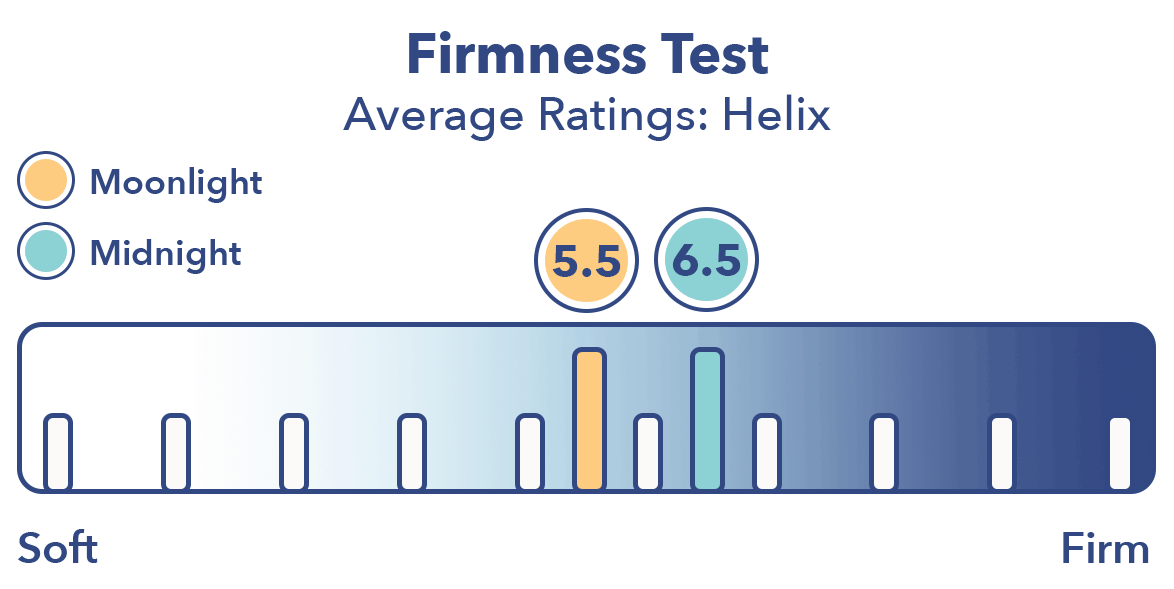 Edge Support
You will notice a slight reinforced body on the edges of the mattress. All Helix mattresses feature reinforced coils for helping you stay in place while you are asleep. These coils are a little thicker than others and will provide extra protection while you sleep. This is convenient for those who might sleep with someone while ensuring you won't fall off while asleep.
How Well Can It Handle Your Body Temperature?
Your Helix mattress will come with a thin cover on the top area that keeps your mattress comfortable. The pocketed coils will make it easier for you to stay cool. The air moves around the mattress well. The open foam is also easy for you to handle, as it offers enough openings and pores to help let warm air go throughout without making the mattress feel hot.
Points For Couples
Couples will enjoy how well the coils can respond to their movements. The coils isolate movements with ease. The design ensures you won't be bothered by your sleeping partner's movements.
It does help to look at your sleeping pattern versus whatever your partner utilizes each night. You should choose the appropriate mattress based on what works for you and your partner alike. Fortunately, the mattresses Helix offers work well for all sleeping types.
Considerations For Lightweight and Heavyweight Sleepers
Heavyweight sleepers will benefit from the Nightfall mattress thanks to how sturdy and thick the mattress is. The Dawn, Twilight, and LUXE Hybrid mattresses are also good for heavyweights who are 250 pounds or greater.
Middleweight people who are 230 pounds or under will benefit from most of these mattresses, although lightweight people under 130 pounds might struggle with the Twilight, Dawn, and Nightfall mattresses.
What Sleeping Styles Work Best?
You should choose your Helix mattress based on the specific sleeping style you tend to prefer. Side sleepers should consider the Sunset, Midnight, or Twilight bed.
A back sleeper will enjoy the Moonlight, Dusk, or Dawn bed. The Twilight bed may work for some back sleepers too.
A stomach sleeper will also appreciate the Moonlight, Dusk, and Dawn beds. The Sunset, Midnight, and Twilight beds may also work, although they aren't as effective as the others when it comes to stomach sleeping.
Combination sleepers should look for mattresses that are a little more versatile. The Sunset, Moonlight, Midnight, Dusk, and LUXE Hybrid mattresses are all ideal for these people.
Sizes and Dimensions
Helix makes its mattresses with these sizing standards. These sizes are measured based on how wide and long they are in inches:
Twin – 39×75
Twin XL – 39×80
Full – 54×75
Queen – 60×80
King – 76×80
Cali King – 72×84
Thickness Levels
Each Helix model will come with one of three thickness levels based on its style. These thicknesses are measured in inches:
Standard – 10
Dual Balanced or Extra – 10
Nightfall – 12
LUXE series – 14
Price Points
The prices for Helix mattresses will vary based on the type you order and the size. A basic model will run from $525 to $1,170 depending on the model. Meanwhile, a LUXE mattress will go from $870 to $2,020. The Nightfall mattress also costs $625 to $1,365.
These prices are all without discounts, although Helix does offer special deals on its mattresses throughout the year. The company also offers financing for its mattresses.
Additional Things of Note
There are numerous extra points for you to review when it comes to a Helix mattress:
You can take advantage of a 100-night sleep trial. You can return the mattress for a full refund if you are not satisfied with your mattress.

It costs $150 to get a team to help move your new mattress into your home and to remove your old one.

Free delivery is available throughout the continental United States. It costs extra to ship the mattress to Alaska or Hawaii.

You can also get the Helix mattress shipped to Canada, but it costs extra to do that.
Conclusion
The assortment of quality mattresses that you'll find through Helix will work for all your unique sleeping needs. The distinct hybrid construction of a Helix mattress particularly makes it a worthwhile choice for your sleeping needs. Take a look at what you can find from Helix today.