Nest makes a variety of quality beds that you will love. The Alexander Signature Hybrid is one of the top beds that the company makes in particular. The design of this mattress includes a mix of coils and foam to produce the best surface for sleeping that you'll appreciate. The best part of the mattress is that it gives you a relaxed body no matter what sleeping position you might utilize. You'll have to look at how well the mattress is designed based on how firm or soft it is and what you may prefer.
Who Would Love the Mattress?
People looking for an affordable mattress
Those who need something that offers enough support
People who want a mattress that goes in between coils and foam
Someone who needs something that provides plenty of cooling
Who Is the Mattress Not For?
Anyone interested in something that has more of a true foam feels to it
Those would prefer a strictly spring-based mattress
Anyone who is sensitive to gas scents
Those who want something that provides a very long trial period
What You'll Find In This Review
This review includes the following details surrounding the quality of the hybrid mattress and how well it can work for you:
Construction
Firmness
Edge Support
Does It Feel Well?
Is This For Large or Small People?
How Does the Surface Feel?
Cleaning Point
How Warm Is It?
Cooling Point
Sizes and Dimensions
Considerations For Many Sleeping Styles
Price Points
Testing the Mattress At the Showroom or At Home
Additional Considerations
Construction
The Nest Alexander Signature Hybrid mattress features a combination of pocket coils and memory foam. There are five points in the construction of this mattress to note:
1- A quarter-inch four-pound gel-infused memory foam fabric surface appears at the top part. The non-removable cover features a cotton and polyester blend. The surface improves upon the airflow and keeps any possible pressure from being a concern as you are sleeping.
2- A three-inch 3.5-pound TitanChill endurance foam surface is on the top to provide a cool body while also being very comfortable and easy to sleep on.
3- A 1.5-inch copper-infused foam material appears within the second layer. The copper produces a sturdy body that will relieve pressure as you sleep. The copper also works as a heat conductor that will pull heat from your body. This will keep your surface cooled off.
4- A one-inch support foam surface keeps your spinal column aligned as you are sleeping. The material also provides a cooling sensation.
5- A series of eight-inch Quantum Edge pocketed coils appear underneath the foam surfaces. The coils provide deep compression support while allowing air to travel through the mattress without stress.
The hybrid layout provides the best of both a coil-based and foam-based mattress. The design is ideal for those who want something in between both of these choices.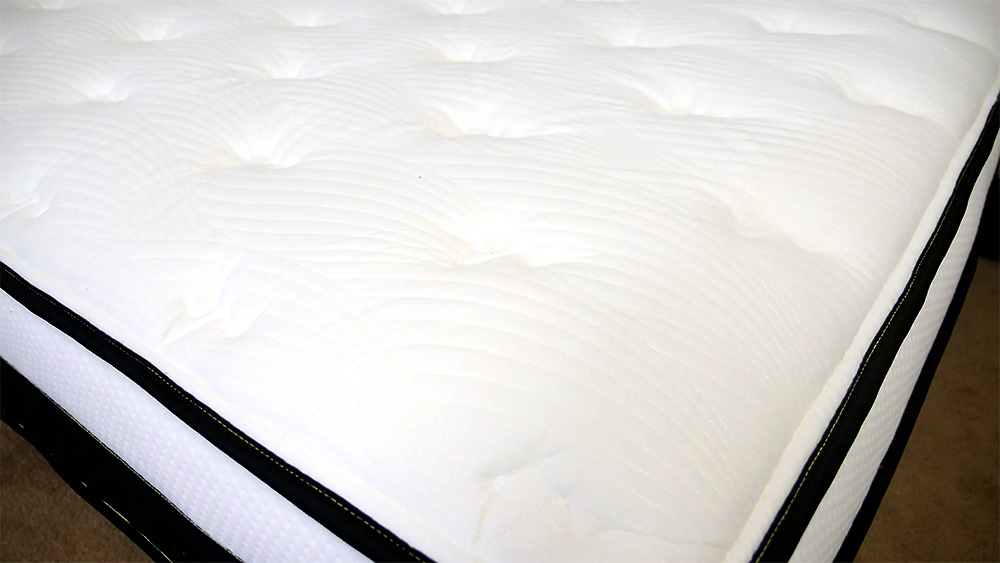 Firmness
You have the option to choose from one of three firmness levels when getting the Alexander Signature Hybrid mattress. These firmness levels are measured from 1 to 10 between soft and firm:
1- The Plush version has a 3 rating. The design focuses more on a soft foam layout with a 2.5-pound Energex foam material. The foam is 1.5 inches thick.
2- The Medium version holds a 6 rating. There is a 3.5-pound Energex foam surface on the inside. This adds a harder body, but it still provides a bit of softness for your comfort.
3- The Luxury Firm model has a 9 rating. The design concentrates on a solid 4.5-pound foam layer.
You have the option to work with any of these firmness levels when you're looking for a high-end mattress. You can even combine two of the three together to produce a hybrid surface where one side is of one firmness level and the second size is of something else. This feature is perfect for couples, although you'd have to look at the comfort levels of both you and your sleeping partner when finding something that fits in with the sleep needs you might hold. Be sure to look at what you prefer to utilize when finding a bed that you will appreciate using for your sleep needs.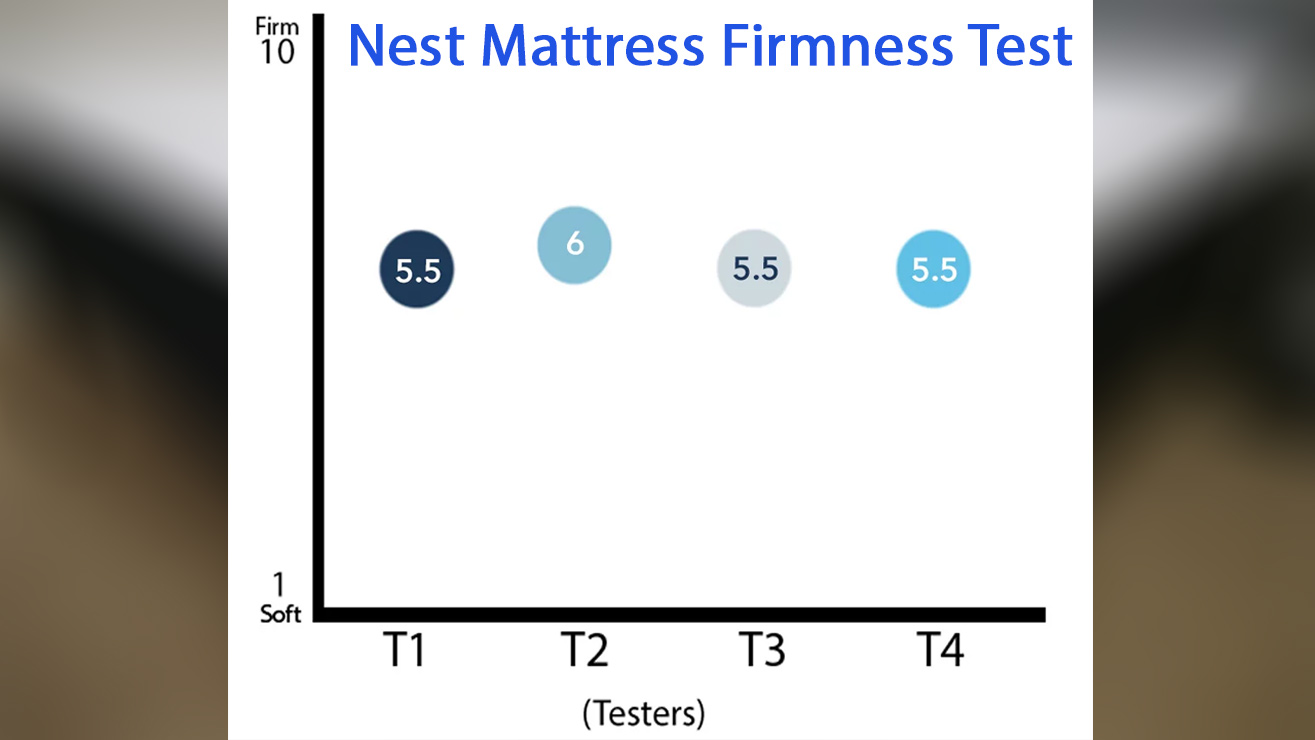 Edge Support
The coils on the edges offer extra support while making it easier for you to stay in your position while in bed. There is minimal motion transfer in the mattress thanks to the combination of coils and foam. The sturdy design of the bed also keeps people from slipping off, a point that is critical for those who sleep with other people in the same bed every night.
Does It Feel Well?
The mattress feels good on the skin and isn't going to irritate anyone. You may notice some gases coming from the mattress when you first use it though. The mattress will need to air out after you unbox it. It can take a few days for the gases to air out, but that is all you would have to worry about. The mattress will feel fine after you get it out all the way.
Is This For Large or Small People?
Your physical size will make an impact in determining which bed size is appropriate for your use. A lighter person will prefer a firm bed, what with that person producing less pressure on the mattress. Meanwhile, a heavier person will benefit from a softer bed due to that person exerting more force at a time.
How Does the Surface Feel?
The top surface provides a soft body that is easy to relax on. The soft quilted surface of this mattress provides a gentle feel without lots of indentations making it harder for you to relax. You can use a mattress protector on the top if desired as well, although you may end up impacting the airflow along with the mattress if you did this.
Cleaning Point
It is also easy for you to clean off the surface if necessary. You can spot clean stains with water and a mild detergent.
How Warm Is It?
The Nest Alexander Signature Hybrid mattress provides a temperature neutral body. This means that the mattress offers a slight bit of cooling, but it will not keep your body too cool. You'll have to look at the bedsheets that you are using, the environment that you are sleeping in, and the layout of your bed before you get to sleep. This is to help you with getting a good night's sleep.
Cooling Point
The design of the mattress produces enough open space to allow air to move through, but not too much to where you go to one temperature extreme. The mattress should be comfortable for your use.
Sizes and Dimensions
The size of the bed will vary based on what you choose. This listing of the sizes and dimensions for your bed are measured in how many inches wide, long, and thick the bed is:
Twin – 39x75x13
Twin XL – 39x80x13
Full – 54x75x13
Queen – 60x80x13
King – 76x80x13
Split King (one side) – 36x80x13
Split King (both sides) – 76x80x13
Cali King – 72x84x13
Considerations For Many Sleeping Styles
You would be better off using the Plush or Medium version of this Nest mattress if you're a side sleeper. You'll get plenty of relief for your hips and shoulders.
Back and stomach sleepers will appreciate the Luxury Firm version. The solid surface provides a good body that establishes enough support.
Combination sleepers should look at how much they weigh when choosing something of value. A Medium bed is best for lightweight combination sleepers. Those who are a little heavier should stick with the Luxury Firm option.
Price Points
The prices for the Nest Bedding Alexander Signature Hybrid are listed based on their standard values without discounts. All prices are in American dollars:
Twin – $799
Twin XL – $899
Full – $1,099
Queen – $1,199
King – $1,499
Split King – $1,799
Cali King – $1,499
Free shipping is available in the continental United States. It costs $150 extra to ship the mattress to Alaska or Hawaii.
Financing is available on your purchase as well. A 12-month payment plan can include 0 percent APR to those who qualify.
Some discounts are available through promo codes. These include deals like $200 off of a mattress or a 10 percent discount. Check online to see what unique promo codes are available for your use.
Testing the Mattress At the Showroom or At Home
You can take advantage of a 100-night free trial at your home. You can choose to return the mattress for a full refund if you are not satisfied with the product before that trial period ends. Be advised that the mattress comes shipped in a box and takes about one or two days for it to fully stretch to its base layout.
You also have the option to test a Nest mattress out in one of the company's showrooms. The company has showrooms in Chicago, San Francisco, Los Angeles, and Seattle, and will be opening one soon in Miami. You can try out one of these mattresses to see how well it feels before you buy it. You'll still take care of the purchase process online, but the showroom environment will provide you with a great place
where you can test the mattress yourself.
Additional Considerations
There are a few other points to see surrounding this mattress:
The mattress comes with a lifetime warranty, thus ensuring you can get it replaced if there are ever any defects.
The mattress meets CertiPUR-US standards, which means that it is not made with possibly dangerous materials like heavy metals.
The entire mattress is made in the United States.
You can get the mattress added on any base, including an adjustable layout.
Conclusion
Take a look at the Nest Bedding Alexander Signature Hybrid mattress if you're looking for something useful for sleeping purposes. You'll appreciate how well the mattress feels and how well you can enjoy a good night's rest through it. Take a look online to see how well the mattress can work for you and all your unique sleeping needs.