The Nectar mattress is one of the most intriguing mattresses you can have at your home. The mattress has been a hit with people around the country with more than 300,000 mattresses having been sold in recent years.
The Nectar mattress comes with a comfortable body that features a detailed foam layout. You'll appreciate how the foam can support your body regardless of the sleeping position you're on. The value that comes with the mattress is appealing to see as well.
Pros and Cons
Who Will Love This Mattress?
People who enjoy mattresses that feel softer
Those who need a mattress that won't create a groove from repeated use
Couples who need a mattress that offers motion isolation
People who want a mattress that not too firm or soft
Anyone that has experienced pains while sleeping in certain positions on a regular mattress
Anyone who wants a bit of extra time with testing the mattress
Who Won't Love This Mattress?
Anyone who prefers something strictly soft or firm
Those who like bouncy mattresses
People who want something with more of a gel feel
A Detailed Review of the Nectar Mattress
There are many aspects of the Nectar mattress worth noting. Here's a look at the many sections you can review:
Sanitation Points
Firmness
Edge Quality/Points For Couples
Warm or Cool?
Support For Various Bed Types
How Well It Works For Various Types of Sleepers
Sizing Standards
Price Points
Additional Things You Can Get
Details On Purchasing
Construction Materials
The Nectar mattress features a memory foam body. The mattress is rolled up in a box to make it easier for the unit to be transported.
There are five key parts of the Nectar mattress to note. These features are arranged from top to bottom:
1- A Tencel cooling cover circulates air around your body. The quilted cover ensures you won't be overly warm while asleep. The cover features a soft organic cotton body.
2- A quilted gel memory foam surface provides a soft body that contours to your movements. The gel also keeps your body cool.
3- The three-inch LushFoam gel memory foam surface contours to your body's movements and curves. The foam distributes your weight evenly and also keeps your body cool. The LushFoam material is a compound similar to other foam surfaces that are usually utilized for medical or hospital purposes.
4- A 1.5-inch Adaptive Hi Core Memory Foam surface appears next. The compound supports all your movements and recovers fast. The surface does well with your pressure points by adding a sense of relief to the surface.
5- A 5.5-inch layer of high-density foam appears on the base. The molded channels allow air to move through. The surface helps you to stay comfortable when sleeping.
Overall, the mattress is about 11 inches thick. The surface produces a comfortable body while also keeping you cool.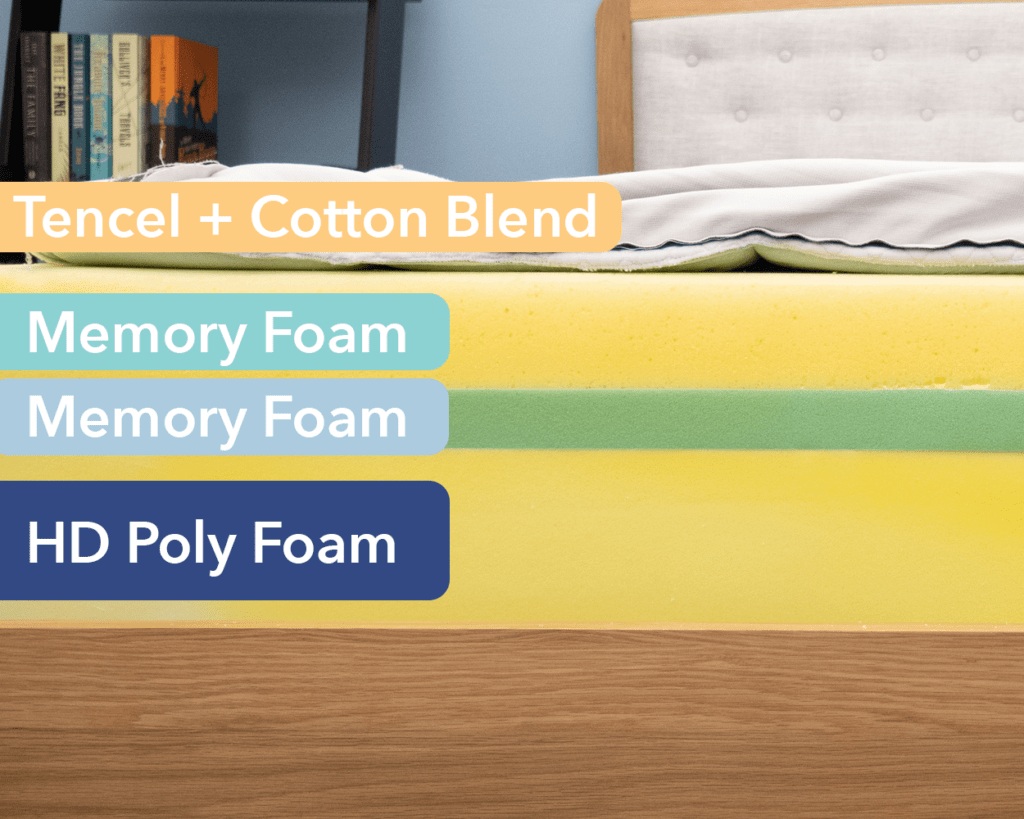 Sanitation Points
What's more, is that the mattress materials can prevent dust mites from building up. The air circulates around the mattress well enough to ensure such dust mites will not be a burden as you're trying to sleep.
The foam materials are also OEKO-TEX certified, which means they do not contain high levels of potentially harmful chemicals. The foam also has CertiPUR-US certification, thus meaning you won't come across any ozone depleters, heavy metals, or formaldehyde.
Firmness
On a scale of 1 to 10 with 1 being soft and 10 being firm, Nectar would get around a 6. People who have used the Nectar mattress in the past have reported totals from a 5 to 7.
The quilted surface provides a soft feeling, while the memory foam on the bottom part provides a sense of firmness. The Nectar mattress provides a soft body that isn't hard on your joints. More importantly, the surface produces a uniform feeling as you lie down. The foam also takes a bit to respond to your body, but it is never delayed to where you'll feel uncomfortable.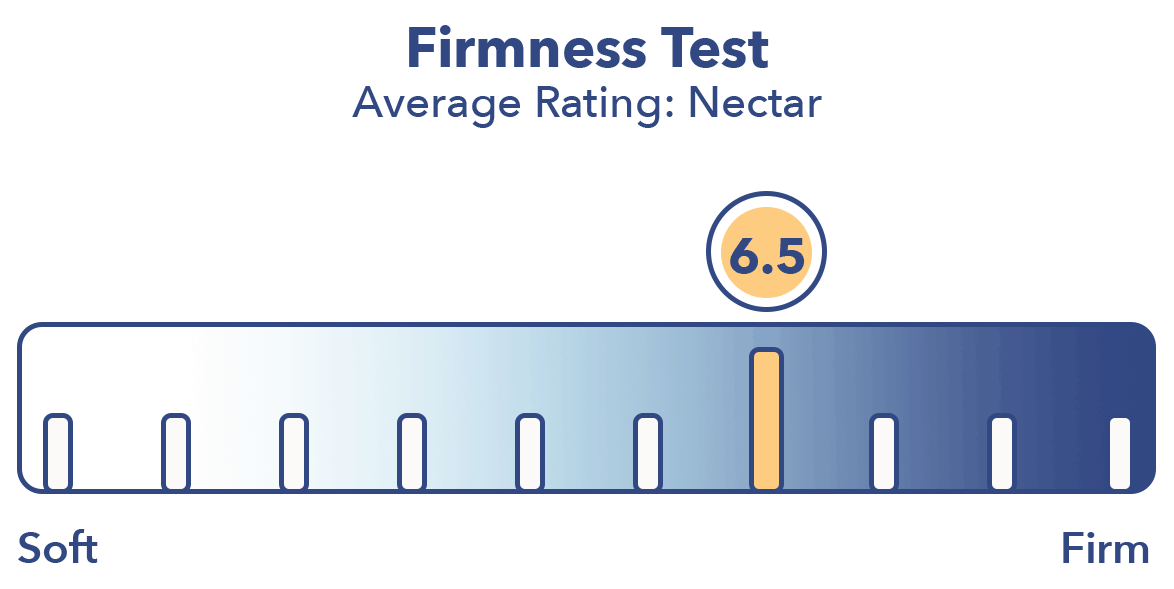 Edge Quality/Points For Couples
The edges on the Nectar mattress feel comfortable and work as a natural extension to the rest of the mattress body. The best part is that the foam surface keeps its movements closer to each person. The feature is ideal for couples. The Nectar mattress provides a surface where you will not bother the other person sleeping with you. Still, the edge quality is not as strong as what you might expect out of an innerspring mattress.
Warm or Cool?
The sturdy foam on the Nectar mattress produces a warm body, although the stitching and air pockets around the fabric help make it easier for the mattress to stay cool. You will not start to overheat when you rest on the mattress. This produces a comfortable body that isn't hard to apply.
Support For Various Bed Types
You can get the Nectar mattress to work on various bed types. You can add the mattress to:
A box spring base
A divan base
An adjustable surface
A platform bed layout; Nectar even produces its own platform bed fixture that uses a clip and lock layout. Optional legs can also be added to the bed to produce a better build.
The flexible body of the mattress allows the surface to stay comfortable regardless of the base you're on.
How Well It Works For Various Types of Sleepers
Back sleepers will benefit from the Nectar mattress. The contouring layout of the mattress provides a comfortable body that isn't hard to use. The foam will also keep a person's spinal column in proper alignment to stay comfortable without feeling irritated.
A side sleeper can also appreciate the mattress' ability to relieve pressure. The problem with sleeping on one's side is that the weight will be concentrated on a smaller space. A side sleeper will feel more comfortable thanks to the flexible body of the foam surface.
A stomach sleeper will enjoy how well the bed handles the hips and keeps them from sinking too deep. The sleeper will be less likely to experience back pain thanks to how well this looks.
As for combination sleepers, the mattress should work well too. The design provides a comfortable body for all sleeper types to appreciate.
Sizing Standards
The mattress comes in various sizes. The following measurements are in inches and entail the width, length, and thickness of the bed. As you'll see, the thickness never changes:
Twin – 39x72x11
Twin XL – 39x80x11
Full – 55x74x11
Queen – 60x80x11
King – 76x80x11
Cali King – 72x84x11
Price Points
The cost for a Nectar mattress will vary based on the size of the mattress. Here's a look at the prices for a mattress based on size without discounts:
Twin – $524
Twin XL – $594
Full – $724
Queen – $824
King – $1,024
Cali King – $1,024
Some special discounts are offered on occasion. These include deals like $125 off of a mattress. Check the official Nectar website at nectarsleep.com for details on what is available.
Financing is also available on most purchases. You can plan a 12-month period for paying for the cost of your new Nectar mattress.
Additional Things You Can Get
You've got plenty of extra items to consider getting alongside your Nectar mattress:
A mattress protector can protect your mattress from stains, spills, and dirt among other things. A protector is ideal for pet owners.
300-thread organic cotton bed sheets are also available. The sheets offer a soft feel.
A weighted blanket can add a better cover over your body and relieve stress.
A platform bed will add a good body for your mattress. Nectar's platform bed body features naturally-sourced wood. You can add or remove the legs as necessary.
Details On Purchasing
There are a couple of important details to note when purchasing one of these mattresses:
1- The mattress will be delivered to you in a box. The mattress will weigh from 45 to 90 pounds depending on its size.
2- It takes about one to two days on average for the mattress to expand to its regular size.
3- You can take advantage of a 365-night trial period. You can use the period to see how well the mattress works and if you want to keep it for your use. You have the option to return the mattress for a full refund within a year if you are not satisfied.
4- A Forever Warranty is provided by Nectar. This means that you can get a proper replacement if the Nectar mattress malfunctions or stops working as well as it should.
5- You can get the Nectar mattress shipped to your home in the continental United States for free. It costs extra to get the mattress shipped to Alaska, Hawaii, or another United States territory. Nectar does not offer to ship to Puerto Rico.
6- A White Glove Delivery Service option is also available. With this, Nectar will get a professional team to come to your home and help you with installing your mattress in your home and removing the old one.
The Final Word
The Nectar mattress is an attractive choice for when you're looking for a foam-based bed you will love. The mattress provides a comfortable body that isn't hard to use. You will especially enjoy how it works for any sleeping position you might be in. Be sure to consider the Nectar mattress the next time you need something that fits your sleeping needs. You'll find that the mattress is soft and easy to use for all your sleeping needs.