The DreamCloud mattress provides a variety of features for your comfort. The mattress features seven layers of materials. The mattress provides a sturdy body that adds to the best sleep you can get.
You can take advantage of the mattress regardless of your body type. The mattress is also useful for many sleeping positions. The cost associated with the mattress isn't as high as what you might expect either. This is one of the more affordable choices that you'll find out there.
Who Would Love the DreamCloud Mattress?
People who sleep in various positions at night
Anyone who focuses on stomach or back sleeping
People who want memory foam that isn't too thick but is still noticeable
Those looking for something clean
People who need an affordable mattress choice
Who Doesn't Need This Mattress?
Anyone who wants to use a standard bed frame
People looking for something softer
Smaller people
Side sleepers
A General Layout
You'll learn about plenty of things in this DreamCloud mattress review. Here's what you will come across in this review:
Construction
How Does the Top Feel?
Firmness
Motion Transfer Control/Considerations For Couples
Cooling Functionality
Edge Support
How It Works For Many Sleeping Styles
Weight Consideration
Temperature Consideration
Works With Other Beds
Sizes and Dimensions
Price Points
Extra Items of Note
Additional Points on Buying the Mattress
Construction
There are seven layers on this mattress. The DreamCloud mattress is 15 inches thick and features the following from top to bottom:
1- A Truetufted cashmere polyester blend cover is included on the top. The blend provides a soft surface while allowing for a breathable surface.
2- A 1.75-inch quilted memory foam surface features a gel-infused body. The gel body conforms to your position and offers a cooling feeling.
3- A half-inch natural latex surface appears next. The hypoallergenic layer featured adds a comfortable surface while adding a slight bit of a bounce.
4- The Dreamplush memory foam surface appears next. The quarter-inch foam features a high-density total for added comfort.
5- The super dense foam after this provides extra support. The super-dense layer is half an inch thick.
6- The Best rest coil system is included in the near-bottom segment of the bed. The five-zoned system features a micro-coil compression layout that offers extra support all around. The design prevents motion transfer and improves airflow for a cooler surface. The layer is about eight inches in size.
7- A 1.5-inch base layer features dense memory foam to keep the motion transfer down.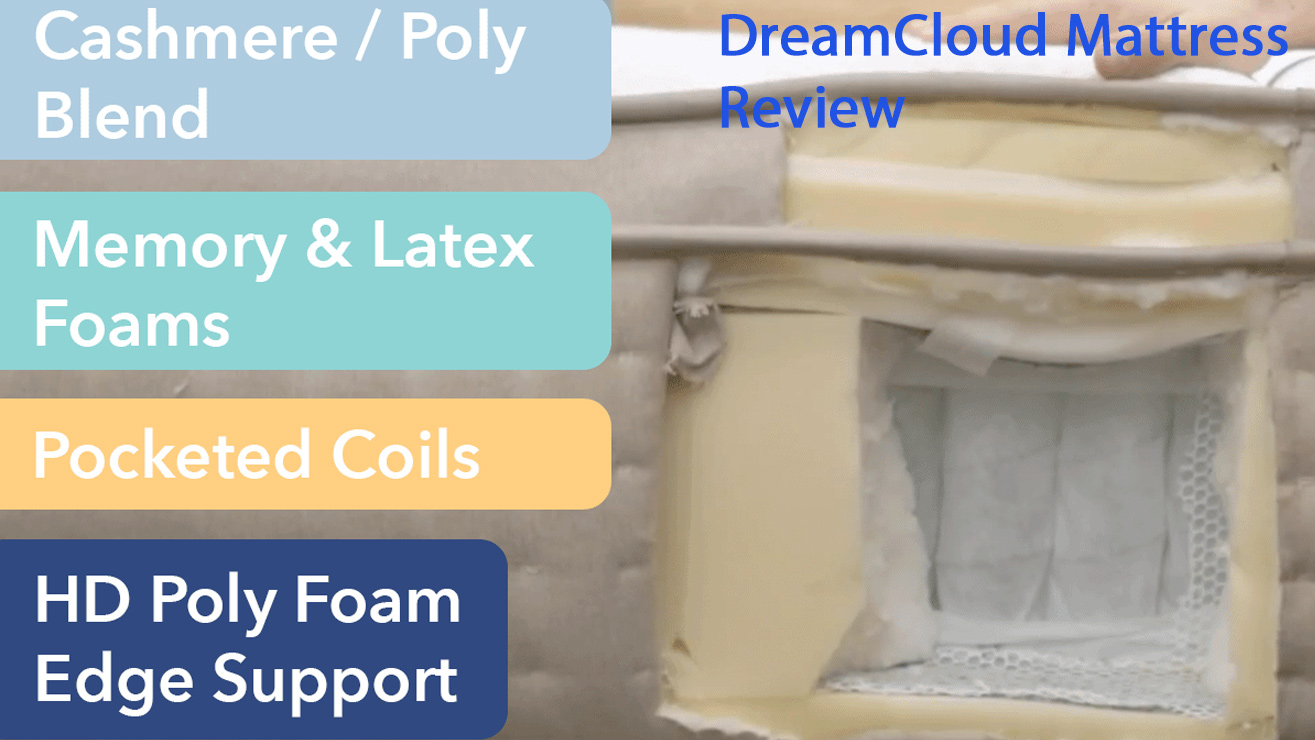 The mattress is much thicker than what you might find out of other mattresses you can get delivered to your home. But the complex body provides support for all your sleeping needs. The quilted surface ensures that you'll feel comfortable while sleeping without becoming overly hot. The latex material also keeps the bed clean and less likely to bear with dust mites and stains among other annoying things.
How Does the Top Feel?
The top surface comes with a very soft feel. Some large divots can be found around the stitched surface. The peaks and valleys around the top can be bothersome to some people, but they should not be overly hard to use.
Firmness
The DreamCloud mattress features a medium-firm body. It ranks a 6 on a scale of 1 to 10 between soft and firm. The firmness is useful for many people, but it is particularly helpful for heavier people who need something that can support one's weight while ensuring a person's spinal position is kept comfortable.
Motion Transfer Control/Considerations For Couples
The response and sturdy foam materials on the inside keep motion transfer from being a burden. This is perfect for couples, as it ensures one person's movements are not going to bother the other person while trying to sleep.
Cooling Functionality
The firm design of the mattress makes it something that you'll feel cool on. The cool surface isn't as rough as a poly or memory foam material. However, it doesn't necessarily have much of a gel-like design that could really keep you cool.
Edge Support
You'll notice a comfortable edge surface on the ends of the mattress. The foam along the edges and the sturdy coils on the inside help with producing a better edge. The design ensures that a person can stay comfortable without risking falling out of bed.
How It Works For Many Sleeping Styles
You will not have to worry about how well you can switch between sleeping positions when using the Dreamcloud mattress. The combination of coil and latex makes it easier for the mattress to adapt to your position.
The design is best suited for combination sleepers who go on many surfaces.
Back and stomach sleepers will enjoy using the mattress. The Dreamcloud mattress will support the body's natural spinal curvature. This keeps back pains from developing.
Side sleepers might need to spend an extra bit of time getting used to the mattress. But after a while, the surface will be easier to sleep on when one finds the proper side position for use.
Weight Consideration
Light and heavy people alike will enjoy the mattress. The thick body on the mattress ensures it will stay intact for a while. Smaller people may struggle with trying to get on top of the bed due to how tall it is, although this may not be much of a problem if the base bed surface is not too tall itself.
Temperature Consideration
The foam used inside the mattress isn't too thick, thus meaning that heat will not build up around the mattress. The gel materials on the top part of the mattress ensure you'll stay cool as well. Like with any other mattress, the quality of your sleep environment and the sheets you use may dictate how well you feel as you're trying to get to sleep.
Works With Other Beds
The mattress does well with many bed layouts, including a standard box surface. However, this may not work too well with something that keeps the bed up by a bit. The thick nature of the bed makes it tough to use in some environments.
Also, the DreamCloud mattress is compatible with adjustable bed surfaces. The top part of the bed can bend upward a small bit to produce a comfortable angled position for sleeping, thus keeping you comfortable. The design works well for those who have gastrointestinal issues and need to rest while angled slightly upright.
Sizes and Dimensions
DreamCloud's mattresses are available in various sizes. These are measured in inches based on the width, length, and height of the mattress:
Twin – 39x75x15
Twin XL – 39x80x15
Full – 54x75x15
Queen – 60x80x15
King – 76x80x15
Cali King – 72x84x15
Price Points
The following are the prices for DreamCloud mattresses. These are the prices listed without discounts, but they are among the most affordable you will find on today's market:
Twin – $499
Twin XL – $699
Full – $899
Queen – $999
King – $1,199
Cali King – $1,199
You can find some special discounts on DreamCloud mattresses throughout the year, including deals like $100 or even $200 off of a mattress. Check the official DreamCloud website at dreamcloudsleep.com to learn more about what it would cost to get a mattress and what deals are available.
Financing is also available on your purchase. You can get a 12-month payment plan for your mattress.
Extra Items To Note
There are many additional items that you can get for your DreamCloud mattress. These items work for all sizes:
1- You can order a mattress protector that protects your mattress from spills, stains, and other things.
2- Organic percale sheets are available for your bed. You can get your sheets in white or gray color.
3- A platform can be ordered for your mattress. This bed layout includes legs that can be added to increase the height. The platform bed surface is made with organic wood and features a solid black design.
4- A memory foam contour bed can also be ordered for your sleeping needs. The plush surface keeps your head and neck comfortable.
Additional Points on Buying the Mattress
Here are a few other things to notice when getting the mattress ready for your sleep needs:
1- You will get a 365-night trial period where you can figure out if the bed is right for you. You can return the bed for free and for a full refund if you are not satisfied during the trial period.
2- Free shipping is available throughout the continental United States. Extra charges are required for shipping the mattress to Alaska or Hawaii.
3- You can order an optional white glove delivery service in your area. The service will entail professionals coming to your property to deliver and set up your bed. The team will also remove your old bed from your property.
4- The warranty for the mattress lasts for its entire life. The warranty does particularly well with covering manufacturing defects or other common errors.
5- The mattress is also a CertiPUR-US certified model. The mattress does not contain lead, formaldehyde, or other potentially dangerous items.
Conclusion
You will need to see how well the DreamCloud mattress can work for your sleep needs. The convenient design of the bed gives you a better experience for sleeping that is worthwhile for your life. The detailed layout especially does well with keeping you relaxed regardless of your size or how you plan on positioning yourself. You will especially love the great value that comes with the mattress and how well you can benefit from what it offers.