Sometimes the best mattress that you can have in your home is one that features a comfortable body. The great news is that it's not hard for you to find useful mattresses for sale thanks to what Ortho Mattress has to offer.
Ortho Mattress makes its mattresses by hand and sells them at both Ortho Mattress factory stores around the country and on its website at orthomattress.com. This review will highlight the quality models that you can find from Ortho. Each of these models comes with various features that will support your sleeping needs.
Who Will Enjoy An Ortho Mattress?
Back sleepers
People looking for mattresses that can support the spinal column
Anyone who might get too hot when sleeping
People who want something cheaper than brand name mattresses
Anyone who wants a mattress made in the United States
Who Won't Like An Ortho Mattress?
Stomach sleepers
Most heavyweight or lightweight sleepers
People who are looking to get a new mattress right away
Those who don't have access to a place for trying it out before buying it
What to Find
This Ortho Mattress review includes a look at many things surrounding the company's mattresses:
The Main Models
Firmness
Edge Support
How It Handles Your Body Temperature
Points For Couples
How It Fits Sleeping Styles
Weight Considerations
Sizes and Dimensions
Prices
Additional Points
Where To Buy
The Main Models
There are five model lines that you'll find through Ortho:
Club
The Club Collection is the basic line from Ortho. The club mattresses feature cotton blend quilts that support airflow. The polyurethane CertiPUR foam on the inside keeps you cool while supporting your joints. The Solidstate Edge Support feature also reinforces the border around the mattress to provide a comfortable and stable place for sleeping.
The 13-gauge open coils support the inside of the mattress. The coils will support your entire weight.
Dr. Preferred Reserve
The Dr. Preferred Reserve mattresses feature a Tencel quilt on the top. The fabric absorbs and wicks moisture and allows air to flow throughout the bed.
The Avant memory foam features a gel-infused body. The added gel provides a cooling sensation, while the foam collects body heat and maintains a healthy mattress temperature throughout the night.
The Solidstate Edge Support adds a comfortable border. The Ortho Enhanced 360 support coils are dense and will move weight around the entire mattress without creating any uneven spots.
Avant
The Avant series of mattresses feature foam materials all around. You'll find gel-infused foam under the cotton blend fabric top. The foam relieves pressure and moves body heat away from your body to help keep the mattress temperature consistent throughout the night. The layout also uses a four-inch Solidstate core support feature to keep motions from being a hassle. The design works without any coils involved, thus making it useful for lightweight people who need extra help with getting a good surface to sleep on.
CoolQuilt
While all of the mattresses Ortho makes can keep you cool throughout the night, none are as effective as the CoolQuilt mattresses. The CoolQuilt line features the CoolQuilt foam fabric top that controls the air around you and keeps you cool. The latex inside will also take in your body heat and respond well to your body's movements. The ability of the latex to repel dust mites and other allergens help.
The coils on the inside are divided into thirds. The central third features harder coils to provide better lumbar support. Inline coils are on the top part to support your shoulders and upper back.
Entice
The Entice is an aromatherapy-based line. The Entice mattress features an airflow latex top that is infused with natural oils. The gentle sensations around the top flow well thanks to the perfect ventilation around the fabric. The knit top also has a latex surface to respond to your body.
The Avant memory foam on the inside will adapt to your weight thanks to its open cell body. The foam will move bodyweight around the entire mattress to help keep your body restored and refreshed at night. The closely-packed coils also respond well to your movements and will not spread the motions too far from your body.
Firmness
Each mattress line from Ortho includes models that come in every firmness level. You can find plush, firm, and extra firm models.
Ortho rates its firmness levels on a scale of 1 to 7 from firm to soft. Some of the mattresses go all the way to the 1 range, particularly the Extra Firm models. You'll also find Pillow Top models that go to 6 or 7. You can check the Ortho website at orthomattress.com to get a better idea of how firm or soft the mattresses the company has to offer are.
Edge Support
The Solidstate system uses a 4.5-inch foam border. The border keeps the coils and other features inside each mattress in their place, thus making the bed easy to sleep on. The mattress remains stable when you get in and out of the bed. The border also provides a good end that ensures you'll stay on the bed at night.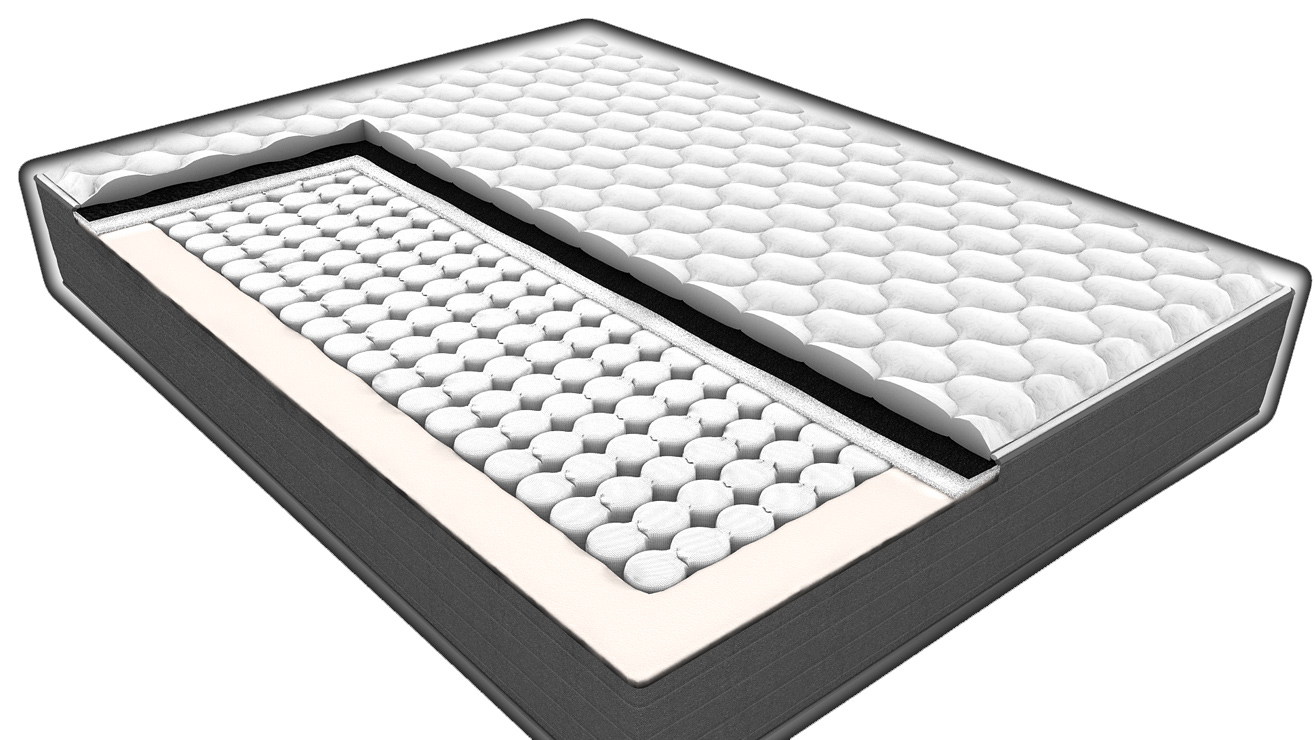 How It Handles Your Body Temperature
The knit cover tops on the mattresses Ortho makes are comfortable and soft to where you won't struggle with staying hot. The air flows well through each top, not to mention the gel-like foam features create a cooling sensation on your body. You will feel comfortable and cool when sleeping on an Ortho mattress. This point is especially helpful if you tend to overheat or sweat at night. Of course, you should always check on your sleeping environment to ensure it is not too difficult to handle.
Points For Couples
Ortho's mattresses are useful for couples thanks to how well the foam and coil materials can absorb motions. The coils, in particular, do well with responding to the body's motions without spreading out too much. The centralized pressure inside the coils ensures you'll feel comfortable without anything spreading around far too much.
How It Fits Sleeping Styles
Ortho mattresses work for most sleeping styles, although it is best for back sleepers. The lumbar support provided by Ortho mattresses will help ensure your backstay comfortable.
Side sleepers can always enjoy the quality of the mattress, although you'd have to look at how soft the mattress is. Anything too soft might be hard to adjust your position on.
Stomach sleepers may have a tough time with the Ortho mattress line. The spinal column may not get as much support when sleeping on the stomach as it would when lying on the back.
Combination sleepers should not have much trouble with the mattress. The fact that the mattresses allow you to move well enough should be fine as it is.
Weight Considerations
Middleweight sleepers will have the best experience with Ortho mattresses. Heavyweight sleepers can benefit from some of the coil-based beds that the company offers. Lightweight sleepers should look for something foam-based like the Avant mattress. Those models would be better suited for their sleep needs.
Sizes and Dimensions
The sizes for Ortho mattresses are based on how many inches wide and long a mattress is:
Twin – 38×74
Twin XL – 38×80
Full – 54×74
Queen – 60×80
King – 76×80
Cali King – 72×84
Prices
Ortho Mattress offers a factory-direct pricing schedule. You will not have to pay far too much extra because there are no markups involved. Still, the values of each mattress will vary based on the quality of what you buy. Some of the least expensive mattresses made by Ortho go for $249. Others can go for $2,299 or higher.
You can find some special discounts on occasion. Also, financing is available on many purchases. You could qualify for 0 percent financing depending on your credit.
Additional Points
There are numerous other things to notice surrounding Ortho mattresses:
All Ortho mattresses are made in the United States directly at various factory stores.
Ortho has a 100-night guarantee. You can return the mattress for a full refund within 100 nights if you are not satisfied with your mattress. A 30-day break-in period is required before you can possible return the product.
Shipping is available for free on all purchases of $499 or more.
It can take about 7 to 14 business days to get your mattress delivered to your home.
Most mattresses from Ortho are compatible with adjustable bases. These include mattresses where one end can bend upward to produce a comfortable surface for people who might have gastric issues.
Mattress protectors, adjustable bases, and other accessories are available on the Ortho website as well. All sales for accessories are final, as returns are not accepted for these things.
Where To Buy
You can buy an Ortho Mattress online at orthomattress.com, although you can also go to one of the Ortho Mattress locations in the Southern California area. There are more than sixty stores in the Los Angeles, San Diego, Temecula, and Santa Barbara areas.
Conclusion
You've got plenty of good choices to see when looking for mattresses from Ortho. Take a look at what you can find from the company today, and you'll see that it is not too hard for you to get a good night's sleep with an Ortho mattress.