Casper has been making its quality mattress product since 2014. The company changed the mattress industry forever thanks to the product's quality surface and how easy it is to get the mattress ready in your home. More than a million Casper mattresses have been sold since it was first introduced. But is this mattress the ideal choice for you to try out?
The Casper mattress provides a comfortable surface for sleeping. The unique foam layout that Casper uses makes it different from other mattresses you could choose for your living needs.
Pros and Cons
Who Will Love This Product?
Small or mid-size people
People who sleep in many positions at night
Those looking for something affordable
People who tend to become rather hot when sleeping
Those who need to be zoned spine support
Who Won't Love This Product?
Larger people
Those looking for something with more springs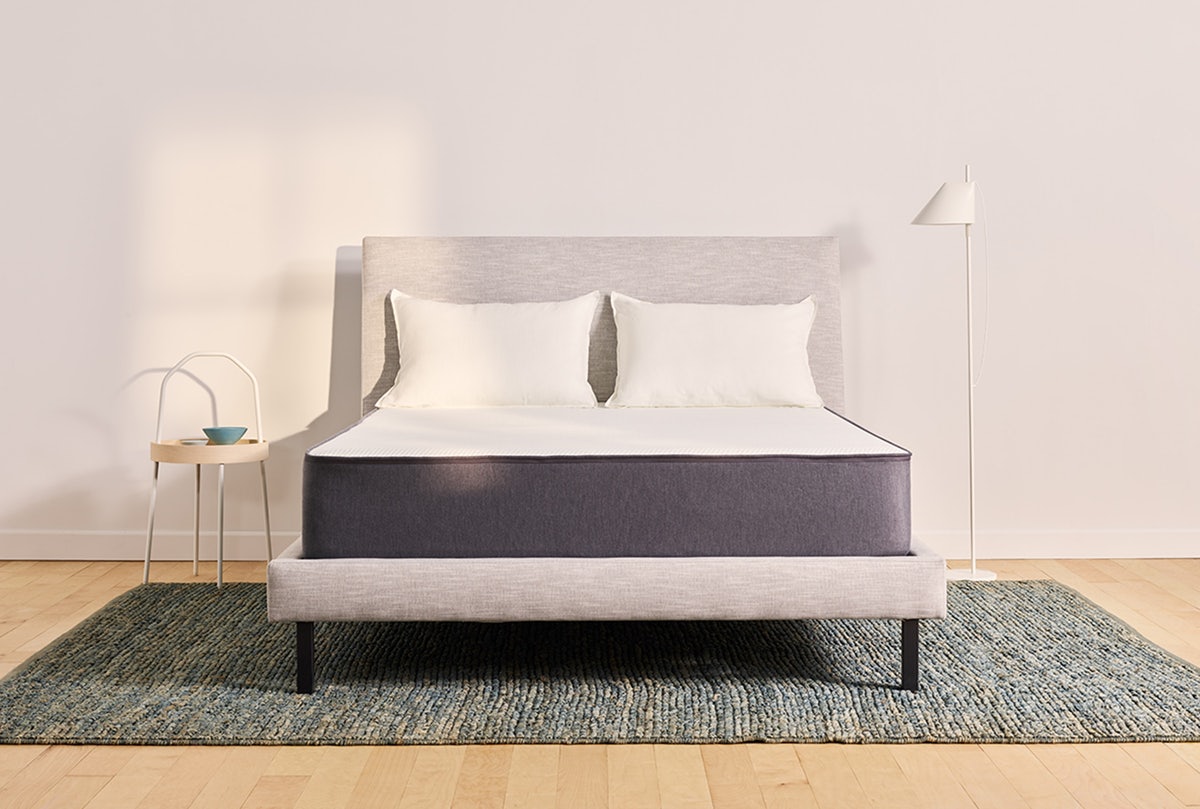 Features of This Review
There are many things surrounding the quality of the original Casper mattress that deserves to be noted. This review of the mattress includes the following points for your convenience:
Construction
Firmness
Edge Support
Is Motion Transfer a Concern?
Body Heat
How It Works For Many Sleeping Styles
Weight Considerations
Sizes and Dimensions
Price Points
The Hybrid Option
Support For Many Beds
Additional Considerations For Purchase
Construction
The four-layer layout of the Casper mattress makes it a popular choice. Here's a look at what you will get out of the mattress:
A 1.5-inch open-cell comfort foam surface appears at the top. The surface provides a bouncy feel while also adding a flexible body. The surface will not overheat as you use it either.
A 1.5-inch high-density memory foam surface is included on the inside part. The foam provides help for relieving pressure and keeps heat from sticking around for long.
The Zoned Support transition layer is in the middle part of the bed. This two-inch layer includes a multi-part layout that is firm in the center and softer on the ends. This ensures that your hips are supported while the shoulders and knees are relaxed. The design keeps you from feeling excess stress or pressure. The layout also keeps your spinal column in a neutral layout.
A seven-inch foam layer appears on the bottom. The dense foam adds support and works as a general foundation.
The foam surface offers a breathable body that is easy to sleep on. The open-cell layout also ensures hot air can escape. The mattress will stay cool throughout the night.
Firmness
In terms of firmness, the Casper mattress would get a 6 out of 10 based on how soft or firm it is. The comfortable body keeps you from sinking, but it also adds enough support for your pressure points. There is a slight bit of bounce as well, but it is not obtrusive enough to
where you won't get a good night's sleep.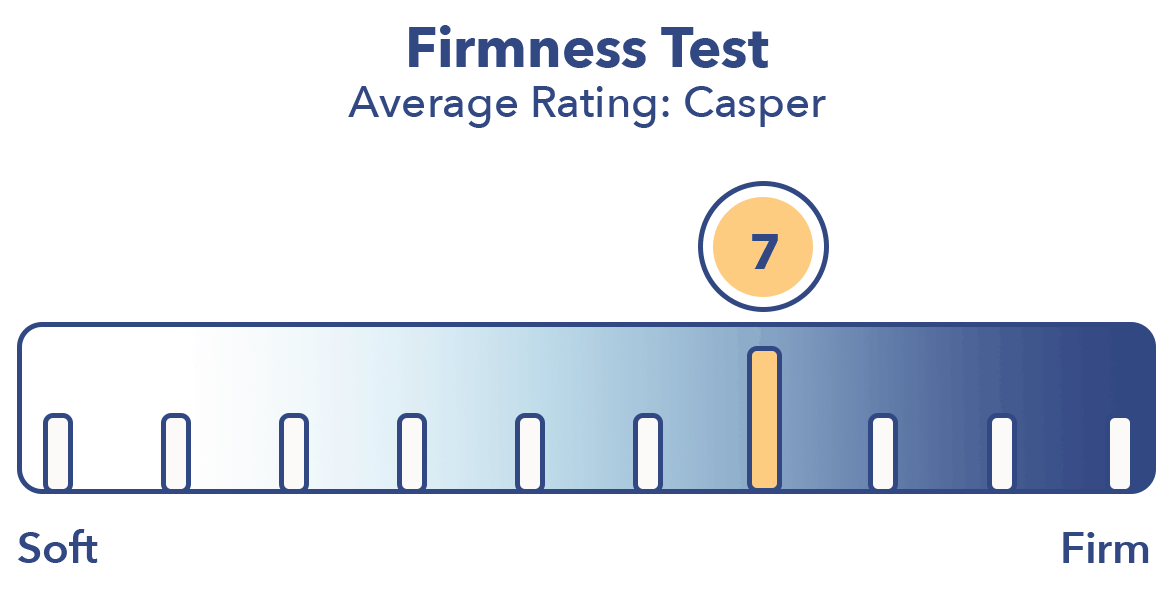 Edge Support
The edges feel very solid. There is a definite border of sorts produced by your weight. Your weight will be distributed well around the mattress to produce a comfortable surface that keeps you from possibly slipping off of the bed.
Is Motion Transfer a Concern?
The Casper mattress does a remarkable job with absorbing shocks. The bounce that the mattress produces is also minimal in intensity. Therefore, you should enjoy a good surface without worrying about the body being too rough.
In general, the Casper mattress is ideal for couples to utilize. You will appreciate how well the mattress works when someone else is moving on it. You will not feel lots of pressure or stress when trying to get to sleep as you use the mattress for your evening needs.
Body Heat
The smooth and open-cell design of the Casper mattress makes it perfect for those who tend to get rather hot when sleeping. The risk of a person becoming too hot will be minimal, although you would have to watch for whatever covers you are sleeping under to.
How It Works For Many Sleeping Styles
A back sleeper will love how the Casper mattress works. The sleeper will appreciate how the mattress provides a soft amount of support all around. This includes help for keeping the spinal column aligned. The top comfort layer will keep the lumbar segment aligned and positioned well.
You can also use the Casper mattress if you are a side sleeper. The mattress will relax your hips and shoulders and will ensure your weight isn't concentrated too heavily when in use.
A stomach sleeper will also enjoy the Casper mattress, although part of this depends on how the person lines up on the bed. The middle segment provides plenty of support for the hips to keep them from sinking. The spinal column should be positioned well, although you'll have to be sure the positioning is handled well enough.
Combination sleepers of all sorts will appreciate what the Casper mattress has to offer. The flexible design of the mattress provides a body that lets you sleep in any position that you need to throughout the night.
Weight Considerations
The Casper mattress is best for small and medium-size persons. Meanwhile, a heavier person who is around 250 pounds or heavier in weight will not benefit from the mattress. The person may wear through the mattress a little faster than someone else. A heavier sleeper can consider a hybrid option that may work a little better, as will be mentioned a little later in this report. The coil support on the hybrid mattress would work better for someone heavy.
Sizes and Dimensions
The size of the Casper mattress is listed here based on its width, length, and thickness. All measurements are in inches:
Twin – 39x75x12
Twin XL – 39x80x12
Full – 54x74x12
Queen – 60x80x12
King – 76x80x12
Cali King – 72x84x12
Price Points
The prices of the Casper mattress are listed here without discounts. All values are in American dollars:
Twin – $595
Twin XL – $695
Full – $895
Queen – $1,095
King – $1,395
Cali King – $1,395
Free shipping is available throughout the United States and Canada. Additional charges for shipping may be imposed in Alaska, Hawaii, and some parts of Canada like places east of New Brunswick.
Special promo codes are also available for you to check out when online. These include discounts where you can get $100 or more off of the purchase of your Casper mattress. Be sure to review the terms associated with what you use for a discount.
The Hybrid Option
You can spend an extra $100 to get a hybrid Casper mattress. The hybrid version comes with an added series of springs on the bottom end. The springs are arranged from end to end. These add an extra bit of lift and will stay strong for years to come. The coils also allow air to move through well, thus keeping body heat from being an issue when trying to rest.
Support For Many Beds
You can get your Casper mattress added on one of the various bed surfaces:
You can place the mattress on top of a traditional platform bed.
You can also use it on a foundation with a frame on the bottom.
The Casper mattress can also be used on an adjustable frame, although this feature works best when the surface doesn't bend too much.
You do not require a box spring when getting the bed ready for use in your home.
Additional Considerations For Purchase
The following extra points should be noted when you get the mattress:
The mattress will be delivered to your home in a box. You can open the box and allow the mattress to stretch out after you get it. It takes about a day for the mattress to stretch out well enough.
You will get 100 nights to test out of the mattress. You can return the mattress for a full refund if you are not satisfied for whatever reason. You don't have to worry about getting the bed back in the box when attempting to return it. The return process does not cost anything extra to utilize.
You may be eligible for a delivery and pickup service depending on where you live. In this case, a white-glove service team will help you with moving the mattress into your home and with setting it up. Your old mattress will be removed as well.
A ten-year warranty is included on the mattress. The warranty ensures you'll have enough time to use the product and that you can get it replaced if any concerns come about. The warranty is mainly for manufacturing defects. The warranty is lengthy, but it is not a lifetime warranty like what other companies have to offer.
The mattress should not be difficult to lift and carry in most cases. The mattress will weigh from 56 to 102 pounds depending on the size. You might need help with carrying the box, although it does come with handles.
All materials used in the production of the Casper mattress are CertiPUR-US certified. This means that the products do not contain heavy metals or other dangerous items.
Every Casper mattress is made in the United States.
Conclusion
You can use the Casper mattress if you want something that provides you with a great night's sleep. The design of the Casper mattress ensures you will not struggle with trying to get to bed in any situation. Take a look at how this mattress can work if you're looking for something easy to use for your sleep needs.