Allswell Mattress Review
Allwell is a brand under the Walmart umbrella, specializing in mattresses and other bedding accessories. Despite being a newer manufacturer, Allswell has consistently released quality models. And our review focuses on their flagship mattress, the Allswell.
This mattress is a hybrid-type that uses a unique memory foam comfort layer infused with graphite and copper. It also features a zoned pocket coil support structure, using thicker coils around the perimeter for minimal sinkage and stronger edge support. Overall, the Allswell measures at a thickness of 10 inches. And it lies between 6.5 in the firmness scale.
If you want to learn about the pricing, performance, and other essential details, read our complete review below!
We Recommend For
You prefer the feel of traditional innerspring models. This mattress features a medium firmness and won't conform strictly. And this design creates a feeling akin to floating, where you're "on" the bed, not sinking into it.
You weigh above 130 pounds. The strong support and minimal conformity make the Allswell better suited for average to heavyweight sleepers.
You're a hot sleeper. Because of the pocket coil layer, this mattress has adequate airflow that keeps the temperature within comfortable levels.
You want the best bang for your buck. Unlike other hybrid models of the same quality, the Allswell is exceptionally budget-friendly.
We Don't Recommend For
You prefer a body-conforming unit. This mattress does have a conforming comfort layer, but it won't give the same pressure relief of a conventional memory foam unit.
You're a lightweight side sleeper. It might be too firm if you're under 130 pounds and prefer to sleep in this position. A mattress that's too hard for your body type can cause uneven alignment and add pressure to your hips and shoulders.

Allswell Mattress
We recommend the Allswell for the peoples who like the bouncy mattress and if you sleep with a partner this is the best choice thanks to its excellent motion transfer and edge support.
Firmness and Rating
How Firm is the Allswell Mattress?
Even though the cover features a memory foam layer, this mattress doesn't have the same feel as a pure memory foam model. While you get a slight feel of it, we concluded that this mattress lies more on the soft feel that's reminiscent of a neutral-foam bed.

By neutral, we mean that the topmost layers are comfortable and soft, but the whole bed won't contour or conform to your shape. A good comparison would be Brookly Bedding's Signature Mattress with a higher firmness.
Sleeping On the Alswell Mattress (Sleeping Positions)
Back – Back users will get ample support with the Allswell. The foam layers fill in the spaces of your lumbar region for maximum support. This material helps alleviate the tension in your spine. It's also easy to change positions and move about because of the pocketed coils and polyfoam layer.
Side – If you turn to your side, you will experience a bit of pressure on your hips and shoulders. These are common problem areas for a side sleeper. And for this very reason, we often recommend side sleepers soft mattresses for ample relief. Overall, the Allswell provides average comfort for this sleep position.
Stomach – Stomach sleepers will get excellent support from this bed. Your hips and shoulders will remain comfortable. And the support from the coils helps align your spine.
What Does the Allswell Mattress Feel Like?
This mattress lies within the medium-firm range. Its memory foam doesn't offer the conformity that some lightweight individuals might need – particularly those who prefer to sleep on their side. However, the thick coils in the mattress's core will ensure minimal body sinking and even support, making this model more suitable for sleeper weighing more than 130 pounds.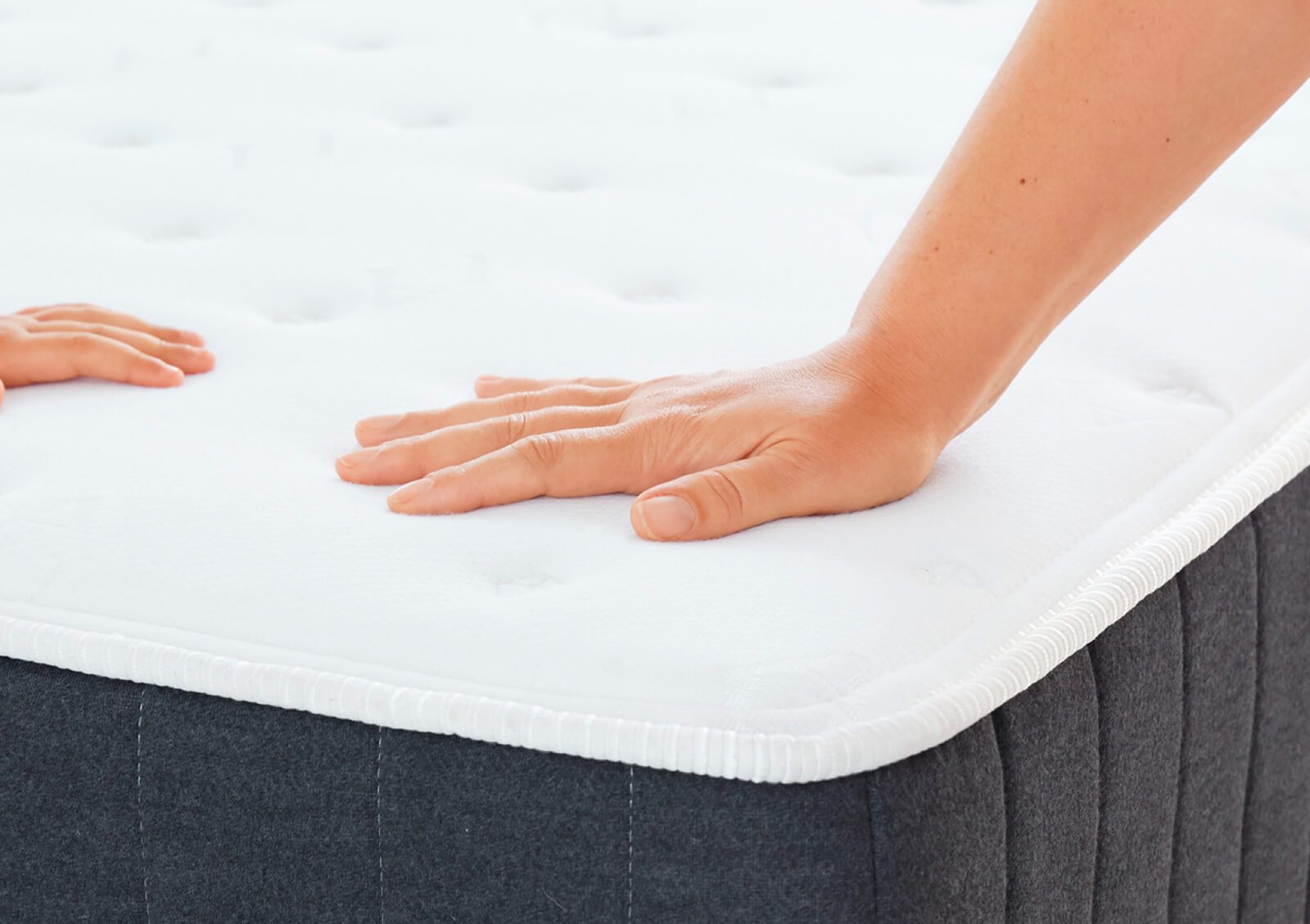 The Allswell is adequately responsive with a bouncy feel akin to your conventional innerspring mattress. This feeling, combined with the unit's minimal conformity and medium firmness, keeps you on the bed instead of sinking into it.
Average Weight Sleepers – 130lbs – 230lbs
If you lie within this weight range, you get ample support and comfort with the Allswell. Side sleepers will get good spine alignment and adequate padding. Likewise, stomach and back sleepers won't sink deeply because of the thick coils. However, these two positions will experience a bit of pressure in some regions, especially for those on the lighter end of the weight spectrum.
We recommend every sleeper in this group to use medium-firm to medium-soft beds for maximum comfort. These two firmness types will often give the right balance of support and pressure relief. The Allswell is a reliable choice if you prefer less body sinkage and support over comfort.
Heavyweight Sleepers – Over 230lbs
Heavyweight sleepers will significantly benefit from the Allswell. Back sleepers won't sink deeply and feel supported, while side sleepers will experience ample pressure relief and proper spine alignment.
This mattress is also a viable option for stomach sleepers, but you might experience a bit of sagging on your midsection. And this issue is widespread for stomach sleepers because they carry the majority of their weight around their hips and waist. If you tend to sleep face-down, this position might cause your midsection to sink into the bed, which can cause shoulder and neck pain.
Lightweight Sleepers – Under 130lbs
The Allswell might not be the best fit if you're a lightweight sleeper, but it still depends on your preferences. You'll experience a proper balance of support and body-conforming but might feel some pressure on your hips and shoulders.
If you sleep on your side, you'll experience more of this pressure because of the weight distribution. You might need more cushioning to alleviate the discomfort and align your spine. Even though the Allswell features a soft cotton padding, this might not be enough to remove all the pressure.
If you're a lightweight sleeper, we recommend a mattress that lies between the medium-soft and soft range. Steer clear from firm beds because they might cause additional pressure to develop in some parts of your body.
Construction and Materials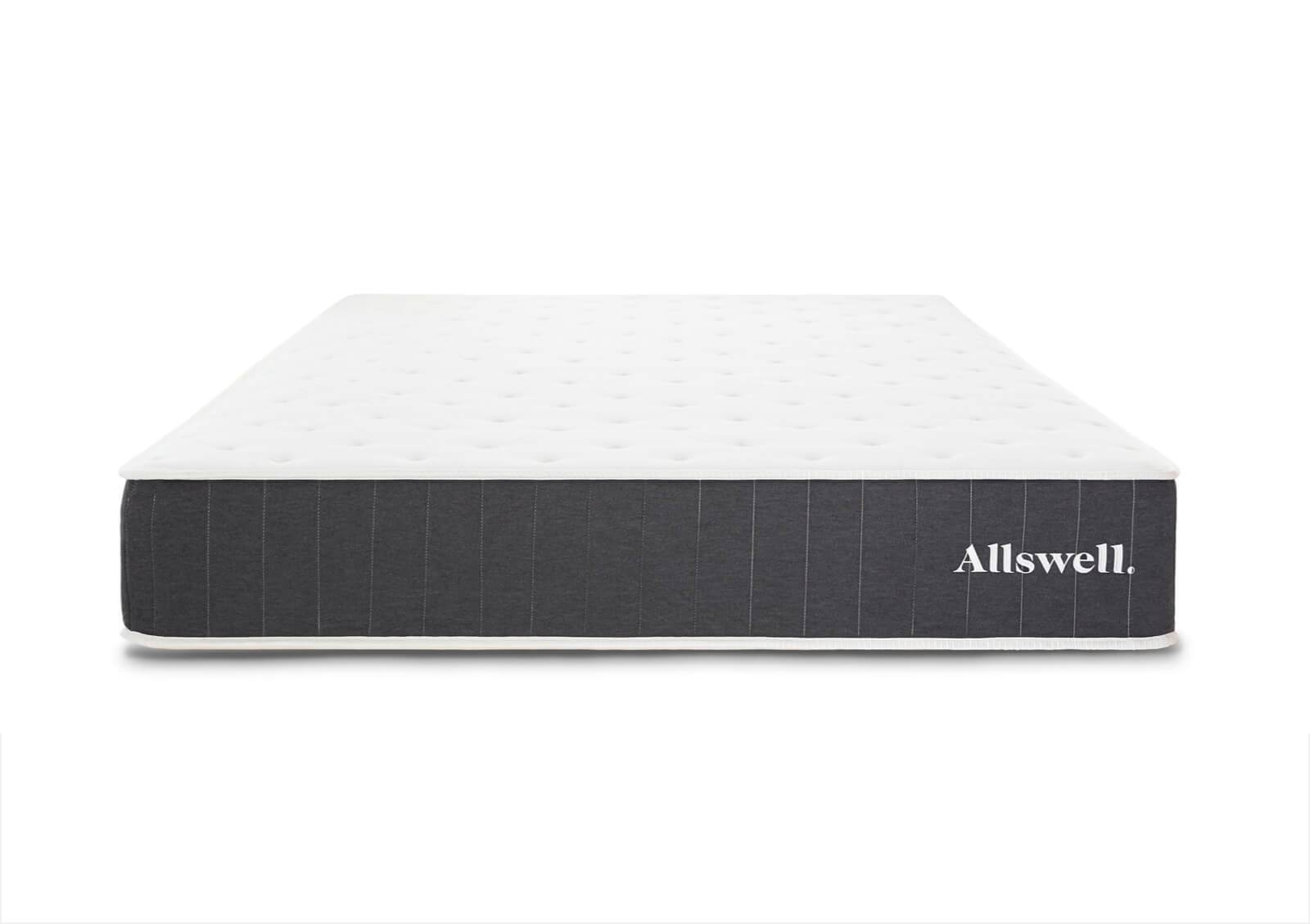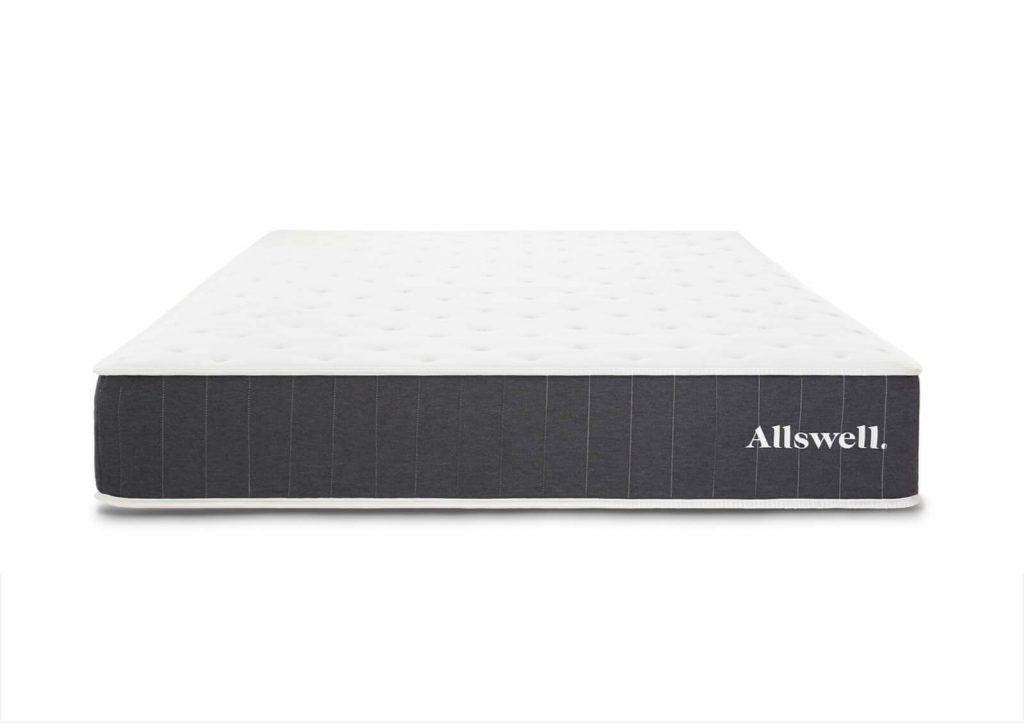 Cover
The Allswell uses a cover that's made with a polyester and spandex blend. This combination creates a stretchy material with a stretchy feel. It's also quilted using a cotton padding for extra cushioning.
Comfort Layers
The comfort layer is comprised of a 2-inch memory foam gel-infused with graphite and copper. Because of the mattress' medium firmness, this foam won't conform as much or offer additional support for a heavier user. However, we do love that the material has extra cooling properties to keep users in a temperature-neutral sleeping environment.
Support Layer
This mattress features a supporting core made with pocketed coils (7 inches.) The layer is zoned using thicker coils that reinforce the mattress's perimeter to reduce sinkage and increase the stability of the edges. The coil system also provides strong airflow to keep the unit cool.
Mattress Height
This medium-profile mattress has a height of 10 inches. And a majority of this height is composed of the pocketed coils. The Allswell doesn't feature a transitional layer between the support and comfort components. So there's a slight compromise to the body-conforming and foam thickness for additional support.
Amore Mattress Size Options and Price
For a hybrid model, the Allswell is very budget-friendly. The fact that it's developed by an established brand and uses high-quality materials gives this mattress excellent value. The Allswell comes in five sizes: King, Queen, Full, Twin XL, and Twin. Here's a breakdown of the prices:
| Size | Dimensions | Weight | Price |
| --- | --- | --- | --- |
| Twin | 39" x 75" x 10" | 46 lbs | $265 |
| Full | 54" x 75" x 10" | 64 lbs | $345 |
| Queen | 60" x 80" x 10" | 78 lbs | $375 |
| King | 76" x 80" x 10" | 100 lbs | $465 |
Other Beds From Allswell
Allswell Luxe
Allswell Supreme

Allswell Mattress
We recommend the Allswell for the peoples who like the bouncy mattress and if you sleep with a partner this is the best choice thanks to its excellent motion transfer and edge support.
Mattress Performance
Sleeping Hot or Cold
This mattress offers excellent temperature neutrality. Its pocketed coils provide ample airflow to cool the interior. And the mattress maintains a surface temperature that's comfortable because of the minimal body-conformance. This feature is especially noticeable if you're making the switch from a bed that conforms closely to your body.
Innerspring and hybrid models typically give excellent temperature neutrality. On the other hand, full-foam mattresses don't have any form of air circulation, making them worse because they tend to absorb heat instead of dissipating it.
Motion Transfer
We evaluated Allswell's motion isolation by asking two users to lie down on different sides. The first tester moved about while the other one observed if there was motion transference. During all of the tests we've done, the Allswell exhibited excellent motion isolation.
Although the bed itself is responsive, the cotton cover combined with the memory foam layer minimizes the motion transfer to a considerable extent.
Edge Support
We evaluated the Allswell's edge support by sitting around its perimeter and testing for sinkage. Results from our test show that this mattress doesn't exhibit too much sinkage. We can attribute this to the Allswell's zone-type support layer, where thicker coils are used to support the bed's perimeter for additional stability and reinforcement.
We've also tested the unit by lying around the mattress's edges. Even while changing position, the mattress offered enough support to remain secure and comfortable. Overall, this model's edge support is excellent.
Durability
This mattress has been released only recently (less than 2 years), so we can't say for sure how durable this model is because the average lifespan of a mattress is 6 – 8 years. However, we still tested its durability based on material quality construction, user experience, and the brand's overall reputation.
Our estimate shows that the Allswell will last an average of 6 – 7 years before replacements or repairs are necessary. This lifespan is comparable to the average bed lifespan of a traditional hybrid model. This bed's pocket coils are built to preserve the shape of the edges. And the medium-firm build helps prevent sagging of the unit.
However, some impressions might develop on the sleeping surface with regular use because of memory foam deterioration. An excellent way to prevent this from happening is to change your sleep position by 180 degrees every quarter or half of the year.
Off-Gassing
When we unboxed the mattress, we only noticed a very faint off-gassing smell. A few days after, a majority of these scents dissipated with a minimal lingering odor. This lasting smell is mostly because of the mattress's memory foam. This material has a prolonged off-gassing compared to other bed materials.
With that said, you won't experience any serious or uncomfortable off-gassing problems with the Allswell. Since the coil system promotes ample air circulation, the off-gassing from the memory foam will dissipate in a matter of days.
Noise
When we tested the Allswell Mattress, none of our testers experience any noticeable noise. And this is expected because most hybrids will feature a quite performance because of their pocketed coils. This feature is especially apparent if you compare them to offset or Bonnel coils that innerspring models use.
With regular use after a few years, the mattress might make some creaks or squeaks. But we predict that it won't be apparent enough to disrupt your sleep.
Warranty Info
Allswell proved a 10-year manufacturer's limited warranty for each one of their mattress models. Here's a breakdown on the details:
This is a prorated warranty. At the sole discretion of Allswell, the brand will repair every defective mattress or issue prorated refunds for owners who have a valid warranty.
This warranty is only covered for mattresses that have ample foundational support. Allswell states that the owner needs to use a good foundation that gives adequate support for their mattress to keep their warranty. If owners use improper foundations, bases, or platforms, it might result in the bed incurring damage. Therefore, the warranty is voided if you use an improper foundation.
All mattress owners need to pay for every charge associated with their unit's transportation
This warranty covers indentations and sagging on the surface, measuring at least 1.5 inches.
This warranty doesn't cover indentations or sagging measuring below 1.5 inches. In addition, the warranty doesn't cover any form of physical damage like cuts, burns, stains, and other defects caused by a heated or electric blanket or improper use.
Allswell only offers this warranty to their mattress's original owner (the individual who made the purchase.) The purchase must be made through authorized retailers or directly from the brand. Any units bought from an original owner or unauthorized retailers don't qualify for the warranty.
Comparisons and Alternatives
Allswell Mattress VS Luxe Hybrid
Much like the Allswell, the luxe version offers the same firmness that suits people who prefer a non-sinking model where you lie on top of the mattress. Both of these beds feature a pocketed coil layer to promote excellent airflow, which helps maintain a comfortable temperature.
The Luxe Hybrid is a bit more responsive compared to the regular. However, the Allswell is better at motion isolation. So it all depends on the preferences of the user while both of these mattresses feature zoned coiling, the Luxe Hybrid sports enhanced edge support because of the thicker coils.
The Luxe Hybrid is a bit more pricey compared to the regular. But overall, both of these mattresses are a good value for your money and a lot more affordable than similarly built models from different brands. If you prefer a responsive bed, go for the Luxe Hybrid, but if you need excellent motion transfer, the Allswell is a better choice.
Allswell Mattress vs. Supreme
The Supreme is Allswell's luxury hybrid option. This unit sports a medium firmness, so it conforms a lot more compared to the Allswell. The comfort system uses Euro-top layers to provide a bit more cushioning. If you're a lightweight, we generally recommend the supreme for better pressure relief and body-conforming. If you're a heavyweight, the Allswell is better built to offer the right support.
With differences in firmness aside, these two models sport somewhat similar designs. Both of them feature zone pocketing to reduce sinkage. The coil layers promote good airflow for better temperature regulation. In addition, the models feature excellent motion isolation and responsiveness all around.
Even though Supreme is Allswell's most expensive unit, it still has a much lower price point, even if you compare it to an average hybrid bed. If you prefer a mattress with better conforming and additional padding, go for the Supreme. If you like a firmer surface, Allswell is the way to go.
Alternatives:
Brooklyn Bedding's Bowery Hybrid
The Bowery Hybrid from Brooklyn Bedding and the Allswell are similarly built. Both of these models feature 10-inch profiles with padded covers, 2" foam layers, and pocket coil cores. They also lie between the medium-firm range in terms of feel.
Some common characteristics that we noticed between these models include excellent edge support, good responsiveness, and great temperature neutrality. However, one crucial difference between the two is pressure relief. The Bowery Hybrid's comfort layer uses polyfoam, while the Allswell uses memory foam. And the latter is better at alleviating pressure and conforming to a sleeper's body. So the Allswell wins in this category.
The Bowery Hybrid is also more expensive than Allswell, but both are reasonably priced average hybrid mattresses. If you prefer a mattress with medium-firm touch, the Allswell is for you. If you didn't like the firmness of the Allswell, the Bowery Hybrid might be a bit more comfortable for you.
Casper Essential
This model from Casper is the brand's budget-friendly full-foam unit. Much like the Allswell, this model sports medium-firmness. However, it uses a 3.5" memory foam and polyfoam comfort system that's better at body-conforming. So if you prefer a sleeping position where you're on top of the mattress as opposed to sinking into it, the Allswell is a better option.
Since the Essential is a full-foam unit, it's better at motion isolation and is virtually silent. So it's an excellent choice for sleeping partners. With that said, the Allswell provides better edge support and temperature neutrality because of its pocketed coils. It's also a lot more responsive than Casper.
Both of these mattresses lie between the same price points. If you prefer a closer conforming, then the Essential is a better choice. If you're heavier set or tend to sleep hot, the Allswell might be more comfortable.

Allswell Mattress
We recommend the Allswell for the peoples who like the bouncy mattress and if you sleep with a partner this is the best choice thanks to its excellent motion transfer and edge support.
FAQs
How can I make a purchase for the Allswell?
You can purchase the Allswell on the brand's website or on Walmart.com. Sadly, this model isn't sold in any physical location, so you won't be able to try it firsthand.
Where does the brand ship?
Allswell can send mattresses in all of the 50 states. However, White Glove delivery and expedited is only available for the US. Presently, you can't buy this model if you live in any other location.
What's White Glove Delivery?
This form of delivery is available for contiguous US locations. And it includes an assembly for your bought mattress. You can avail this for $99.
Can you tell me more about this mattress removal?
You can have your old mattress removed if you avail of the White Glove option for delivery. For a fee of $50, you can arrange to have the delivery personnel take out your old or used mattress (the unit that needs replacing).
Recap
Overall, we love the design and feel of this mattress. It's very comfortable and provides enough support for every sleeper type and body position. Depending on your category, some units might be better suited for your needs. But the Allswell's overall comfort and support is excellent, especially if you consider it's the very low price point. This model stands out in the mattress market because it provides superior quality at an affordable price.
If you like a firm mattress with a good temperature circulation, strong edge support, and decent pressure relief, the Allswell is an excellent choice. If you're looking for other potential options, be sure to check out the different models offered by Allswell if you're looking for alternatives.
Allswell Information Company Information
Contact Allswell through these channels:
You can also find them on their social media: