Amore Luxury Hybrid Mattress Review
Amore's brand message is, "we've got you covered — naturally." It's a nod to the company's usage of organic and natural materials in their line of products, from their pillows and mattresses to their box frames and sheets. Some of their products even feature special materials like organic wool and copper-infused rayon.
Aside from their use of eco-friendly fabrics and foams, their company also emphasizes personalization. Buyers have the option of choosing their mattress' firmness. They can even have a unit with "split" firmness levels, so couples with different tastes don't have to compromise on their comfort.
If you're in the market for something luxurious without spending an excessive amount of money, the Amore Luxury Hybrid Mattress might be your best bet. This bed utilizes a combined coil and foam system for optimal bounce and comfort. And every material used is all-natural and sourced in the US.
From construction to firmness, price to performance, our review has covered everything you might want to know about this mattress.
We Recommend For
You are a combo sleeper – Changing sleep positions is easy because of the bouncy latex and springy coils, so this mattress offers high mobility.
You tend to feel hot while sleeping – With the Amore mattress, you have the option of choosing a copper-infused cover with additional cooling properties. On top of that, the mattress's pocket coil system lets air move more freely to promote breathability. And Latex is a material that's known to dissipate heat well.
You want a latex model without the steep price – Everyone knows how pricey Latex can be. It uses an aeration process that improves mattress' durability, comfort, and softness. With that said, Amore is a bit more budget-friendly when compared to other latex beds of the same caliber.
We Don't Recommend For
You need motion isolation features– While Amore's mobility and bounce ensure that you don't feel "stuck," the downside to this is that motion easily transfers through the mattress. The lack of motion isolation can be particularly annoying if you share your bed with someone who frequently moves at night.
You need additional pressure relief – You might be the type who prefers soft, contoured support and sinkage, and you won't get this from Amore. If you need deep pressure relief, we recommend a model that uses memory foam.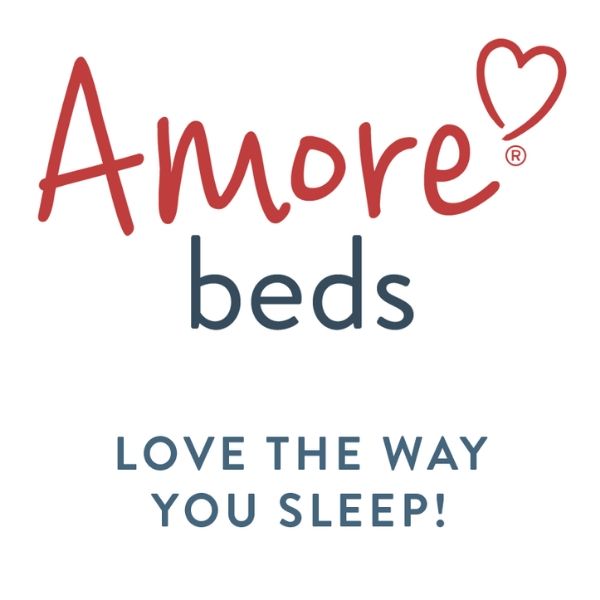 Amore Luxury Hybrid Mattress Mattress
We recommend the Amore Mattress for luxury and comfort seekers. Sleep with your partner or sleep alone but this will be your best choice thanks to its extra luxury providing features.
Firmness and Rating
How Firm is the Amore Mattress?
You can choose between two levels of firmness: Luxury Firm and Luxury Medium. We generally recommend for most buyers to choose the former. It's very comfortable and lies between the spectrum of firm and soft. It's best for side sleepers, but it's also viable for stomach and back sleepers as well.

A Luxury Firm unit, on the other hand, is much closer to the medium-firm range, so it's ideal for stomach and back sleepers.
Sleeping On the Amore Mattress (Sleeping Positions)
For those who prefer to sleep on their backs, the Amore mattress evenly distributes weight across the whole body. You tend to sink a little because of the soft covering, but the combined bounce of the coils and Latex keeps you lifted on the structure's top portion.
For side sleepers, a little bit of pressure might build-up, especially if they choose the firm unit. The Luxury Medium model, combined with Amore's soft covering, does give some pressure relief. But if you're the type who strictly sleeps on their side, you might prefer a softer bed for additional support on the hips and shoulders.
For stomach sleepers, there's even weight distribution across the board. However, while your hip portion won't sink too much with the Medium, you might opt for the Firm version of your strictly a stomach sleeper. Choosing a firmer mattress will also help promote a healthier alignment for your spine.
What Does the Amore Mattress Feel Like? 
Overall, the Amore Luxury Hybrid feels bouncy, with medium firmness. You get a bit of pressure relief from the wool cover's softness, which is great for the hips and shoulders.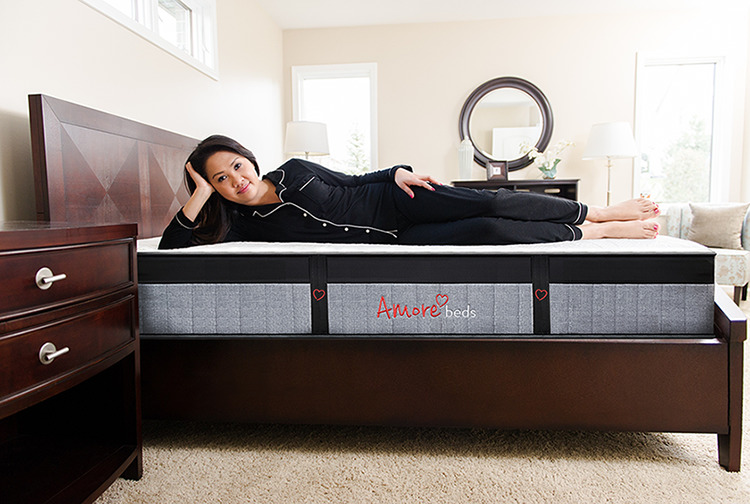 And the pocketed coils combined with a latex foam reliably maintains your position on top of the bed. You don't get any sinkage or contouring from this mattress, but you still get ample mobility.
Average Weight Sleepers – 130lbs – 230lbs
For average weight sleepers, the Amore provides excellent back support, and good support for the side, and fair support for the stomach. We recommend a mid-level firmness if you're under this category. The mattress won't sink too much beneath your body, and the comfort layers will provide a bit of pressure relief and comfort.
Heavyweight Sleepers – Over 230lbs
For heavyweight sleepers, the Amore provides good back and side support, and average support for stomach sleepers. The Amore's coils give this mattress enough body to handle heavier users while still isolating some motion. Regardless of what bed you're going to buy, pocketed coils are the way to go since they're much better than innerspring models.
If you fall under this category, we recommend that you pick firm or medium-firm mattresses to give you ample support and an even sleeping frame. A soft mattress will sink too much and might feel stuffy.
Lightweight Sleepers – Under 130lbs
For lightweight sleepers, the Amore provides excellent back support and good support for the side and stomach. If you're a lightweight sleeper, we recommend between a medium to soft mattress that contours to your body. This mattress type helps alleviate pressure and align your spine. We discourage you from buying firm beds because you'll experience additional and unnecessary pressure.
Construction and Materials
Cover 
The cover is made using quilted wool and organic cotton. For the additional cost of $60, you can upgrade to a copper-infused cover that adds cooling qualities. Overall, the cover is very soft and creates a bit of sinkage and pressure relief. This is especially useful if you're a side sleeper who needs extra support for the shoulders and hips.
Comfort Layers
The Amore's comfort layer is made from Talalay latex (3"). This foam type goes through a unique aeration process that products additional bounce and a softer touch. Many consider this type of Latex as an upgrade to older foams like the Dunlap latex.
The Talalay gives you a soft but still mobile experience, so you still feel like you are on top of the mattress versus sinking into the body – even if you're using the Amore's plush quilt. Aside from that, Latex also helps dissipate body heat, an essential addition for those who sleep hot.
Support Layer
The bed uses a combination of different materials for this layer. After the comfort layer, there are 2 inches of firm polyfoam that acts as the transition between the coil system and the latex foam. This additional layer gives ample cradling support as opposed to a direct latex to the coil system.
After this layer, the pocket coils (6″) give the mattress additional bounce and airflow to help regulate the temperature. You'll notice a big difference if you're making the switch from a pure-foam bed that retains heat. The combined coil and Latex ensures that you have a bouncy mattress without feeling stuck.
The bottom part of the mattress uses 1 inch of high-density foam that gives very solid support for the whole structure. You might not be feeling this foam directly while you sleep, but it's still useful because it adds a bit more durability for the mattress.
Mattress Height 
The Amore Luxury Hybrid has a height total of 12.5".
Here's how it compares to other Amore models:
Hybrid – 12"
Natural – 11"-13"
Flippable – 11"
Amore Mattress Size Options and Price
Usually, buying a premium hybrid mattress will have a price range of over $1000 for queen sizes. For the Amore Luxury Hybrid, their queen size is $1100, but their discount will get you under $1000. This price is very affordable if you compare other similar models from different brands. Here's a breakdown of the prices of this unit:
| Size | Dimensions | Weight | Price of 8" Version |
| --- | --- | --- | --- |
| Twin XL | 38" x 80" x 12.5" | 62 lbs | $1260 |
| Full | 53" x 75" x 12.5" | 84 lbs | $1700 |
| Queen | 60" x 80" x 12.5" | 89 lbs | $1800 |
| King | 76" x 80" x 12.5" | 125 lbs | $2100 |
| California King | 72" x 84" x 12.5" | 127 lbs | $2100 |
Other Beds From Amore
Apart from the Luxury Hybrid, Amore also has these models for sale: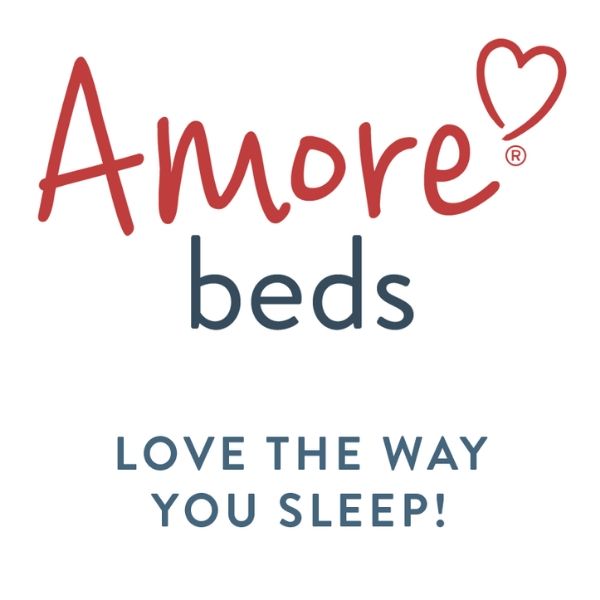 Amore Luxury Hybrid Mattress Mattress
We recommend the Amore Mattress for luxury and comfort seekers. Sleep with your partner or sleep alone but this will be your best choice thanks to its extra luxury providing features.
Mattress Performance
Sleeping Hot or Cold 
The Luxury model is very cool because of the coils and Talalay latex. But if you tend to sleep really hot, we recommend that you invest the extra $60 for the copper-infused covering option. The combined cooling systems of the mattress and this cover will keep any sleeper cool and comfortable.
Motion Transfer
We've conducted a motion transfer test to see how well the Amore Luxury Hybrid isolates motion. This feature is considered essential for couples who don't want to disturb each other because of tossing and turning.
Because the bed provides ample bounce and quick pressure response, we tested how well it performs using a steel ball (10lb.) dropped from varying heights. Based on our findings, the latex material is very bouncy, so it tends to cause a bit of disturbance across the mattress. Since this is a common trait for latex beds, you might opt for a non-latex option if you need a unit with less motion transfer.
Edge Support 
The Amore Luxury Hybrid's main support layer is composed of coils. And the ones located by the mattress' edges are a bit firmer to offer extra edge support. Most individuals can take a seat on the unit's side without it sinking too much because of the coil system. However, a little bit of sinkage should be expected. If you want a model with the best edge support, you should go for the Luxury Firm option.
Durability
The overall durability of the Amore Luxury Hybrid is very impressive. Because of the dense foam base layer, the whole structure is supported. And the additional foam layer between the Latex and the coils give another support structure.
Off-Gassing
The Amore mattress had some off-gassing when we opened its box, but it was very minimal. The smell didn't persist very long and was absent the following day. This type of gassing is typical for a mattress model with some form of foam component, and given that the Amore uses three layers of foam, some gassing should be expected.
Noise
Considering that the Amore has a coil system, it doesn't produce a lot of noise compared to similarly built mattresses. It might be due to its extra layers of foam that the coils don't impart much sound. However, you'll still hear a bit of squeak that's present in every spring/foam hybrid.
If you want a bed that's very quiet, we recommend units that are comprised of pure Latex or foam. Because these units lack additional components inside their frames (which are the culprit of mattress noise), foamy models are virtually silent.
Warranty Info
The Amore brand offers its users warranties that last at least 10 years. The Luxury Hybrid, for instance, has a 20-year manufacturer's warranty. Here's a breakdown on the company's warranty information:
The warranty is completely non-prorated. Therefore, at Amore's sole option, the company will replace and repair every mattress that has defects if they have a valid warranty
Amore Beds covers all the handling and shipping costs for the bed's first replacement or repair. Any subsequent replacement or repair needed afterward will be paid for by the owner.
Every mattress replacement that is upgraded qualifies for new warranty coverage. With that said, all non-upgrades won't have new warranties, nor will they have an extension of their original warranty.
Amore Beds states that their mattresses are designed to be used on solid or firm supportive surfaces that can support both the mattress' weight as well as the owners'. This surface includes foundations and box springs that have ample center support, and slatted frames spaced 6 inches at most. If the mattress doesn't have the proper support, its warranty is voided.
Amore's warranty covers these conditions:
Indentations or sagging on the surface that measures 1 inch at the least. This condition is only applicable if the damage didn't stem from misuse.
Manufacturing flaws found in the mattress, which makes the material crack, split, or prematurely decompose.
Amore's warranty doesn't cover these conditions:
Indentations or sagging on the surface that measures below and inch, or the presence of body impressions. Amore considers these issues as the natural wear and tear of the unit.
Stains, tears, cuts, burns, or other forms of physical damages resulting from improper cleaning, misuse, or an inadequate support structure are not covered.
The presence of vermin infestations or mold growth is not covered.
Buyers are not allowed to use their mattress within commercial settings. This condition includes using them for hotels, rental properties (including Airbnb), or dormitories. Doing so will void the product's warranty.
The warranty is only exclusively offered for original buyers who made the purchase from the company itself or authorized retailers. Anyone who acquires or buys a mattress from an original owner or an illegal retailer does not qualify for the warranty coverage.
Comparisons and Alternatives
Luxury Hybrid VS Hybrid
The Hybrid is essentially the budget version, and it uses a 4" coil system instead of a 6" one. Beyond this difference, the Hybrid gets more options in terms of firmness levels. You can choose between Firm, Medium, and Soft, all of which are 12" in height.
The Hybrid sports a similar construction to its luxury counterpart with the only difference of being 12" thick instead of 12.5". It will still have the custom cover, wool, polyfoam, and coil system. The comfort layer is a bit different, though, as it uses memory foam instead of Latex. You can consider this material as a pro or a con, depending on your needs and preferences.
We've tested each of the units and found that the Firm and Soft feel more medium-firm and medium-soft, respectively. And the Medium does lie on the firmness scale's medium portion.
Luxury Hybrid VS Natural
The Amore Natural has a height of 11", but it can be upped to 13" if you include the pillow top. With the Natural model, you can purchase a pillow top for extra cushioning and comfort for an additional cost. With that said, we definitely prefer this mattress with a pillow top.
In terms of firmness, the Natural lies on the firm scale, so we recommend this for stomach or back sleepers as opposed to the Luxury Hybrid's Medium Firm and Medium. With its topper, you can sleep on it with any position. However, you shouldn't consider this a soft model. Even with a topper, it's still on the medium-firm scale, so it's still ideal for stomach and back sleepers.
Luxury Hybrid VS Flippable
Among the other models, the Flippable is the most different from the Luxury Hybrid. It's essentially a bed palindrome, with nearly identical sides. One is just a bit firmer, but that's the only difference.
The Flippable feels just like your regular foam mattress. While other Amore models offer a distinctive feel, this one will feel like any other 1" foam mattress. It's not necessarily a bad bed, but it's certainly not noteworthy either. We also don't see a scenario where its flipping feature will be useful.
Luxury Hybrid Alternatives
You can go for the Amore Hybrid as a good alternative because it has minimal differences to its Luxury counterpart. For other brands, we recommend that you look into the Alexander Hybrid from Nest or the Sapire from Leesa.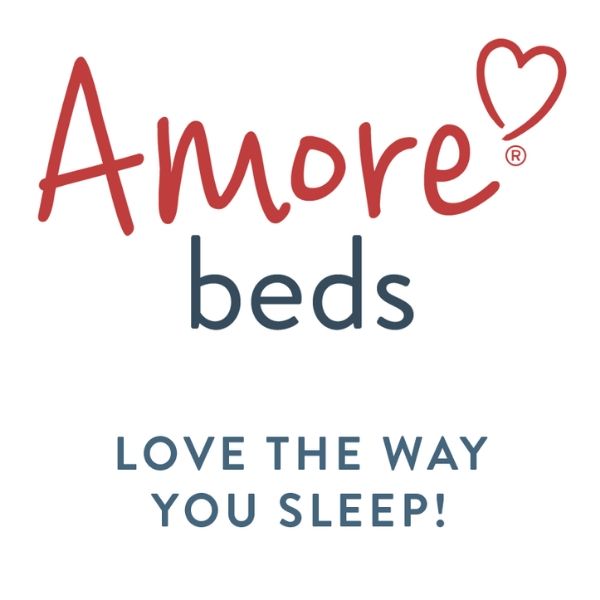 Amore Luxury Hybrid Mattress Mattress
We recommend the Amore Mattress for luxury and comfort seekers. Sleep with your partner or sleep alone but this will be your best choice thanks to its extra luxury providing features.
FAQs
Is every Amore bed model manufactured in the US?
Yes. The Luxury Hybrid, Hybrid, Flippable, and Natural mattresses are made in Chicago, US.
What are the cover options for the Amore mattress?
With most of their mattress models, you get multiple cover options. And the base one is the organic cotton cover that's free. This cover is breathable and smells a bit earthy. For an additional cost, you can upgrade to a copper-infused cover that has cooling properties. Lastly, you can also choose Amore's CBD-infused cover, which is, to our knowledge, unique to the brand.
What can you tell me about Amore's special CBD cover?
As far as we know, this is the first bed that can come with a CBD cover. It doesn't come as a standard for all of their mattress models and can only be added to a select few. The price for this CBD cover is $150. Much like the special copper-infused cover, you can't refund the money spent on this upgrade. CBD oil imparts plenty of health benefits, one example of which is that it helps people sleep more soundly.
What physical location sells Amore products?
Sadly, we don't know of any stores that sell products from Amore. You have to purchase them online and have them delivered to your home. Amore might have a showroom in their Chicago base to display their items, but we don't know of any physical retailers who carry their products.
We recommend that you buy Amore products from their website directly so you can benefit from their promotions and more direct communication with the manufacturer.
Recap
Amore Beds carries an excellent line of mattresses that suits a wide range of preferences, so choose a bed that suits you best. In our opinion, the Natural and the Luxury Hybrid are of the highest quality, offering ample comfort and support for most body types. While the other models aren't bad per se, the Luxury Hybrid is the better option, and the Natural has a unique design.
In general, each of the Amore models is of good quality. We love the fact that they're made here in the US. And the manufacturer offers a very generous warranty that's longer than most. Lastly, the use of organic and natural materials shows that this brand puts great importance on the quality of components used on their products.
Amore Information (Product Company Information)
Contact Amore Beds through these channels: