Awara Mattress Review
Awara Sleep is a relatively new brand that was established in 2018. So far, they've released one mattress model and three different bed frames. Awara's namesake bed is a hybrid that combines a 9 inch pocketed coil system and 4 inches of Rainforest Alliance-approved Dunlop latex.
This certification means that the product meets every economic, environmental sustainability, and social standards of the organization. On top of that, it's also Global Organic Latex Standard (or GOLS) certified. And the bed's cover uses organic cotton and New Zealand wool.
We've rated the Awara a 6 in terms of firmness (on a 10-point scale), making it a medium-firm unit. So users over 130 pounds will find an excellent balance of conforming and support. However, individuals with a lighter weight might experience a lack of pressure relief or an uncomfortably firm feel.
We Recommend For
You value a product that's environmentally friendly
You're a stomach or back sleeper
You prefer a responsive bed with ample support
You weigh over 130 pounds
You want a product with a longer risk-free trial (1 year)
We Don't Recommend For
You're a side sleeper who needs a softer mattress
You're on a budget that's under $500
You prefer the feel of a memory foam bed
Awara Mattress
Awara Mattress is recommended to all sleepers because it has great durability, comfort, transfer motion and edge support features
Firmness and Rating
How Firm is the Awara Mattress?
Awara features a medium firmness, which is a good range for average to heavyweight sleepers. This unit's 4 inches of latex prevents any excessive sinking and gives enough support and substance to keep a heavier user comfortable.

The pocketed coil layer gives you additional contouring and keeps the mattress well-circulated and less stuffy.
Sleeping On the Awara Mattress (Sleeping Positions)
If you tend to sleep with your back flat against a mattress, the Awara evenly distributes your body weight. You might feel a bit of sinkage from the covering, but the latex and coil build keeps you on top of the structure. However, the firmness might be too much for lightweight sleepers. So they might experience extra pressure across every sleep position.
If you're a side sleeper, you might feel a bit more pressure since this position doesn't evenly distribute your weight. While the Awara's soft latex foam and covering might offer a bit of pressure relief, you might opt for a softer unit if you're a pure side sleeper.
Lastly, stomach sleepers will experience an even weight distribution. This mattress's firm build promotes a healthy spine alignment and keeps your whole body on top of the mattress as opposed to sinking.
What Does the Awara Mattress Feel Like?
The Awara gives a responsive and firm feel across every weight group. Its build provides enough pressure relief and contouring for most sleepers, but anyone who prefers some sinkage to their bed might want a softer unit. The latex evenly spreads your weight across a larger surface.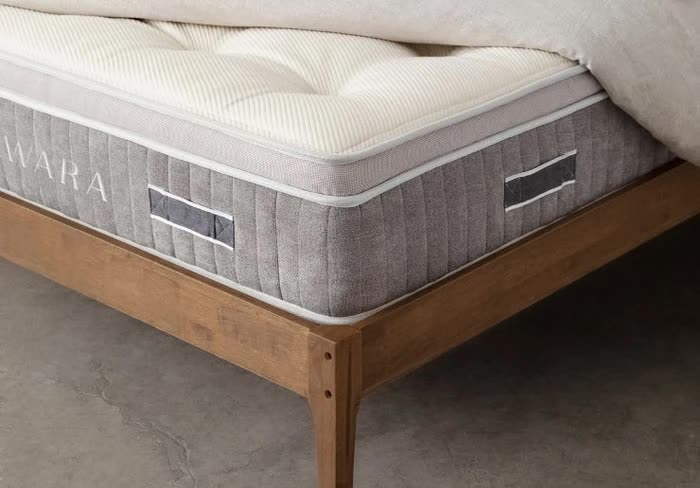 So you feel like you're on top of the mattress instead of "inside" it. This material also gives the mattress a springy and responsive feel.
Average Weight Sleepers – 130lbs – 230lbs
Our testers under this weight range found this mattress to be accommodating in every sleep position, with a slight preference for stomach and back sleeping.
If you're an average weight sleeper, we recommend a mattress with a medium or medium-firm feel. The Awara is a solid choice for people who prefer more firmness and who tend to sleep on their backs or stomachs.
The coiled layers prevent the hip portion from sinking too much while helping with spine alignment. However, side sleepers might find the bed to be too firm and cause some pressure build-up.
Heavyweight Sleepers – Over 230lbs
During testing, this mattress gave an excellent performance for our heavyweight testers who found a good balance of support and conforming in every position.
If you're under this weight range, we typically recommend mattresses with medium firmness or higher. The Awara's medium-firm build cradles heavyweights for ample pressure relief while preventing their body from sinking too much.
Most heavy sleepers tend to accumulate more body heat. So they might benefit from the Awara's pocketed coils, breathable latex, and moisture-resistant cover to maintain a cooler temperature.
Lightweight Sleepers – Under 130lbs
Our lightweight sleepers found the Awara's build to be a bit too firm, which limits the conformance and creates additional pressure, especially around the hips and shoulders for side sleepers.
We generally recommend a soft or medium-soft bed for users under this weight range. This firmness provides extra cradling for better pressure relief. While the Awara is a medium-firm, some might prefer the feel of a more rigid surface.
Side sleepers suffer the most when it comes to firmer mattresses. The Awara's latex layer might be too firm for lightweight sleepers who prefer this position. Users might not be able to exert sufficient force to feel the cradling of the comfort layer.
Construction and Materials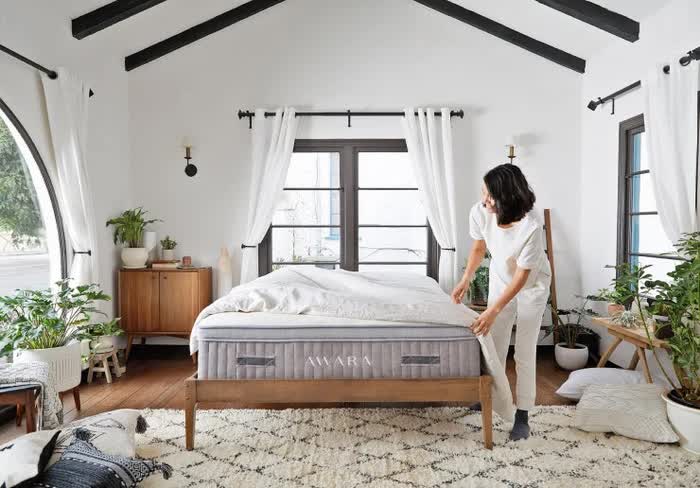 Cover
Awara comes with a Euro top cover made with a combination of New Zealand wool and organic cotton. This soft and plush cotton has ample airflow to help with temperature regulation, and it also wicks excess moisture. The wool, on the other hand, gives you more breathability, and it has natural fire-retarding properties.
Comfort Layers
The Awara's comfort layer is composed of 4-inch Dunlop latex foam. The material is both certified by GOLS and the Rainforest Alliance. The latter ensures that this latex is environmentally sustainable. And the former means that it's completely organic.
Because of the Awara's construction process, this type of latex is normally firmer and denser than Talalay type. So this mattress feels a bit more distinctive when compared to other latex hybrids. Dunlop also tends to last longer. So you don't have to worry about this layer deforming or sagging for a long time. The creation process of Dunlop is also considered more eco-friendly because of its streamlined processing.
Support Layer
The base of this unit uses a pocketed coil system. It totals at a 9-inch thickness (a lot thicker than other hybrid models.) These coils are wrapped with fabric. And this design allows each coil to move in an independent manner to reduce motion transfer and provide precise contouring. On top of that, the material can also muffle the noise you typically hear from older spring-type units.
This layer uses two types of coils, with the thicker ones added to help support heavier body parts such as your hips and midsection. The thin coils give soft contouring for the legs, back, and shoulders. The poly/cotton base covers the support layer and features four handles for reinforcement.
Mattress Height
The Awara is 13 inches thick, which is slightly higher than your average hybrid. The height combined with the strong edge allows for an easier time getting in and out of bed. And because of the 4-inch latex layer, there's enough material to prevent users from sinking into the coil support.
Awara Mattress Size Options and Price
Due to the Awara's use of higher-quality materials, you get a slightly higher price point. With the Twin size, you get the lowest available price of $899. And the King, being the largest, is $1,399.
Here's a full breakdown of the size options and their pricing:
| Size | Dimensions | Weight | Price of 8" Version |
| --- | --- | --- | --- |
| Twin XL | 38" x 80" x 12.5" | 62 lbs | $1260 |
| Full | 53" x 75" x 12.5" | 84 lbs | $1700 |
| Queen | 60" x 80" x 12.5" | 89 lbs | $1800 |
| King | 76" x 80" x 12.5" | 125 lbs | $2100 |
| California King | 72" x 84" x 12.5" | 127 lbs | $2100 |
Other Beds From Awara
Currently, this brand doesn't offer any other model aside from its namesake mattress.
Awara Mattress
Awara Mattress is recommended to all sleepers because it has great durability, comfort, transfer motion and edge support features
Mattress Performance
Sleeping Hot or Cold
All of our testers noted that the Awara provides excellent temperature regulation for a cool and comfortable sleep. The latex material of the comfort layer has many air pockets so its more breathable. And pocketed coils provide room for air to circulate and lower heat retention. And lastly, the cotton/wool cover gives extra breathability and wicks excess moisture. So our testers among every size bracket remained cool and comfortable while resting.
Motion Transfer
Our testers with sleep partners detected some motion transfer whenever their partner was moving throughout the night, but not significant enough to affect sleep quality. Awara absorbs a majority of the movement to provide restful sleep for both individuals.
Latex material is bouncier than any other polyfoam material. While this component lets you change positions much easier while you're resting, it also transfers a bit of movement.
However, the motion transfer is still significantly absorbed and reduced by the material. And this prevents the movement from being too noticeable across the mattress's surface. Aside from the latex, the Awara's pocket coil layer helps with motion isolation since the coils' movement is independent of each other.
Edge Support
All of our testers across every weight group sat by the edge of the mattress, and the results were impressive. The Awara's edges felt sturdy all throughout testing, allowing you to sit or even sleep comfortably near the bed's perimeter.
The excellent edge support comes from the combined qualities of the Dunlop layer and coil support. The former is denser and firmer than your average latex, so it compresses less even under heavier weights. And the core system provides extra support by the perimeter because of the thicker coils used.
If you're the type who enjoys sleeping by the edge of a mattress or if you tend to have trouble getting in and out of it, you'll appreciate the sturdiness of the Awara's perimeter. This edge will also let you use a bigger portion of the bed comfortably without the feeling of rolling or falling off.
Durability
Ever since this mattress was launched two years ago, we've tested its durability for long-term use. However, this still isn't enough time to properly judge the durability of the Awara. We can make informed assumptions, though. The mattress's sturdy construction and high-quality materials should have higher-than-average durability.
Latex hybrids like this bed typically last longer than the average lifespan of your conventional single-material mattress. And Dunlop especially is found to be a durable material. It resists deterioration even under prolonged use. So you can expect a longer time for this mattress's viability.
The pocketed coil support layer, on the other hand, provides additional durability. If you compare the pocket coil system with your traditional Bonnell springs, the former will have uniform widths. This feature prevents the forming of weak points. Which, in turn, reduces the chances of premature deterioration. Combining all of the Awara's construction and materials used, we expect it to last at least 7 years before needing a replacement.
Off-Gassing
We noticed a slight rubbery smell after we unboxed the unit. This is an occurring thing for most mattresses, especially ones that use natural latex. After a few hours, the odor already dissipated and was barely noticeable.
Any new mattress has a tendency to produce some gassing after their initial unpacking.
Beds constructed with synthetic materials produce volatile compounds that are typically the source of the odor. These compounds come from different materials, such as polyurethane foams.
However, all-natural latex won't have these compounds. And the distinct smell it emits after unboxing is the material's natural scent. The smell is hardly noticeable after a day, and completely undetectable the day after.
Noise
Much like any other hybrid mattress unit, the Awara doesn't produce much noise. The pocketed coiling system is quiet, but this may change with age. However, the durability of these coils means that any future noise produced won't be significant. On top of that, the 4 inches of Dunlop muffles any potential noise coming from the core layer.
Warranty Info
You receive a generous lifetime warranty for every Awara mattress. Here are the full details:
This is a non-prorated type warranty
Awara replaces any defective mattress within the first decade of ownership at no added cost for the owner. However, after this timeframe has elapsed, the owner has to pay for all transportation and shipping costs. But they get a replacement/ repair at no charge. Owners who send mattresses with no defects will be penalized $100 for the transportation fee.
This warranty's coverage is only contingent if the mattress is given ample foundational support. This means that the bed needs to be placed on a platform or base that's appropriate.
The mattresses replaced under this coverage will have the same manufacturer's warranty.
This warranty only covers the following:
Any visible indentation or sagging on the surface that measures at least 1 and ½ inches
Flaws within the bed that cause its materials to crack or split
Manufacturing defects on the cover
This warranty doesn't cover the following:
Any visible indentation or sagging on the surface that measures below least 1 and ½ inches. This includes any mattress softening that doesn't affect its overall pressure relief. The manufacturer considers these issues as the standard aging of any bed.
Requests for replacement or repair from the owner because of their change in preference, not product damage.
Any cuts, stains, tears, burns, or other forms of damage that might occur from neglect or misuse.
This is a non-transferable warranty. So it's only exclusive to the original owner who made the purchase from authorized retailers or directly from Awara.
Comparisons and Alternatives
As of the moment, Awara doesn't offer any other mattress model apart from this one. But here are a few good alternatives from other brands:
Awara VS Avocado
Much like the Awara, the Avocado is a hybrid that uses the same material combination of Dunlop and pocketed coils.
The Avocado has two layers that total 3 inches. It has a thinner latex layer compared to the Awara's 4-inch latex layer. The Avocado's layers are comprised of 2-inch latex and an additional inch below the base.
Awara's thicker latex layer can provide additional contouring and prevent you from feeling the mattress's core. So the mattress has a slight edge if you're a sleeper who needs better pressure relief. This doesn't mean that the Avocado is out of the game, though, because you have the option of adding a latex Euro top for that much-needed comfort.
The added pillow top gives the Avocado a 6.5 rating on the firmness scale, which is a bit higher than the Awara. We recommend average and lightweight sleepers who prefer extra cushioning to get the pillow top. But if you like the feel of a firmer mattress, you can choose to opt-out of it.
In terms of being eco-friendly, the Avocado comes with a vegan-friendly option, while the Awara does not. However, it is certified by various organizations that promote good manufacturing practices and sustainability. For pricing, the Awara is a bit cheaper, especially if you purchase the optional pillow top for the Avocado.
Awara VS. EcoCloud
The Ecocloud gives us another hybrid model that uses natural latex. Similar to the Awara, the EcoCloud uses a 4-inch latex comfort layer, with the only difference of Talalay being used instead of Dunlop. It might seem inconsequential to some, but the varying in latex type actually produces a significantly different experience.
Talalay is typically more breathable compared to Dunlop, so the EcoCloud has a slight advantage when it comes to temperature regulation. However, both of these mattresses utilize an aerated latex layer, innerspring layer, and cotton/wool covers. And each one of these components helps maintain a comfortable sleeping temperature. So regardless of which brand you end up with, both can provide ample cooling to satisfy almost every user.
Dunlop is normally a bit more durable compared to Talalay, but both the Awara and the EcoCloud features excellent lifespans because of their high-quality construction and materials.
The EcoCloud averages a 5 in terms of firmness, so we consider it a medium mattress. Due to the difference in firmness, we recommend the EcoCloud if you're a lightweight individual who might benefit more from its pressure relief and cradling. Heavier individuals, on the other hand, can enjoy the ample support and firm build of the Awara.
In terms of pricing, the Awara is much more affordable than the EcoCloud. So if you're on a tight budget, you can opt for the Awara.
Awara Mattress
Awara Mattress is recommended to all sleepers because it has great durability, comfort, transfer motion and edge support features
FAQs
Where Can I Buy an Awara Mattress?
Presently, you can't buy the Awara from any physical location. And it's only available on the company's website.
Is it ok to use the Awara if you suffer from latex allergies?
Generally speaking, yes. Even if you're one of the few people with this allergy, there's still a decent chance you can use latex foam mattresses.
The manufacturing process involved when building mattresses includes washing the soluble proteins off the latex (the substances that trigger allergic reactions.) And your skin never comes in contact with the Awara's latex layer because of the quilted cover.
However, we're not doctors. So it's always a good idea to seek the advice of a health professional if you have this condition.
Does the Awara have certifications?
Yes. As we've mentioned previously, this mattress is GOLS- and COTS-certified. On top of that, it's also a brand that's certified by ClimatePartner. This means that each mattress sold equates to one tree planted.
Does Awara have a White Glove Delivery service?
Yes. You can have a white glove delivery for an additional cost.
Recap
Overall, we love the look and feel of this mattress. It combines an excellent build with high-quality materials to provide a comfortable sleeping experience. We recommend the Awara if you're looking for a unit with a bit of bounce, or if you're a stomach or back sleeper. It might have the higher price point than some similarly-built models. But you're paying for materials that are certified to be eco-friendly and sustainable.
Awara Information (Product Company Information)
Contact Awara through these channels:
Or you can find them on their social media: