Big Fig Mattress Review
Our review will discuss the different aspects of Big Fig mattresses. These will include the sleeper type, mattress support, materials used, construction needed, and any other helpful information. "Big Fig" is short for Bigger Figure, which is what this mattress and our review will focus on. Read on to find out!
We Recommend For
Do not want to sleep warm
Are considered a heavy person (over 500 lb)
Need a strong stomach or back support
Want a firmer mattress
We Don't Recommend For
Are looking for a soft mattress
Prefer to sleep on your side
Are looking for a cheaper mattress
Big Fig Mattress
Big Fig Mattress is especially recommended to heavy weight people and couples so that they could enjoy their living in a better way, thanks to durability and firmness of mattress.
Firmness and Rating
How firm is the Big Fig mattress?
In short, Big Fig's mattress falls under firm to medium-firm along the scale. Mattresses of this firmness are a bit more rare to find online, giving it a bit of an edge when it comes to online competitors.
Its firmness comes from the springiness that is generated by the coils inside the mattress. This firmness is tempered by the latex foam layer higher up among the layers. This foam layer provides a softness beneath the top of the bed. This makes it reminiscent of the Allswell mattress hybrid. When laying on top of it, our experience was as if we were lying on a mass of soil covered on top by very soft grass.

However, that is the experience that a regular-sized person would have. A heavier user might have a different experience. The top layer of latex foam is meant to allow the heavy person to sink into it a bit. When the mattress was tested by a 240-lb member, they found the mattress to be more medium-firm than completely firm. This goes to show that even if our members judge the firmness of a mattress, heavier people may still feel its firmness differently.
The Big Fig mattress is very responsive. When we say responsive, we mean that it returns to its shape and original thickness quite promptly. In the case of Big Fig, it can respond in just a few moments after weight on top has been relieved.
Good responsiveness in a mattress often corresponds to high durability. If the bed is responsive, it will likely not retain any permanent shapes or impressions. It is also more resistant to sagging.
The Big Fig mattress makes this responsiveness possible through the layers of latex foam and spring coils inside. This combination of coils and latex is best for a responsive yet springy mattress. A firm and responsive bed also indicates ease in changing position while sleeping.
Sleeping on the Big Fig Mattress (Sleeping Positions)
The ideal sleeper for the Big Fig is a stomach or back sleeper. When sleeping on your front or back, heavy people will find great support from this mattress. The firm coils hold up your spine as you lie on your back. Large people will also be able to feel that support along their trunk, lower back, and hips.
For combination sleepers who go on their front, back, and sides during the night, the Big Fig is an alright option. Still, if you favor sleeping sideways, the Big Fig mattress might be less pleasurable for you. If you favor your front or back, however, you might want to try this mattress out.
What Does the Big Fig Mattress Feel Like?
To any sleeper who is normal sized or petite, we do not recommend this mattress for sleeping on your side. For someone smaller than this mattress's target audience, this mattress won't give the appropriate softness around your shoulders and hips while you sleep sideways.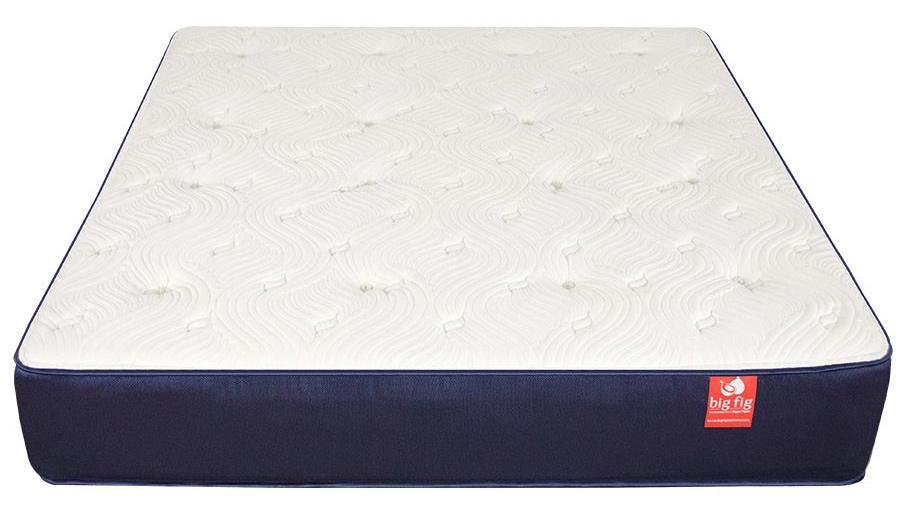 But to the heavy people this mattress caters to, your shoulders and hips are likely to sink nicely into the soft top layer while maintaining some support from the firm layer underneath. Whatever your size, however, we do not recommend this mattress for side sleepers, especially since it is not made of contouring or memory foam.
Average Weight Sleepers – 130 lbs – 230 lbs
While we wrote this review, we approached it from the point of view of an average-sized person. If you are of average size, the Big Fig mattress will work fine. However, this mattress can be a bit too much for your size, and too expensive. If you do not require a particularly large mattress, you are better off looking for normal-sized mattresses that still fit your need for firmness or support. This way, you can also save some money on a more conveniently-sized mattress.
Heavy Weight Sleepers – Over 230 lbs
Big Fig mattresses are designed for this weight category of sleepers. If you are over 230 lbs and you need a mattress that can hold your weight, Big Fig is among the best readily-available options online. It is already among our top choices for beds suited for heavy people.
But do take note that while we find this mattress to be firm from the perspective of an average-sized person, a heavier person will likely find the mattress softer than we described. This, of course, is a result of your weight creating more pressure on the bed resulting in your body sinking into the unit significantly.
LightWeight Sleepers – Under 130 lbs
Lightweight sleepers, on the other hand, will probably find this mattress more firm than we reported. So just imagine, if this mattress is meant to support heavy people, it will probably feel too firm for the ordinary sleeper under 130 lbs! Similar to our input for average-sized sleepers, this mattress may be a little overkill.
Construction and Materials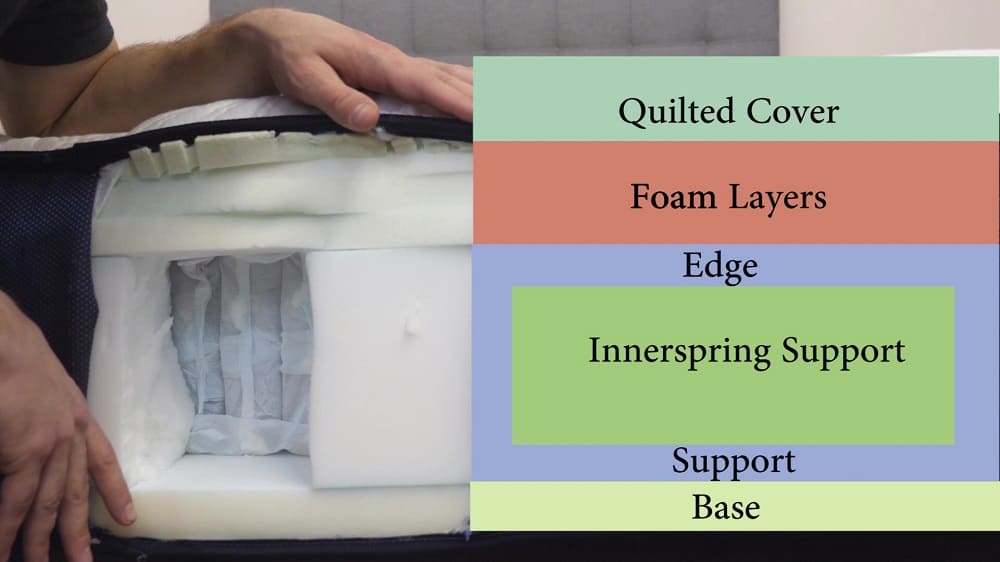 Foundation
Big Fig's mattresses come with a free foundation. This foundation is built with double rails in its center. It also has 18 slats that are 2.5" wide. It claims to be five times stronger than a regular bed foundation, making it well-suited to handle the Big Fig mattress, as well as the presumably heavy person, or people, sleeping on top of it.
Cover
The cover of the Big Fig is a good asset for anyone who does not like sleeping warm. It is infused with thermogel inside its quilted structure to help regulate temperature and provide cooling. This unit's cover is non-removable. If spillage occurs or a stain appears, the best thing you can do is apply upholstery cleaner and try to spot clean it with a soft rag.
Comfort Layer
The comfort layer of the Big Fig is made of a perforated latex foam that is infused with gel. This supposedly helps with both cooling and airflow. Below this is poly foam, which is meant to be a transition layer between the coils and the comfort layer. This poly foam also helps prevent sagging.
Support Layer
The support layer of the mattress is built from several components. First it is based on high-density foam. Although this is only a thin layer, it is strong enough to provide some support under the entire mattress. This super dense foam is also used to surround the layer on top of it. This following layer is where the support coils are held.
Big Fig claims that its mattresses contain significantly more coils than normal innerspring mattresses do. They bring the number up to around 1,600 coils inside their king size bed. This great number of coils gives the mattress firmness, very good support, and more bounce than usual. These coils are also made of 15 gauge wire, allowing extra durability and compression.
Coils like these are meant to be stronger and provide more support than what most mattresses online use, which is a very dense foam made of polyurethane. The structure that Big Fig chose caters to heavy people. This level of support allows the thick mattress to hold up anyone on the heavy end of the scale.
Mattress Height
As this mattress caters to very heavy people, it does need the appropriate thickness to support it. This brings the mattress to a huge 13 inches in thickness, ensuring a strong and responsive bed.
Big Fig Mattress Size Options and Price
The mattresses of Big Fig are more expensive than the typical mattress. But keep in mind that Big Fig uses very high-quality materials and services mattresses that are thicker than normal. Big Fig makes large mattresses for large people, with its size, support, and durability matching their needs. Here is a price breakdown:
| Size | Dimensions | Price |
| --- | --- | --- |
| Twin | 38" x 75" x 13" | $349.99 |
| Full | 54" x 75" x 13" | $499.99 |
| Queen | 60" x 80" x 13" | $499.99 |
Before you get intimidated by their prices, there's a bonus: Big Fig often has promos that cut their prices significantly. If there is a major holiday coming up, you can trust that Big Fig will have a promo to go with it.
Big Fig Mattress
Big Fig Mattress is especially recommended to heavy weight people and couples so that they could enjoy their living in a better way, thanks to durability and firmness of mattress.
Mattress Performance
Sleeping Hot or Cold
Big Fig makes its mattresses excellent not only for heavy people but for warm sleepers as well. Those who find themselves sleeping too hot at night will find comfort in the Big Fig mattress. We already mentioned that the cover layer of the Big Fig mattress has extra cooling properties. This feature is also enhanced by the firmness of this model.
A mattress with a significantly high firmness level allows its sleepers to remain on top of it, whereas softer mattresses have its sleepers sink into it. Sleeping on top of the mattress means that less skin is in contact with the bed. This allows for cooler airflow around the person. The material used in the bed, which is latex foam, is also a good choice for retaining less heat. Compared to proprietary foams or memory foams, latex foam sleeps cooler. So if you find yourself a sweaty sleeper, Big Fig can help you with that.
Big Fig mattresses also use cooling covers. This additional advantage brings Big Fig among luxury and premium mattresses. The cooling cover on this mattress is a great asset. While other beds use unique designs, special textiles, or even organic cotton to attract its customers, Big Fig uses a cooling cover that helps regulate sleeping temperature. While it does not claim to be the coolest sleeping mattress around, it does a great job of keeping a heavy person cool through the night.
Motion Transfer
Not only can heavier people sleep comfortably on Big Fig mattresses — these mattresses were made especially for heavier people. This becomes clear when you see its construction and materials used and will become even more obvious when we consider the factor of motion transfer.
As we have mentioned previously, Big Fig uses coils to provide that much-needed support for heavy people, instead of the typical high-density foam. Aside from this factor aiding the support that the mattress provides, it also helps limit motion transfer.
A mattress that caters to heavy folks should make itself a good option for heavy couples as well. Big Fig does exactly that with its mattresses. Heavy couples need mattresses that do not transfer motion, especially if one partner is a restless sleeper. Often, between two people, one of them is more restless than the other, and will frequently change position or even get up during the night. This makes it very important for mattresses to have limited motion transfer so that the other partner will not wake up.
The Big Fig mattress accomplishes this easily with its layers of coils. It may not be the absolute best among those that we have reviewed, but it at least ensures that for heavier couples, one will not be awoken by the other's tossing and turning.
Edge Support
Big Fig mattresses score quite high on our scale for edge support. Although this can be expected from how firm the mattress already is, Big Fig reinforces its edge support even more. This level of support makes the whole bed's surface an optimal sleeping area. This is also a good factor for couples to consider, since when a bed is shared, at least one sleeper is likely to end up closer to the edge. With the Big Fig mattress, you will never feel like you might roll off the edge.
Construction
The thickness of this bed is one of its trademark qualities. Its size is justified by its quilted cooling cover, strong and dense foams, and thick-gauge coils. Its construction is specifically made to serve people over 250lb. This is an especially good choice if you are a stomach or back sleeper, instead of a side sleeper. While most online bed-in-a-box companies sell beds made from three-layer foam, Big Fig competes well through its unique spring support.
Foundation
There are plenty of brands selling mattresses online, but you will find it difficult to find a brand that sells with a foundation. Ever since early 2019, we have not found any mattresses that already have a foundation included in the purchase.
Since Big Fig specializes in thick, large mattresses meant for large people, it's very significant that they also offer foundations to match that heft. This decision is well-appreciated by us and its customers. Although the foundation is not the prettiest nor the fanciest, what is important is that it can hold up the huge mattress. You can opt out of getting the foundation, but we still recommend you use it.
Warranty Info
Big Fig offers not only extra-large mattresses but also an extra-long warranty. Most companies only provide a warranty of 3 to 10 years maximum for their mattresses. Big Fig, on the other hand, offers a whopping 20 years of warranty. This shows superb confidence in their product, as well as a great security for its customers. People typically buy a new bed every 7 to 12 years. You're more likely to purchase a new mattress before your Big Fig bed completely wears out, or at least before the warranty expires.
FAQs
How did you acquire the Big Fig mattress for reviewing?
Big Fig gave us a mattress of theirs purely in exchange for this review to be written and posted. Big Fig did not pay us in any other form aside from the free mattress. This review is completely genuine and honest, as written by our team. Any comments and thoughts in this mattress are ours.
What is the maximum weight that Big Fig can hold?
Big Fig mattresses can hold up a huge maximum weight, given its specialty. This maximum weight is 1000 lb on its queen and king sizes, which makes it ideal for heavy couples.
Is the Big Fig compatible with an adjustable base?
The Big Fig can be used with an adjustable base as long as the base fits its parameters.
Does the Big Fig need a specific kind of sheet?
Big Fig mattresses do not require special sheets, so any type of fabric or cloth will work. You just need to ensure that the sheet is large enough to handle a mattress that is 14" thick.
What is the height of the foundation?
There are two foundation heights available that Big Fig offers. The shorter height is 5" while the taller one is 9".
Company Policies
Before making up your mind about the mattress, you should take note of Big Fig's policy, when it comes to their trial period, return process, and shipping. While bed-in-a-box companies usually come with a 100-night trial period, free shipping and returns, and even a 10-year warranty, Big Fig does all this and more.
Big Fig does have free shipping on its mattresses. You will be delivered a huge box with the mattress in it. You will need to set this up yourself inside your house. Simply bring it in, take it out of the packaging, then place it accordingly on the bed foundation. If you would rather not do the set up by yourself, you can hire a setup service from the company, but this is not free.
Big Fig will not only provide the mattress you ordered. With $100, you can get a mattress foundation that will suit the Big Fig mattress. It is recommended you get this foundation since it is built to support your larger-than-normal mattress. It claims to have five times the strength of a normal bed foundation. This is especially for large people. You can still choose not to avail of the foundation, though, if you already have strong support, and save yourself the cash. You can check the requirements for a Big Fig mattress on their website under the warranty guidelines.
While other mattress companies give a 100-night trial period, Big Fig gives you 120. If, during this period, you realize this mattress is not for you, call up Big Fig and request a return and refund. The pick up of the mattress will be speedy, but the full refund may take a bit more than a week to process. Rest assured that Big Fig does commit to its free returns and full refunds.
Their warranty is also very impressive, allowing 20 years as opposed to the traditional 10 years. This warranty covers "free replacement and repairs" during these 20 years.
To be clear, Big Fig manufactures its mattresses in the USA.
Big Fig Mattress
Big Fig Mattress is especially recommended to heavy weight people and couples so that they could enjoy their living in a better way, thanks to durability and firmness of mattress.
RECAP
Big Fig is a solid choice for anyone who needs a particularly large mattress. Big Fig, which is short for "Big Figure," caters to heavier folks, whose needs are not easily met in the online bed-in-a-box scene. While most mattresses use dense foam, Big Fig provides superior support for heavier people with its coil spring support. It is also ideal for couples with its fantastic edge support and control of motion transfer. If you have the budget to spend on a high-end mattress that can meet all your needs as a heavier person, we recommend Big Fig for you.