Beautyrest Black Mattress Review
The Beautyrest Mattress comes from Simmons Bedding Company, an established brand that was founded over a century ago. They've consistently delivered high-quality beds under their Beautyrest brand since the early 20s. And only last year, they've started venturing into the online selling platform.
Their Black mattress model is a hybrid-type that uses a combination of four foam layers and a pocketed coil system. It has a firmness rating of 7.5 on a 10 point scale, and it features a higher-than-average 13-inch profile. You can buy the base bed and save a few bucks, or you can upgrade it in a few ways.
For one, it can come with a cooling upgrade that adds a new carbon fiber memory foam that improves temperature regulation. On top of that, there's also a Cooling+Comfort option that includes the latter option while adding another foam layer for enhanced pressure relief.
We Recommend For
You're looking to splurge on a high-quality luxury mattress
You want a bed that's suited for couples
You want a mattress that can support every body type
You're a pillow top lover
You prefer a unit that comes from a trusted and established brand
We Don't Recommend For
You're on a tight budget
If you're not dead set on making a purchase (some of the available models don't offer free returns)
You prefer a regular mattress with no added bells and whistles

Beautyrest Mattress
Beautyrest Mattress is recommended for all type of peoples. It is extremely suitable for couples because of its motion transfer, edge support and softness.
Firmness and Rating
How Firm is the Beautyrest Mattress?
We determined the Black Mattress as a firm unit with a 7.5 on the firmness scale. This is a bit inconsistent with its "medium" rating found on the brand's website. We've also tested the mattress with its Cooling+Comfort option that made it softer, putting it at a medium-soft or a 6 on the firmness scale.

If you opted for just the cooling option, it sports the same firmness as the original with no added upgrades.
Sleeping On the Beautyrest Mattress (Sleeping Positions)
If you're a back sleeper, you get an even weight distribution with the Black Mattress and no pressure points. The cover's foam interior lets you sink into it for a little pressure relief. But not so much that your hips will sink too much. So you'll still feel like you're lying on top of the mattress and your spine stays aligned.
We recommend this mattress to any back sleeper who wants a good balance of firmness and pressure relief.
Side sleepers will experience a bit of pressure build-up around the hips and shoulders. So this mattress might be a bit too firm if you're purely a side sleeper.
However, the pressure felt is more minimal if you compare it to similarly built hybrids. So the Black Mattress is still a good option if you're a side sleeper who prefers a firmer mattress.
Lastly, stomach sleepers will feel an even weight distribution much like they would feel when lying on their back. The hips are supported well. So you get excellent spine alignment, and you won't experience any uncomfortable sagging unless you're a heavier sleeper. If that's the case, you might benefit more from a firmer mattress that gives ample support.
What Does the Beautyrest Mattress Feel Like?
The mattress's 3.5-inch foam layer provides a more responsive feel instead of a close conforming. These initial layers give you ample cushioning. But overall, the bed gives a flat and supported feel because of its thicker pocketed coiling system.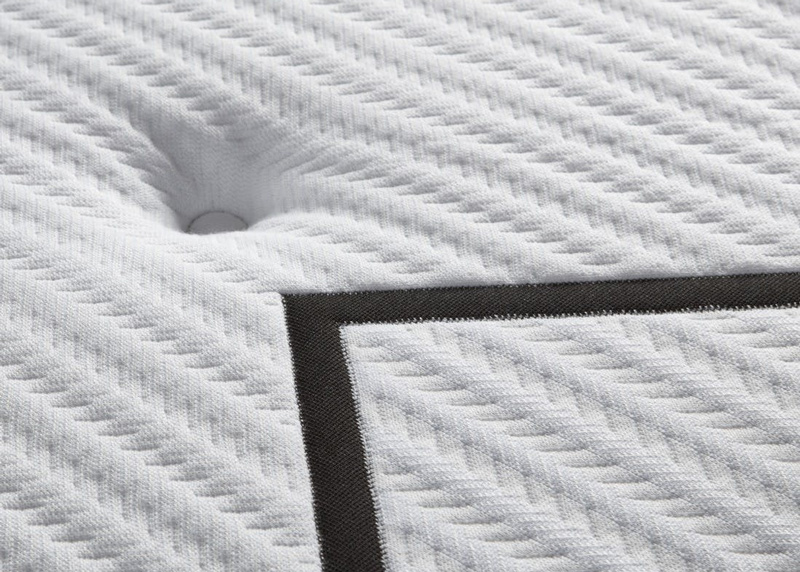 A few hybrids can give you a more sinking feeling if they have thicker foam layers or thinner coils. But the Black Mattress isn't one of them. If you prefer a more "cushy" sleeping position where you sink into the bed, this model might not be the best fit for you. The Beautyrest Mattress's bounciness helps you transition in-between sleeping position. And since you're not sinking into the bed, you won't get a "stuck" or stuffy feeling when you use it.
Average Weight Sleepers – 130lbs – 230lbs
If you're under this weight group with a preference to sleep on your back, you'll enjoy the support and comfort of the Black Mattress. This bed gives you ample lumbar support while its foam and cover act as a pressure relief. For side and stomach sleepers, it's slightly less comfortable.
The mattress still provides good pressure relief and support, but it might feel too firm for some. If you would rather go with a mattress that is a bit on the softer side, you might want to get the Cooling+Comfort option that adds another foam layer.
Heavyweight Sleepers – Over 230lbs
People under this category will enjoy the Black Mattress the most. And users who prefer to sleep on their back and side will get a lot of support out of this bed. The mattress's overall construction helps promote healthy spine alignment for heavier sleepers.
If you're a heavyweight, you might not benefit much from the comfort upgrade. The added foam layer will likely cause you to sink into the mattress, which can feel uncomfortable and restricting. However, you can still try out the cooling option if you tend to sleep hot.
Lightweight Sleepers – Under 130lbs
People under this category will likely find the Black Mattress to be too firm for their taste. Because of the bed's unyielding foam, lightweights won't get much pressure relief. And this effect will become even more apparent if they prefer to sleep on their sides. Our testers in this weight range found that sleeping on their backs and stomachs were more comfortable.
If you're a lightweight who prefers a mattress with a firmer feel, you can still try out the Black Mattress. However, based on our testing, you're better off, including the upgrade to make the bed a touch more comfortable. The option will give you a bed with a 6 firmness over its original 7.5 scores.
Construction and Materials
Cover
According to the brand, the Black Mattress's cover uses a cooling component called "BlackICE 4.0," along with a breathable "SilkAir" fiber. However, they haven't released the materials of these components. When we tested the cover, we found the material to be similar to a polyester-blend with a significantly cooler touch.
Comfort Layers
This mattress uses four different polyfoam comfort layers: 0.5-inch plush, 1-inch medium, 1.5-inch transitional, and 0.5- inch gel memory. While these layers do provide a plusher overall surface, their minimal thickness still gives you a firm feeling where you're sleeping "on" the mattress instead of "in" it.
If you have the money, you can upgrade the comfort layers and get a cooling layer or a combination of cooling and comfort. The Cooling option uses carbon fiber-infused memory foam to help prevent heat build-up.
The Cooling+Comfort option, on the other hand, will give you the same carbon fiber memory foam and an extra foam layer for enhanced pressure relief. With this option, you get a 15-inch bed that's closer-conforming and much softer.
Support Layer
The support layer is composed of the typical pocketed coil system you get from a hybrid that's covered with HD polyfoam. These coils are comprised of three individual steel strands molded together. And the core's overall build creates a firm bed to provide ample support for most sleepers.
Mattress Height
The base mattress is 13 inches, making it a high-profile bed. The long pocketed coiling and 3.5-inch polyfoam layers attest to this. So if you're going to buy it, make sure that you've got deep-pocket type sheets to cover the whole thing. However, if you choose the comfort upgrade, you add another 2 inches. So you get a 15-inch mattress with added comfort and cooling.
Beautyrest Mattress Size Options and Price
Beautyrest mattress definitely leans on the pricey side. After all, they are high-end models created by an established brand. The smallest size will cost you $1699, and it only goes up from there. You'd also have to spend extra if you want to include the upgrades. Here's a breakdown of the sizes and their corresponding price:

| Size | Dimensions | Weight | Price of 8" Version |
| --- | --- | --- | --- |
| Twin XL | 38" x 80" x 12.5" | 62 lbs | $1260 |
| Full | 53" x 75" x 12.5" | 84 lbs | $1700 |
| Queen | 60" x 80" x 12.5" | 89 lbs | $1800 |
| King | 76" x 80" x 12.5" | 125 lbs | $2100 |
| California King | 72" x 84" x 12.5" | 127 lbs | $2100 |
Other Beds From Beautyrest
Hybrid

Beautyrest Mattress
Beautyrest Mattress is recommended for all type of peoples. It is extremely suitable for couples because of its motion transfer, edge support and softness.
Mattress Performance
Sleeping Hot or Cold
A majority of our testers report that this mattress stays temperature neutral all throughout the night. In most cases, beds with foamy layers have a tendency to absorb heat, but that isn't the case with the Black Mattress. You get additional cooling with a special cover along with an effective coil layer to prevent heat build-up.
If you're the type who tends to sleep very hot, you can get the Cooling upgrade for an added fee. Both options will give you a carbon-fiber infused foam to help reduce the heat.
Motion Transfer
Overall, the Black Mattress is very good at motion isolation. But if you're very sensitive to even the slightest movements, a pure-foam bed might better suit you. While the pocketed coil systems used in these mattresses have improved in terms of motion isolation, nothing beats an all-foam bed when it comes to limiting the movements you feel across the bed.
Edge Support
We tested this model's edge support by asking testers to sit near the bed's edge and see how they hold. Overall, the mattress provides excellent edge support. You don't have to worry about rolling off the mattress while you're lying by the edge. And you won't slide down or sink too much if you sit on the bed's edge.
In general, hybrid beds excel at edge support compared to all-foam units because their coils provide extra rigidity. In addition, the Black Mattress uses an enhanced support system called "BeautyEdge," which helps keep bed's edges from sinking from pressure or weight.
Durability
The Black Mattress should last you many years, or at least the average lifespan of a bed. Simmons Bedding Co. is an established brand with a long history. And the fact that they've remained relevant even today is a testament to the quality of their products.
On top of that, hybrid units generally last longer compared to all-foam beds. The coil layers help the whole body from deforming and retain its original shape for longer. While the comfort layers made of foam might develop a few body impressions with extended use, they won't be deep enough to affect your sleeping experience. Generally, though, heavier sleepers are more likely to leave deeper indentations.
Off-Gassing
When we removed the Black Mattress from its packaging, we noticed a slight odor that was barely noticeable. And the scent completely dissipated in two days after opening. While most users won't be affected by the off-gassing, some who are very sensitive to odors might want to air out their mattresses before they use it.
This initial smell is a common phenomenon with most new products with certain volatile components like polyfoam. They release compounds in the air which produces the smell. But they generally don't last that long, so it shouldn't pose as a problem.
Noise
Much like any other high-quality hybrid unit, the Black Mattress isn't noisy. The pocketed coils are typically covered in with foam or cloth to reduce any squeaking or creaking. Even with heavier weights, we didn't notice any noise from this bed. If you're a light sleeper, you'll appreciate the quiet build of Beautyrest's Black Mattress. If you have a partner who tends to move about, you won't hear any sound from this bed.
Warranty Info
For the Black Mattress, you get a 10-year manufacturer's warranty. Here are the details:
Any Black mattress bought online is covered by this warranty. However, if you buy yours from a physical establishment, you might not get it.
This warranty covers every mattress defect.
Although it's not a requirement, you have the option of registering this warranty
You must keep your original receipt or bill of sale if you want to use your bed's warranty. You also need to keep the law tags and label tags of the mattress.
You can find a page on the brand's website where you can claim your warranty.
The warranty is considered void if you don't use a new and adequate support structure for your mattress. If you use a base comprised of slats spaced over 2 inches apart from each other, the warranty is void.
Lastly, this warranty is considered void if the bed is deemed unsanitary. Installing a bed pad for your mattress is an easy way to help avoid this.
Comparisons and Alternatives
Black VS Hybrid
Beautyrest's Hybrid is a high-profile bed that's also offered online. Despite being both hybrid units, the Black Mattress and the Hybrid Mattress are separate models. If you check and compare their prices, you'll find that the Black Mattress costs higher than the Hybrid. While they do sport some similarities, the Black Mattress uses higher-quality components, which is reflected by its more expensive price-point.
One other difference between the two models the customization option you get with the Black Mattress. Unlike the Hybrid, you can get a Cooling Upgrade or a Cooling+Comfort Upgrade that provides additional ways to improve your sleeping experience.
If you have a need for enhanced cooling, you can get the first upgrade, which adds a carbon fiber-infused foam for your mattress. And the next upgrade makes the overall build of the mattress much softer because of the added foam layers.
Beautyrest Black VS Plank Mattress
Brooklyn Bedding's Plank Mattress is a flip-type foam bed with two sides that vary in firmness. If you like the support of the Black Mattress, the Plank is also a solid option. One side is just as firm as the Black Mattress, and the other is even firmer. Depending on your body type and preferred sleeping position, one side might be better suited for you over the other.
If you're a light- or average-weight sleeper, the Black Mattress might be the better option. However, both mattresses, in general, are on the firmer side. So they're better suited for heavier individuals.
Neither beds conform with the body too much, but the Black Mattress gives better pressure relief (especially if you include the comfort upgrade.) It also provides enhanced edge support because of its unique coil design. However, Plank produces less sound and provides better motion isolation.
The Black Mattress is more expensive than the Plank, so you could opt to go with the latter if you're on a budget. On top of this, Plank's flip-design makes it an excellent choice if you want two different types of firmness in a single unit.
Beautyrest Black VS Loom & Leaf
Loom & Leaf is a pure-foam bed with two available firmness options. You can buy them online through Saatva's website. We rate the firm unit as an 8, which is slightly higher than the Black's 7.5. The medium unit, on the other hand, is 5.5. If you're a lightweight sleeper, you'll benefit more from a unit that provides more conforming. So you might want to have a look at Loom & Leaf's medium option.
If you want something a bit firmer, get the Black Mattress with its Comfort Upgrade. Unlike the Black Mattress, Loom & Leaf's medium conforms to your body for more pressure relief. And it gives you the sensation of sinking slightly into the build.
However, since it's a pure-foam bed, it doesn't do so well in terms of temperature neutrality. This can be particularly troublesome if you tend to sleep hot. So you can opt for the Black Mattress since you get the cooling of the comfort layer and the air circulation of the coil layer.
Beautyrest Black VS Tempur-Pedic Tempur-Adapt
Tempur-Pedic Tempur-Adapt has two different models: a hybrid and a pure-foam. However, both have the same firmness (5.) So they're considerably softer than the Black Mattress (7.5.). Tempur-Adapt's Hybrid option offers similar performance to the Black Mattress when it comes to heavyweight and average back sleepers.
However, lightweights benefit more from the Tempur-Adapt's conforming build regardless of their preferred sleeping position. Tempur Adapt features a "hugging" feel because of its memory foam layer. In contrast, the Black Mattress sports minimal conformance to provide a firmer and more responsive surface.
The two beds have a similar price point, with the Black Mattress being a bit more expensive if you include its optional upgrades. However, the Black Mattress wins in terms of edge support. So it's the better choice if you want a bed where you can utilize a larger area without the fear of falling or slipping off.

Beautyrest Mattress
Beautyrest Mattress is recommended for all type of peoples. It is extremely suitable for couples because of its motion transfer, edge support and softness.
FAQS
Is it ok to remove and wash this mattress's cover?
It's a no on both ends. You can only clean its cover by spot cleaning. You can use a combination of warm water and any mild
detergent. Do note that this is generally the case with any mattress model.
Where can I purchase this mattress?
You can buy the mattress with or without the upgrade online. Or you can get them from many mattress sellers in the US.
Is it ok if I flip this mattress?
It's not a double-sided bed. So no, you cant. However, you can rotate it every few months or so to help extend its lifespan.
Where are these mattresses produced?
The brand produces every mattress they make in the US. Given how old Serta-Simmons is, it's not hard to see how they can have their own local factory.
Recap
To summarize, you get plenty of excellent options with Beautyrest. The high price point is well worth it because you get a high-quality unit that provides the comfort and support you need while lasting you a long time. To add, you can also get the upgrades to improve your sleeping experience.
Beautyrest Information (Product Company Information)
You can contact Beautyrest through these channels:
Email Address: [email protected]
Phone Number: 1-877-298-4955
Website: Beautyrest.com
Or you can find them on their social media: