Birch Mattress Review
If you want a comfortable and all-natural sleeping experience, Birch's mattress will satisfy your desires with its use of organic, synthetic-free materials and avoidance of harsh chemicals. Read on to learn more about why the Birch mattress is perfect for the eco-friendly consumer.
We Recommend For
Sleep on your back, side, or a combination of both
Like the feeling of sleeping on latex foam
Natural materials used for manufacturing
Want an eco-friendly mattress
Need a non-allergic mattress
We Don't Recommend For
Are on a tight budget for a sub-$1000 mattress
Only sleep on your side with a petite body build
Birch Mattress
Birch Mattress is especially recommended couples and petite people because of its firmness, durability, edge support and motion transfer capabilities.
Firmness and Rating
How firm is the Birch mattress?
Birch's mattress is rated with medium firmness with its latex foam material. However, the experience of people with a petite build might be different for people of average size. Heavier individuals might have a softer sleeping experience while for petite individuals it's firmer.

Birch is an excellent choice for your spine and trunk support. It's better than most latex foam mattresses currently available when it comes to relieving pressure and giving body support. Admittedly, is not memory foam levels of comfort, but it does its job well anyway, and that's what's important.
Sleeping on the Birch mattress (Sleeping Positions)
People have different kinds of sleeping types. So when you're choosing a mattress, you ought to consider what kind of sleeper you are, so you can choose your mattress type accordingly. Otherwise, you might feel discomfort when you wake up due to a bad mattress.
This Birch mattress is recommended for stomach and back sleepers. A medium-firm mattress is enough to keep your spine in a more natural position while you sleep on your back or stomach. This is something that the firmness of Birch can provide.
People who also sleep using a combination of back and stomach sleeping will also find this mattress quite comfy. The mattress responds instantly to changes in positions to relieve any pressure. This is helpful for sleepers that find themselves frequently shifting from sleeping facing down or upwards.
For those that frequently sleep on their side, they have to consider their weight as well. You won't have any trouble sleeping if you're heavier than 250 lbs. However, you might want to consider the Birch Mattress Topper if you're more on the petite scale. You'll have to dish out $400 more but if you prefer a soft sleeping experience, especially if you are petite, it will be well worth it.
What Does The Birch Mattress Feel Like?
The Birch mattress' latex foam feels traditionally feels like most latex foams do. It's responsive and bouncy, and the coils add more bounciness to the mattress.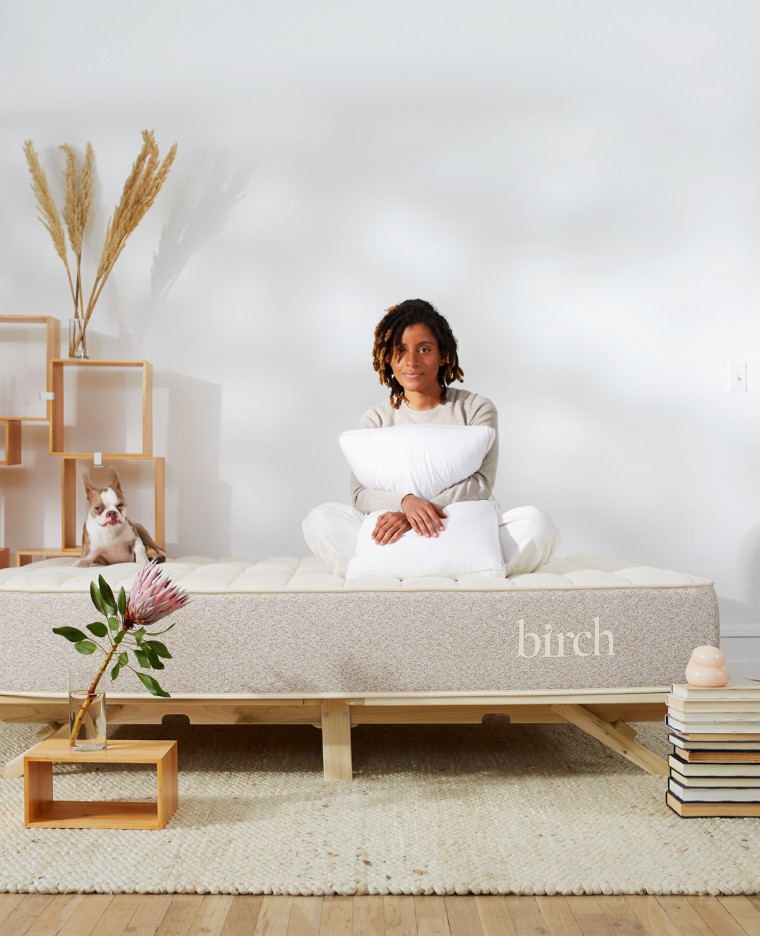 The wool layer, however, gives it additional softness and lightness that many will appreciate.
Average Weight Sleepers – 130 lbs – 230 lbs
Along with sleeping position, it's also essential to consider your weight to choose the best mattress for you. For individuals of average weight, most mattress types will be suitable, and the same is true for Birch mattresses. You will not have any trouble finding a comfortable mattress here.
HeavyWeight Sleepers – Over 230 lbs
On the other hand, individuals that are 250+ lbs should select hybrid mattresses since those offer better support and durability. Birch is great for accommodating all kinds of body types, thanks to its use of coils and foam material. Because of its firmness, the mattress will also feel perfect for heavier sleepers. Rather than laying into the mattress, they'll feel like they're laying on top of the mattress.
LightWeight Sleepers – Under 130 lbs
If you are a lightweight sleeper that falls under 130 lbs, be warned that this mattress will feel a bit more firm for you than the person of average size. However, if you enjoy a firm mattress, Birch should be just fine for you. You might be able to sleep even cooler, considering that you will stay on top of the mattress instead of sinking into it.
Construction and Materials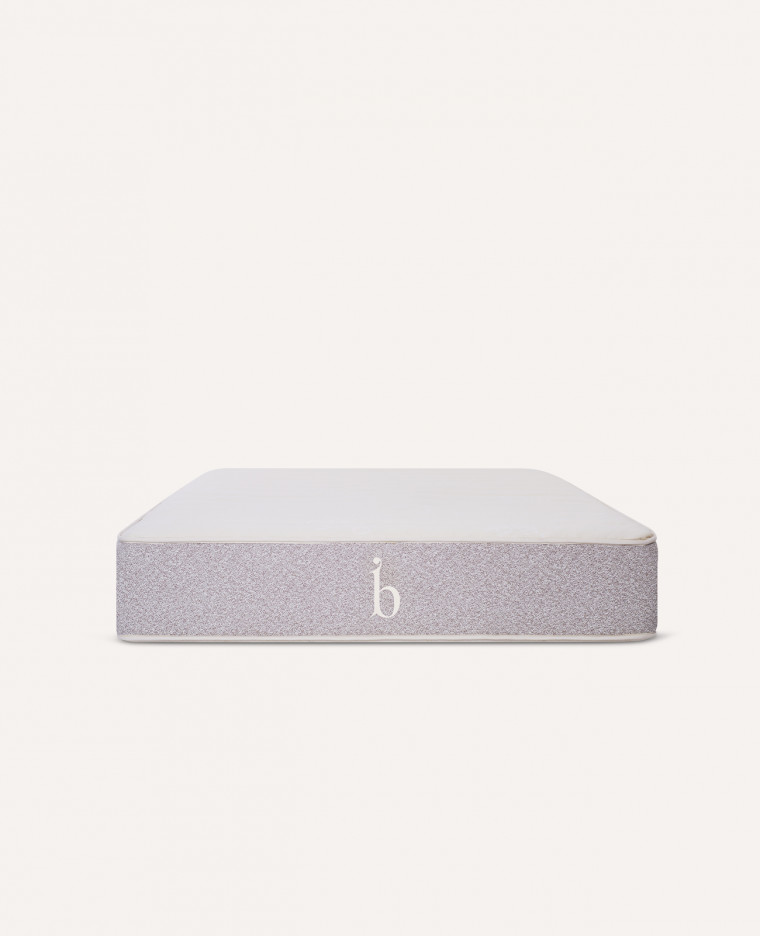 Birch sources natural materials to produce their mattresses. Furthermore, Birch products are assembled in the United States. So if you're conscious about getting an eco-friendly mattress, then Birch is the perfect option. They also claim that it will only take less than 100 miles for your mattress to arrive at your doorstep from a Birch manufacturing facility.
So what materials are used in the production of Birch's eco-friendly mattresses? Let's go through them one by one.
Steel – The steel that goes into each Birch mattress is meant to last for your lifetime. It's also guaranteed to be the US manufactured.
Talalay Latex – The word "latex" often produces images of that artificial shiny rubber material used in select clothing options when people hear it. But this is far from what Talalay Latex is. It uses all-natural materials taken from the Hevea Brasiliensis rubber tree from the tropics of Africa, Southeast Asia, and Brazil. These trees have OEKO-TEX certification and they come from controlled plantations. Talalay's natural properties also block molds and dust mites, which is good news for people with hypoallergenic considerations.
Birch Wool – Birch's wool farm is the picturesque image of what farms are like — sheep occupying the green pastures that stretch over the horizon. All their wool comes from their quality farms which are certified by the PGC Wrightson Wool Integrity Program. With such high standards, Birch farms will always produce ethically produced and high-quality wool for their mattresses.
It's important to know that Birch has acquired the Greenguard Gold certification for their mattress. So what does this mean for its users? If you're sensitive to harmful chemicals, formaldehyde, pollutants, phthalates, and volatile compounds, then this mattress will be safe to use.
Cover
On top of this already organic mattress, Birch has an exquisitely soft cotton cover which is organic too. Using cotton as a cover for your mattress provides the bed with superior comfort. Comfort absorbs moisture very well and is a very breathable material. The bed's surface temperature will be well-regulated to avoid an unwanted warm sleeping experience. Even the earthy smell of the cotton cover, much like the smell of organic vegetables before washing them, makes your sleep more pleasant.
Comfort Layers
The Talalay Latex is used in the mattress' third layer which measures at a thickness of 2". This latex foam layer is what provides the mattress its pressure relief and extra support for your stomach and back. The top layer, which adds to the comfort layers, is made with Birch Wool which gives its bed the final layer of comfort and softness that people will first recognize when they lie on their bed.
Support layer
Its second layer, which is the thickest among them, uses hundreds of 8" steel coils that have been individually wrapped. This is a bit of a rarity since most online mattress brands offer beds supported only be very dense foam. But thanks to its coils, the mattress can provide localized support and remain durable for its lifetime.
Foundation Layer
Its first bottom layer, being the foundation layer, is very thin measuring at a thickness of 0.5". It was created using completely natural wool, which serves as a surprisingly strong base for the entire mattress. You may be a bit doubtful with the thinness of the foundation layer, but rest assured the mattress has all the support it needs.
Mattress Height
Hybrid beds like this Birch mattress make use of coils and foam alike. The mattress is a decent 11" tall and within it are four layers made up of different materials. Birch can provide superior comfort through the clever combination of these layers.
Birch Mattress Size Options and Price
The Birch mattress has a retail price that is a bit more expensive compared to the average mattress. Of course, that's to be expected. Considering that you're paying for the uses of premium natural materials, the price is justified and you get what you pay for.
So if you are ready to shell out the money for a mattress that is organic and non-toxic, Birch's prices will be very reasonable and won't burn that big of a hole in your wallet. Plus, their mattresses are built to last, so you can be sure that you'll get your money's worth for a lifetime of use.
This is the retail price breakdown according to their size options:
| Size | Dimensions | Weight | Price |
| --- | --- | --- | --- |
| Twin | 38" x 75" x 10" | 48 lbs | $859 |
| Twin XL | 38" x 80" x 10" | 52 lbs | $1013 |
| Full | 54" x 75" x 10" | 66 lbs | $1106 |
| Queen | 60" x 80" x 10" | 77 lbs | $1234 |
| King | 76" x 80" x 10" | 96 lbs | $1459 |
| California King | 72" x 84" x 10" | 94 lbs | $1489 |
If you want to get Birch mattresses at a lower price, then you're in luck! Birch works in collaboration with the famous online mattress store Helix Sleep. Here, you can avail of promos and coupon codes that can net you a sweet discount.
If you time your purchase right, Birch is quite generous with giving their buyers discounts to help the thrifty buyer get the best bang for their back. Usually, they take off $200 from their products. This means that their smallest mattress comes in at a sub-$900 price, while their queen-sized mattress is only at $1,299. So if you're eyeing a Birch mattress, make sure to regularly visit the Birch Living site to snag the best offers.
Birch Mattress
Birch Mattress is especially recommended couples and petite people because of its firmness, durability, edge support and motion transfer capabilities.
Mattress Performance
Sleeping Hot or Cold
The warmth of the sleeping experience can be subjective. Some people are warmer when they sleep, and some don't notice the warmth that much. The temperature of the mattress can be hard to maintain if the mattress doesn't have any apparent built-in cooling features.
In general, latex foam, which the Birch mattress uses, maintains the coolness of the mattress better than other materials such as memory foam. Your sleep will be cooler with Birch mattresses compared to the average mattress, and therefore more comfortable. The organic cotton material used in Birch's cover also assists in maintaining a cool temperature for your mattress.
So for sleepers, the overall temperature will be quite neutral. If your experience with your previous mattress has been a bit uncomfortably warm, then you'll benefit greatly from the cooling technology of Birch mattresses. The difference will be noticeable and you'll be thanking yourself for the switch!
Edge Support
Edge support is an important factor to consider, especially if you are planning on sharing your bed with a partner. Couples looking to buy a new bed should find one with fantastic edge support since there is a tendency for at least one to be pushed to the side. Edge support will prevent the sleeper from feeling like they might fall off the bed just from sleeping too near the side.
Testing the edge support of a mattress is a matter of laying down on the mattress edge and feeling out the pressure. When our team tested it, we did not feel any risk of falling off the edge. Fortunately, the Birch mattress is nicely built to accommodate strong edge support. You will find it to be much firmer on the edge than in the center. Couples evaluating edge support will be happy with this mattress.
Motion Transfer
Motion transfer is another factor that couples should consider when buying a new mattress. Between two people, at least one of them is bound to be more restless sleeper. For two partners to have a good night's sleep, a good mattress should limit motion transfer. This will allow one partner to sleep even if the other is tossing and turning through the night
Our team prefers to test motion transfer with a glass of water since it is a more objective method of seeing exactly how much motion transfer occurs. As one of our members stayed on one side of the mattress and moved around vigorously, a glass of water was placed on the other side of the mattress. After observing how much the water was disturbed, we can say that the mattress successfully limits motion transfer. The glass of water did not spill or even come close, so we are quite sure couples will be able to sleep well on this mattress.
Overview Of Birch Company Policies
Most in-person mattress stores that you will find will give the mattress only. Birch mattresses challenge this standard by giving plenty of perks and promotions with your bed-in-a-box mattress purchase.
Birch as a company is on the more generous end of the scale. They like to support charities and causes with their profits. If you purchase something from their online store, 1% of that sale will go to the National Forest Foundation. This money helps them with reforestation. For every dollar that they receive, one tree gets planted. The foundation has a goal of 50 million come 2023.
Aside from helping foundations, purchasing from Birch also means availing of hassle-free service. Birch takes pride in its customer-friendly process. Instead of customers making a long and stressful drive to pick up a mattress and transport it in the back of their car, whether it be a truck or sedan, you can avoid that entire hassle.
Being an online "bed in a box" company, Birch will send you your purchase in a large box. You will find it right outside your home after a few days of making the online purchase. To begin trying out the mattress, simply remove it from the box. You may be tempted to lay it out and lie on it right away, but this is not advisable. For a "bed in a box" mattress, you need to lay the mattress out and leave it for at least 24 hours. This will allow the mattress to decompress after having been stuffed into a box for so long. If you need help with the heavy lifting of unboxing and laying out your mattress, ask a companion.
We already mentioned that Birch is a generous brand. Not only do they give you a hassle-free experience, but they also love to make sure you don't waste your money. As with plenty of bed-in-a-box mattress companies, you are allowed 100 nights as a trial period for your new mattress. Through this trial period, you can test and evaluate your sleeping patterns with the new mattress. With no strings attached, you can decide whether or not you want to keep it. If you decide that this mattress is just not working from you, give Birch customer service a call so that they can help you return it. Just like their purchasing process, they ensure that the returning process is hassle-free.
If you decide you want to keep the mattress, you have a full 25-year warranty. Most bed-in-a-box companies only offer warranty for 3 to 10 years. Birch Mattresses beats most mattress warranties by about 15 years! However, just so that you are fully informed on what exactly that warranty covers and does not cover, go ahead to their website and read their warranty guidelines. You can find these at BirchLiving.com.
Birch Mattress
Birch Mattress is especially recommended couples and petite people because of its firmness, durability, edge support and motion transfer capabilities.
FAQS
How did your team acquire our Birch Mattress?
We were sent a mattress by Birch only for review purposes. We didn't receive any monetary compensation from Birch or any other company that will interfere with our review. All opinions and reviews published are our own.
How do I purchase a mattress from Birch? Is there anywhere I can buy it in person?
As of now, Birch mattresses can only be bought online. The only authorized seller of their mattress is the official website of Birch.
Does the Birch mattress need its own foundation?
It is not necessary to use the Birch mattress with a foundation. However, the company itself recommends that you do. If you check out their official website, the company recommends using foundations such as a box spring or bunkie board. Alternatives are anything that can properly support their weight and uses thick flats.
Can the cover be washed via a machine?
Unfortunately, the cover cannot be removed and there is not machine washable. However, it is made to be easily cleaned via spot cleaning. All you need is warm water and a light detergent. Mix them or alternately apply them to scrub and stains away.
Should I rotate the mattress?
It is not technically necessary to rotate the Birch bed. One advantage to rotating it, though, is that it will prevent permanent impressions on the foam, or even long-term sagging. If you prefer to rotate it, do it at least twice a year.
Are their additional products for sale on the Birch site?
If you want to make your Birch cover and mattress even more comfortable, you can by the Birch Pillow to go with it.
Recap
Organic, eco-friendly, and all-natural mattresses are a bit hard to find, especially among bed-in-a-box brands. The more known ones such as Idle Sleep or Zenhaven are not exactly affordable, with their products going for almost $2,000 or more. Most other organic mattress products cost even higher. If they use latex foam, you can almost guarantee they are out of your budget. However, this does not deter most other shoppers who are set on buying an eco-friendly mattress.
If you are one of those mattress shoppers who want an eco-friendly mattress, Birch Mattresses offer you some good choices. For their price, which is over $1,000 but is still cheaper than most others, you get quite a good quality mattress. The mattress is very comfortable for sleeping in all aspects. It has exquisite cotton layers and is made from 100% organic materials. Their materials are also sourced through sustainable processes. It has a comfortable firmness and works well for couples with its limited motion transfer and strong edge support.
For an organic yet firm bed, you will get your money's worth here. If you are still not sure, you can of course avail of their risk-free trial. Birch has amazing customer service, so you will not have to worry about buying, trying, and possibly returning the mattress afterward. And don't forget, purchasing from Birch also means helping important causes, such as their current reforestation efforts.