Casper's Wave Mattress Review
Its steeper price-point makes Casper's Wave one of the brand's luxury models. This bed uses a combination of memory foam, polyfoam, and blended latex for its comfort layer. On top of that, you get a transitional layer made of polyfoam to separate the comfort system from the harder support core, which is made with a high-density base.
These layers combine to create an 11.5-inch bed height. We rate the firmness of this mattress as medium-soft.
Learn more about Casper Wave's pricing, performance, construction, and more in our detailed review below. We'll also be comparing how it fares against its hybrid variant as well as Casper's other offerings.
We Recommend For
You prefer a bed with a softer, neutral foam-type feel
You want a bed that's suitable for every sleeping position (back, side, stomach, and combo)
You have a sleep partner (because of its noiseless design and excellent motion isolation)
You have some back issues or other similar health conditions
We Don't Recommend For
You're on a tight budget
You prefer a pure memory foam bed
Casper's Wave Mattress
Casper's Wave Mattress is recommended to all couples because of its noise free design and excellent motion transfer.
Firmness and Rating
How Firm is Casper's Wave Mattress?
Casper's Wave features a medium-soft firmness, which is a 4.5 on the 10 point firmness scale. The comfort layers deeply conform to your body for ample pressure relief.

The top layer made of polyfoam has a slight bounce. But overall, the bed has a slow response. So it's a solid option if you want a bed that feels like you're sleeping "in" it instead of "on."
Sleeping On Casper's Wave Mattress (Sleeping Positions)
Back sleepers will get an even weight distribution across the bed. The combined layers of bouncy latex, cushioning polyfoam, and supportive memory foam helps keep your spine aligned.
If you're a side sleeper, you might feel a bit of pressure around your shoulder and hip areas, depending on your weight group. However, the softness you get from the top layers gives enough cushioning to relieve a majority of the pressure.
Stomach sleepers will get a similar sleeping experience as back sleepers. There was little to no formation of pressure points during our testing phase. However, this model might be a bit too soft if you're a heavier stomach sleeper who needs that extra support. So you might opt for the Wave's hybrid variant instead. It uses a strong, pocketed coil system that prevents you from sinking too much.
What Does Casper's Wave Mattress Feel Like?
As mentioned before, Casper's Wave features a softer, neutral feel instead of a strong innerspring or memory foam feel. It's bouncy and soft, almost like a firm pillow.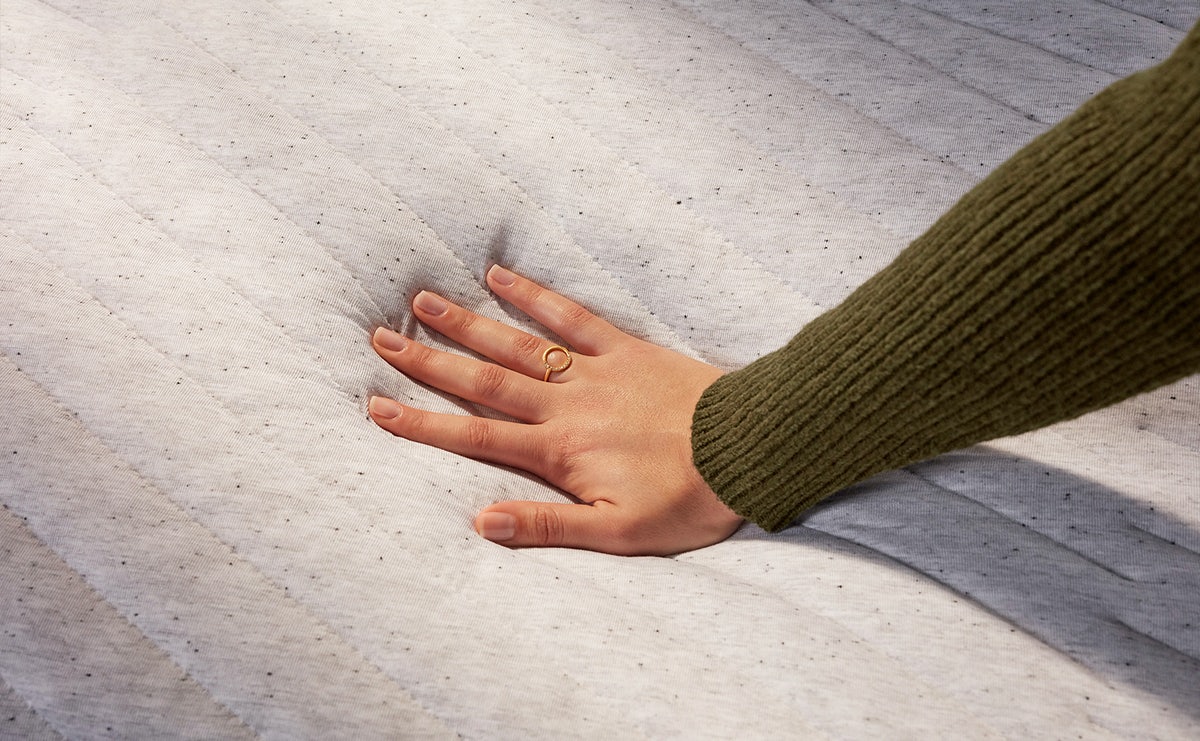 This bed is pretty responsive, even though it has a memory foam layer. The bounce you get comes from the latex and polyfoam layers. These materials have a tendency to snap back in its original shape much faster than memory foam would.
Average Weight Sleepers – 130lbs – 230lbs
Overall, our testers under this weight range loved the performance of Casper's Wave, which gave an excellent balance of support and comfort. Side-sleepers get the most out of this model because of its zoned transition layer and deeper body cradle that prevents uncomfortable pressure buildup. Stomach and back sleepers also get a good amount of cushioning. But there's still a bit of pressure felt around the hips and shoulders.
Heavyweight Sleepers – Over 230lbs
In general, our testers in this weight group found Casper's Wave a touch too soft. Stomach sleepers will feel some discomfort because they tend to sink too deeply. And this causes some pain around the shoulders and neck. Back sleepers, on the other hand, will feel some support from this bed, but it's average at best.
And finally, side sleepers will feel ample pressure relief and spinal alignment. But much like the other positions, the sinkage is too deep. The Wave's Hybrid variant might be a better choice because it's more supportive across every sleeping position.
Lightweight Sleepers – Under 130lbs
Lightweights will get the most out of Casper's Wave. Its medium-soft firmness allows for deep pressure relief. And the cushioning you get around the shoulders will help alleviate most pressure points and align your spine if you're a side sleeper. Stomach and back sleepers, on the other hand, will benefit from the bed's zoned layer that ensures extra support where our body needs it.
Construction and Materials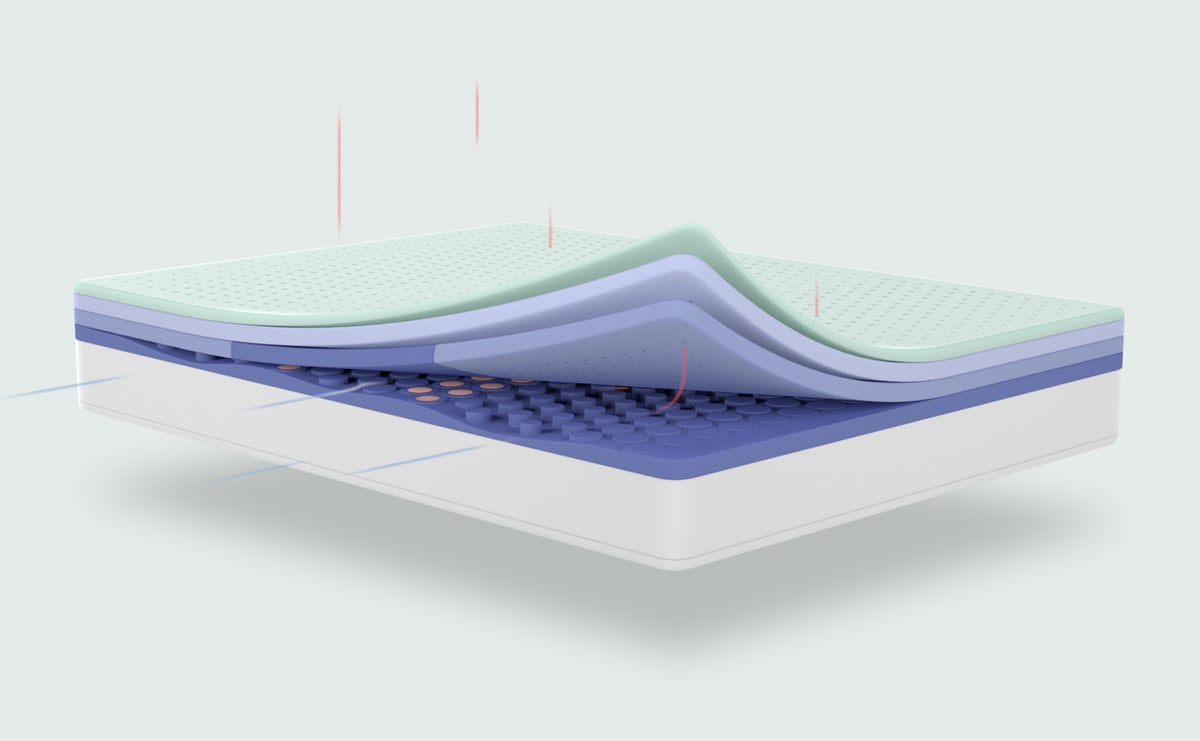 Cover
The Wave's paneled cover uses a combination of different materials. The topmost panel features a polyester, rayon, and wool blend. And the latter helps keep you cool while you sleep because of its moisture-wicking capacity. The borders, on the other hand, use a rayon, spandex, and polyester blend. Lastly, the bottom portion uses a blend of cotton and polyester.
Comfort Layers
The Wave uses three materials for its comfort layer. The topmost portion uses an inch of regular polyfoam. The next layer is a 1.5-inch blended latex that promotes airflow and adds some bounce to the bed. The last layer is made of a 1.5-inch memory foam that's ventilated to improve temperature regulation.
The combined performance of these materials creates a bed that's medium-soft and conforms closely to your body for ample pressure relief.
Support Layer
The comfort and support layers are separated by highly resilient polyfoam. And this material features grooves that have gel pods. This design creates zoned support for the hips and spine while cradling your shoulders. On top of that, this layer acts as a buffer that prevents you from sinking into the dense and uncomfortable support core.
Casper's Wave uses a support layer made with high-density foam. Unlike other pure-foam beds, the Wave's support layer is less thick. And this is partly due to the bed's extensive comfort system. This results in a slight hit for the bed's level of support.
Mattress Height
Casper's Wave features a total thickness of 11.5 inches. As we've mentioned, it has a fairly deep comfort system and a thinner support layer compared to other pure-foam beds made by competitors. This construction, combined with the bed's medium-soft firmness, makes it a suitable choice if you prefer a deeper body cradle. Those who need the extra support should opt for its hybrid variant or a firmer model.
Casper's Wave Mattress Size Options and Price
Although this brand is probably most known for their affordable beds, the Wave is considered as Casper's luxury option. And this comes with a steeper price point. Here's a complete breakdown of the prices and their respective sizes.

| Size | Dimensions | Weight | Price |
| --- | --- | --- | --- |
| Twin | 38" x 75" x 11" | 40 lbs | $1,346 |
| Twin XL | 38" x 80" x 11" | 42 lbs | $1,526 |
| Full | 53" x 75" x 11" | 56 lbs | $2,156 |
| Queen | 60" x 80" x 11" | 68 lbs | $2,336 |
| King | 76" x 80" x 11" | 84 lbs | $2,696 |
| California King | 72" x 84" x 11" | 84 lbs | $2,696 |
Other Beds From Casper
Original
Hybrid
Wave Hybrid
Essential
Casper's Wave Mattress
Casper's Wave Mattress is recommended to all couples because of its noise free design and excellent motion transfer.
Mattress Performance
Sleeping Hot or Cold
Casper's Wave runs much cooler compared to other competing pure-foam beds. This is likely due to the bed's memory foam and latex layers. Both are ventilated, which helps promote airflow all throughout the bed's interior. This mattress also has a cover that wicks moisture. And this property helps regulate your body temp, and cool you down.
The Wave's hybrid variant features better air circulation because of its pocketed coil system. So it might be a better choice if you tend to run hot at night.
Motion Transfer
We evaluated the motion isolation properties of Casper's Wave by asking pairs of testers to lie on the same mattress and observe for any noticeable motion when the other moves. Results from our tests show that the Casper doesn't exhibit much motion transfer.
We can attribute this with the bed's pure-foam design. In general, this type of mattress will respond slowly to our body's movements. So its surface absorbs and minimizes and motion transfer. So pure-foam mattresses have an edge in terms of motion isolation when compared to other bed types like latex, innerspring, or hybrid.
Edge Support
We tested for edge support by asking our testers across every weight group to sit and lie near the bed's perimeter. A majority of our testers experienced some significant sinkage whenever they sat or lay by the edge, especially those under the heavyweight category. With that said, our lightweight and average weight testers felt secure enough and didn't get the feeling they were about to roll off when they lay down the Wave.
This bed's decent edge support is comparable to other soft pure-foam mattresses. These models normally don't get much reinforcement compared to units that have coil systems. So you get a lot more sinkage which becomes more apparent as you pick softer models.
Durability
This model was released only a couple of years ago, so it's a pretty new addition to Casper's lineup. This means that we can't assess its longevity because the average lifespan of a bed is between six and eight years. We rated the Wave's durability with the available data: the materials used, construction quality, user experiences, and the brand's overall reputation.
You should expect this mattress to last at least seven years. Even though it's a softer bed that tends to deteriorate faster, it uses high-quality materials that help prevent sagging and normal wear-and-tear. With that said, body impressions are a common occurrence for softer beds, so you should expect to see some near the end of this mattress's lifespan.
Impressions that are over an inch thick already compromises a bed's support system, so you should have it replaced by then. We recommend that you rotate your bed every few months or so to help prevent the formation of these indentations and extend your unit's longevity.
Off-Gassing
We observed some mild off-gassing smell after we unboxed the Wave. But they mostly dissipated after a few days of opening. These odors shouldn't be a persistent issue. Owners who've had this model for a long time can attest to this in the reviews you find online.
Almost every mattress tends to emit some form of off-gassing, but the ones that have memory foam or polyfoam layers tend to produce the strongest odors. Beds that promote air circulation are better at dissipating these smells. In general, though, they should only last a few days at most.
Noise
While testing the Wave's performance, we didn't notice any noise even while under heavier weights. This noise-free construction, coupled with its enhanced motion isolation, makes this model a solid choice for those sharing beds with sleep partners who tend to move about at night.
Most pure-foam and pure-latex mattresses are virtually silent because they don't have any noisy components. Other beds like airbeds, hybrids, and inner springs tend to produce squeaks and creaks,
Warranty Info
You receive a generous 10-year non-prorated manufacturer's warranty for this Casper mattress.
Here are the full details:
The coverage for this warranty starts upon the purchase date. While the coverage period is in place, the brand will repair or replace any defective mattress. And they will cover the return fees for the defective mattress. However, the owner needs to pay for the fees for having their repaired or replaced bed returned to them.
Owners need to pay an additional fee if their defective bed is replaced with its upgraded version.
If an owner's defective mattress is replaced or repaired with the same model, its original warranty continues. However, if the bed is replaced using an upgraded unit, then a different warranty will take place, starting at the date where the owner made the purchase.
This warranty is considered void if owners don't use a suitable foundation for their mattress. According to the manufacturer, owners can choose among the following options: a box spring or foundation with slats spaced less than four inches between each other, a leveled platform bed, or a slatted foundation with slats spaced less than four inches between each other.
This warranty covers body impressions that are at least an inch deep despite proper handling and use. It also covers any physical imperfections that might cause the mattress to crack or split and any manufacturing defects that can be associated with the bed's cover.
This warranty doesn't cover impressions that are less than an inch deep. And additional defects that aren't covered by the warranty like stains, burns, and other issues caused by the normal deterioration or a change in the bed preferences of the owner.
This warranty can only be used by the original buyer of the bed. Anyone else who buys or acquires it second-hand is not eligible for the warranty's coverage.
Comparisons and Alternatives
Casper's Wave VS Casper's Wave Hybrid
The hybrid variant of Casper's Wave was only introduced last year. Both of these beds have the same memory foam, blended latex, and polyfoam comfort layers, as well as a gel-type transitional layer. They feature a similar medium-soft feel.
The key difference between the two lies in their support structure. The hybrid version uses 7 inches of pocketed coils that are encased with high-density foam. This design provides additional responsiveness and edge reinforcement to prevent sinkage.
For pricing, both models lean on the expensive side, but the hybrid, of course, is a bit pricier. If you can afford it, the Wave Hybrid's superior temperature neutrality and support make it a good investment. But if you can forego those features, the Wave is the way to go.
Casper's Wave VS Casper's Original
The Original is Casper's flagship pure-foam bed. This mattress uses memory foam and polyfoam construction to give it a firm and responsive feel. Both models work well at alleviating the pressure for average weight and lightweight sleepers. They are also virtually silent and excel at motion isolation.
Now for their differences, the Original's base layer is 2 inches thicker compared to the Wave's. So with the former, you get better support, especially near the bed's perimeter. However, the Wave is much more efficient at keeping its users within a comfortable temperature range.
The Original is definitely the affordable option. But both beds are high-quality, so you get high-value regardless of what model you choose. The Wave is pricier, but you get a softer bed that runs cooler. And you also get White Glove delivery at no extra cost.
Casper's Wave VS Casper's Hybrid
Much like Wave's hybrid variant, Casper's hybrid is essentially the same unit with a different support layer. So you get the same medium feel from the memory foam and polyfoam layers just like the Original. It features a slightly responsive surface that also conforms to your body closely. This creates a combined feeling of being "on" and "in" the bed.
Much like every hybrid, you get steady airflow with its coil layer. This results in temperature neutrality that's similar to the Wave's. And while Casper's Hybrid features minimal noise and excellent motion isolation, the Wave performs better in those categories. You only get fair edge support with both models, and they each should have a decent expected lifespan because of their quality materials and solid construction.
The Wave, being Casper's luxury option, is much more expensive than the Hybrid. If you prefer a deeper body cradle with a slow response, pick the Wave. However, we consider the Hybrid to be the better pick in terms of overall value.
Casper's Wave VS Casper's Essential
These two models are polar opposites of each other, with one being the brand's luxury bed, and the other being the budget-friendly option. The Essential is an 11-inch bed that features a comfort layer made of memory foam. Its medium-firm design makes it a better choice for heavyweight stomach and back sleepers.
The Essential and Wave have quite a few similarities. For one, they both offer decent edge support and excellent motion isolation. They do differ in terms of firmness, though. Because of the Wave's softer materials, it provides additional pressure relief for side sleepers and lightweights. It also has a thicker profile that might be more supportive than the Essential. The latter, on the other hand, might have a shorter lifespan because of its low-quality materials.
Casper's Wave Mattress
Casper's Wave Mattress is recommended to all couples because of its noise free design and excellent motion transfer.
FAQs
Does the Wave have any certifications?
It does! Two of the most notable ones are from CertiPUR-US, which means that this model is constructed without using harmful chemicals. The other one is from OEKO-TEX (which is fairly hard to get.) This certification reaffirms that this bed is very safe to use and keep in your home.
What bed setup should I use for this bed?
It goes without saying that the more support you give your bed, the better. However, any platform bed, adjustable base, or slatted frame should work fine. The brand does say that the Wave is designed to function with every standard foundation.
Casper sells some metal frames and foundations on their site. And they claim to provide excellent support. So you might want to check them out.
What's the full weight of Casper's Wave?
This bed is pretty heavy. Fortunately, you get White Glove delivery at no extra cost. The twin-sized Wave is 63 pounds, full-sized is 91 pounds, queen-sized is 109 pounds, and California king is 141 pounds.
Is flipping this bed model necessary?
No. In fact, none of this brand's models should be flipped. The layers are strategically placed from top to bottom. So you need to make sure that it stays on the right side.
Recap
The Wave is one of Casper's latest additions. And depending on your preferred sleeping position, body type, and whether you have a partner, you could opt to choose the regular or hybrid version. Its zone-based support technology that ? works well and performs as advertised. If you prefer the feel of softer neutral foam, and you have the budget, then the Wave is an excellent choice. It's a luxury bed that's worth every penny you spend on it.
Casper Information (Product Company Information)
Contact Casper through these channels:
Or you can find them on their social media: