Dreamfoam Bedding's Arctic Dreams Mattress Review
You'll find that this mattress is mainly bought through Amazon, with a rating of 4.5 stars and over 2.5 thousand user reviews. Aside from being very accessible, Amazon offers free shipping even if you don't have their Prime account. It comes to you in a box, compressed tightly and wrapped in plastic.
We recommend that you remove it from its packaging immediately and let it air out. It's best to leave it unused for at least a day to give it some time to decompress. Unlike other online-based Mattress Companies, Dreamfoam Bedding doesn't provide its buyers with a product trial period. However, you can still make a return with Amazon's standard 1-month return window. It's going to be tedious with a larger product like this mattress, though.
Despite that, the Dreamfoam mattress is still worth looking into. Here's a breakdown of its pros and cons:
We Recommend For
You're looking for a budget-friendly bed that's made locally in the US
You're an Amazon Prime user (for better shipping)
You prefer the feel of a denser, neutral-foam mattress
You want a mattress that can accommodate every sleeping position (back, stomach, side, and combo)
You need a bed that's best suited for average to lightweight individuals
We Don't Recommend For
You want a hassle-free return system
You're a heavyweight (Dreamfoam's hybrid unit might be better suited for you)
You want to test out your mattress in-store before locking in a purchase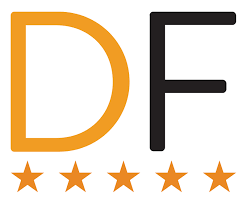 Dreamfoam Bedding's Arctic Dreams Mattress
Dreamfoam Bedding's Arctic Dreams Mattress is recommended to all sleepers because it has great durability, comfort, transfer motion and edge support features.
Firmness and Rating
How Firm is Dreamfoam Bedding's Arctic Dreams Mattress?
We rate this mattress a medium, which gives the most balanced experience out of any firmness type. This design choice is a smart move for the brand since this model only features one type of firmness. So it's the best option to make it accommodating to as many people as possible.

Remember that a bed's firmness is all relative to its user's height and weight ratio. The lighter the sleeper, the more they stay on top of the mattress and feel more firmness. The heavier the sleeper, the more sinkage and cushioning they get for a softer feel. We always test with a broad range of individuals to take every opinion into account and average out the results.
Sleeping On Dreamfoam Bedding's Arctic Dreams Mattress (Sleeping Positions)
Back sleepers will feel this bed's foam filling the spaces of their lumbar area for extra cushioning. It's also firm enough to provide the right amount of support to keep sleepers from sinking too deeply into the bed.
If you're a side sleeper, the combined softness of the quilted cover and Energex foam comfort layer creates a cushioning effect that reduces pressure buildup. Side sleepers, in general, will benefit more from a softer mattress because their sleeping position tends to develop the most pressure points.
Stomach sleepers will have a similar experience to a back sleeper. Most of our testers felt comfortable enough because their stomachs didn't sag and cause pressure buildup. With that said, some heavier individuals might experience some sinkage. Many of our heavyweight testers say that they prefer the feel of Dreamfoam's other mattress line, Ultimate Dreams, which uses memory foam and latex for a more supportive design.
What Does Dreamfoam Bedding's Arctic Dreams Mattress Feel Like?
The bed's quilted cotton top feels very soft and plush on the skin. As soon as you sit or lay on top of the mattress, you'll notice the significant surface bounce and the deeper body-conforming without giving that stuffy and trapped feeling.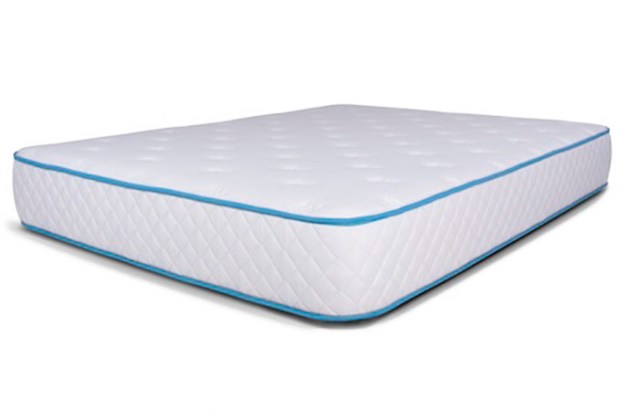 The airflow you get from the bed's quilted cover and gel-infused foam will help keep the bed in a comfortable sleeping temperature. The high-density foam base, on the other hand, keeps both your body and and the bed's top layers properly supported.
Average Weight Sleepers – 130lbs – 230lbs
Our testers under this weight range had the best experience with the Dreamfoam mattress. If you're part of this weight group, you'll get a good balance of support and cushioning. The softer comfort layers work well at preventing pressure buildup without excessive sinkage.
In general, we recommend average weight sleepers to get a bed with medium firmness. However, you might want to go up or down a notch if you prefer a bed that's slightly firmer or softer. It's also typically a better choice to go with the latter if you're a strict side sleeper for maximum cushioning.
Heavyweight Sleepers – Over 230lbs
The Dreamfoam mattress only gave a subpar sleeping experience for our heavyweight testers. Since it's a pure-foam mattress with an average profile, it doesn't have the level of support that larger individuals need for comfort.
In general, we recommend people under this weight range to get a bed with a more supportive structure like a hybrid or a spring-type. These beds will keep even the heaviest sleepers on top of the mattress and give them a level sleeping surface.
Lightweight Sleepers – Under 130lbs
Lightweights will get a lot of comfort out of this bed. From petite people, teens, and kids, this model's medium firmness gets its cushioning capability from its comfort layers combined with the support of its durable high-density support layers.
Construction and Materials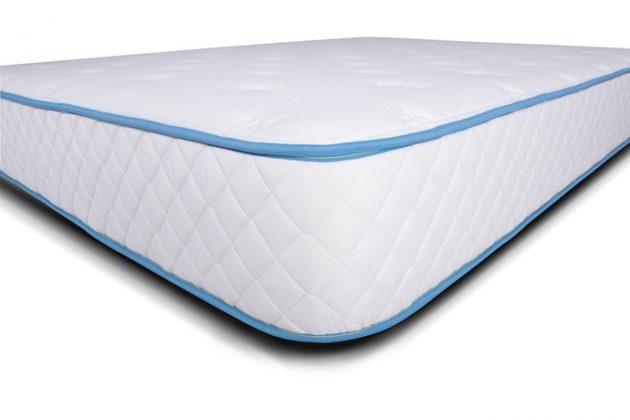 Cover
This unit's cover uses stretched polyester fabric and blended cotton. This blend of materials creates a breathable cover that's both soft and stretchy. On top of this, the cover is quilted with very soft foam that affords another extra layer of cushioning.
In terms of aesthetics, the Arctic Dreams cover has a very basic design. It's dominated with white color and complemented with a dark blue trim that runs around the top and bottom portion of the bed's seams. This product's manufacturer, Brooklyn Bedding, probably wanted to offer a more affordable model. To do so, it chose a more straightforward design. With this cover's quilted finish, it features a similar feel to the Leesa or Tuft and Needle models.
The cover isn't removable. So in case of accidents, spot cleaning is the way to go. Just mix warm water with a mild detergent and wipe away the dirty area. It's a good idea to get a reliable mattress protector, just in case. However, adding a protector will have an effect on the bed's temperature regulating properties and overall feel.
Comfort Layers
The bed's foams are all certified by CertiPUR-US, meaning that it's free of PBDEs, TCEP or TDCPP flame retardants, lead, mercury, ozone depleters, formaldehyde, heavy metals, and phthalates under the Consumer Product Safety Commission's regulation.
To put it simply, this certification ensures that this model is free of any harmful substances and meets the quality standards of an established regulating institution. So you're sure to get a unit made of high-quality foam that's safe and will last a long time.
This bed uses 2.5 inches of Energex gel-type foam. It feels fairly responsive, and it's responsible for giving the mattress a neutral feel. As its name, Arctic Dreams, suggests, this mattress features a cooling function that helps keep its users within a comfortable sleeping temperature.
Support Layer
The bed's support layer uses 7.5-inch high-density polyfoam. And while this does give decent support, it's not the same as a hybrid that uses a coiled system. If you're interested in a bed with additional support, consider looking into Arctic Dream's hybrid version, although it comes with an extra cost. In general, though, this bed's thick support layer helps most of its users feel supported while giving the whole unit more longevity.
Mattress Height
With its quilted cover, this Dreamfoam mattress has a total height of 10.75 inches, which is slightly higher than the standard height for foam beds (10 inches.) The layers of the Arctic Dreams do their job well. Although a bit on the thin side, the comfort layers do a decent job keeping sleepers cushioned. And the thicker support layer prevents them from sinking. However, the thin comfort layers might affect the bed's longevity (see Durability.)
Dreamfoam Bedding's Arctic Dreams Mattress Size Options and Price
The Arctic Dreams is definitely a budget-friendly model with high-quality construction, which is a rare find nowadays. It has a hybrid version that's slightly pricier, but also cheaper than similarly built hybrids. Here's the complete breakdown of this unit's prices and their respective sizes.

| Size | Dimensions | Weight | Price |
| --- | --- | --- | --- |
| Twin | 38" x 75" x 10" | 48 lbs | $859 |
| Twin XL | 38" x 80" x 10" | 52 lbs | $1013 |
| Full | 54" x 75" x 10" | 66 lbs | $1106 |
| Queen | 60" x 80" x 10" | 77 lbs | $1234 |
| King | 76" x 80" x 10" | 96 lbs | $1459 |
| California King | 72" x 84" x 10" | 94 lbs | $1489 |
Other Beds From Dreamfoam Bedding
Bloom Essential
Magnolia
PropelSleep
Meridian
Willow
Dream
Sanctuary
Doze
Aspen
Sojourn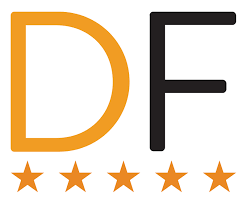 Dreamfoam Bedding's Arctic Dreams Mattress
Dreamfoam Bedding's Arctic Dreams Mattress is recommended to all sleepers because it has great durability, comfort, transfer motion and edge support features.
Mattress Performance
Sleeping Hot or Cold
Most of our testers had a temperature neutral experience with this model. While it does come infused with cooling gel, we don't think it lowers the temperature enough to be called a cooling mattress. With that said, it does an excellent job of keeping its sleepers at a comfortable sleeping temperature.
For those who prefer a cooler sleeping experience, just sleep in satin or silk with the fan on. And if you want to get cozy and warm, use weighted blankets and flannel sheets.
Motion Transfer
This mattress is a fairly good choice for those with sleep partners. When we tested the Dreamfoam mattress for motion transfer, we found this product absorbs or significantly dampens motion on either end of the bed. With that said, most, if not all, pure-foam beds have above-average motion isolation properties.
Edge Support
We tested the Arctic Dream's edge support by asking our testers to sit or lay down near the bed's edges and check for any significant sinkage. Overall, the mattress didn't have a lot of edge support, which is a common problem among pure-foam beds. When users lay by the edge, they get the feeling of rolling or falling off the mattress. This means that you get slightly less sleeping room than advertised.
The bed's edge support isn't necessarily inadequate, but it's nothing to praise about either. So if you're planning to share this mattress with someone, pick a bigger size to ensure that both of you have enough space for a comfortable sleep.
Durability
First off, we should say that this bed's CertiPUR-US certified materials mean that you're getting a high-quality mattress. With that said, you should expect this bed to last at least seven years. Foam beds, generally, don't last as long as spring mattresses. On top of that, the Arctic Dreams uses a fairly soft comfort layer, which has more of a tendency to develop indentations sooner.
We recommend that you rotate your bed every few months or so to help extend its longevity. This easy form of maintenance can act as a preventative measure to combat the formation of body impressions and indentations.
Off-Gassing
Pure-foam mattresses also have a fairly common issue of releasing gases that exhibit a chemical odor. And this smell can last for a few days depending on the foam material used and its concentration in the foam.
Despite the Arctic Dreams featuring a pure-foam construction, we didn't observe a lot of odor when we opened it. While it did have a mild smell, it immediately dissipated in a couple of days.
This milder off-gassing only confirms this model's CertiPUR-US certification, which sets a high standard of material quality. It also means that the Arctic Dreams' manufacturing process didn't use any noxious chemicals that are harmful to its user's health.
Noise
During testing, we didn't observe any noise from the Dreamfoam mattress. Pure-foam beds are virtually silent because they don't contain any components that produce noise, such as springs and motors. This bed's noiseless construction, combined with its above-average motion isolation, makes it a solid choice for people who have a sleep partner who tends to move about at night.
Warranty Info
You receive a generous 10-year warranty for every Arctic Dreams mattress.
Here are the full details:
Every Dreamfoam Bedding product featured on Amazon has a warranty coverage provided by the brand. The Arctic Dreams' 10-year warranty means that specific defects that occur within that period are covered by Dreamfoam Bedding for replacement or repairs.
Warranty Coverage:
Torn handles. When the mattress' handles' stitching tears out after repeated pulling.
Any broken or loose coils and wires
Body indentations that are at least 1 ½ inches thick
Sagging (provided that a proper foundation was used to support the bed. For queen sizes and bigger, the center structure should be supported by at least five legs, or a center structure that's supported by at least five hardwood cross-type slats is required)
Not covered:
Bed height
Mattress fabric
Bent or broken border wires that run along a bed's perimeter because of bending or moving it.
Sheet fit
Change in comfort preference
Body indentations that are at less than 1 ½ inches thick
Mattress damage because of an improper foundation
Mattress damage because of physical abuse and misuse (such as burns, tears, stain, mold, and dirt)
Transportation fees
2. In order to file a claim, the original purchaser can contact the retailer where they made the purchase.
3. Defects that occur during the bed's warranty period will be replaced or repaired by Dreamfoam Bedding. For mattress inspections that use third-party inspectors, the fees of said inspectors will not be covered by Dreamfoam Bedding, making it the owner's responsibility. However, this payment is refunded by the brand if the inspectors conclude that there's an issue with the warranty. This limited warranty is only valid for
The original buyer of the mattress
Those who have the original proof of purchase
4. If a replacement isn't available, the brand reserves its right to provide a substitute that equals or exceeds the product's value. All transportation costs are paid for by the owner. The warranty doesn't cover beds that are deemed unsanitary by Dreamfoam Bedding, or when the failure of the product isn't caused by defective materials or workmanship.
Comparisons and Alternatives
Dreamfoam Bedding's Arctic Dreams Foam Model VS Hybrid Model
Dreamfoam Bedding's Arctic Dreams feature both a foam and a hybrid model, both of which can differ in performance despite having some similar design choices. Much like its foam counterpart, the Arctic Dreams hybrid features the same Energex foam and cooling gel. It also comes with the quilted cover that helps the bed resist the formation of body impressions.
The two models differ when it comes to their support layer. The hybrid unit uses a 6-inch coil system that's built to decrease motion transfer and provide extra support. And below these coils is an inch of high-density foam for extra reinforcement and durability.
Much like the pure-foam version, this one is a medium in terms of firmness, and its materials are also certified as safe and of high quality. But the similarities end there. The hybrid model has an edge when it comes to temperature neutrality, support, durability, and minimal off-gassing. All of these improvements are due to the coil system that the pure-foam unit doesn't have.
However, we shouldn't write off the foam version just yet. Arctic Dreams pure-foam bed is better at motion isolation, it's less noisy, and it's a lot more affordable. With that being said, both models are an excellent bang for your buck.
Dreamfoam Bedding's Arctic Dreams VS Plank Mattress
The Plank Mattress from Brooklyn Bedding is also a pure-foam bed, except it features two sides you can flip over to sleep on. These vary in firmness. The plank mattress is firmer than the Dreamfoam mattress, with one side usually firmer than the other. Depending on the user's preferred sleeping position or body type, one model might suit them better than the other.
For light and average weight sleepers, the Dreamfoam bed's medium firmness is the better choice. It conforms just enough to reduce the buildup of pressure points for users under this weight range. Heavyweights might appreciate the Plank mattress for its extra support. However, we still recommend that heavier sleepers choose a coil-type mattress because they can provide support and good air circulation.
Brooklyn Bedding's Plank model is much more expensive than Dreamfoam Bedding's Arctic Dreams. However, the Plank essentially gives you two beds for the price of one. Both sides of this model are firm enough to handle heavier sleepers. If you're a lighter individual or someone one a tight budget, the Arctic Dreams is the better choice.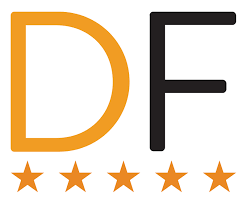 Dreamfoam Bedding's Arctic Dreams Mattress
Dreamfoam Bedding's Arctic Dreams Mattress is recommended to all sleepers because it has great durability, comfort, transfer motion and edge support features.
FAQs
Where can I buy a Dreamfoam Bedding Mattress?
You can get them through Amazon or directly from the brand's website (see their contact details below)
What's the best method of removing this bed's initial odor after unpacking it?
Almost every bed exhibits some form of off-gassing. The smells released from this bed are relatively mild. So if you're not bothered by it, these smells are entirely safe. You can also let it air out and leave it in a room with open windows hasten the dissipation.
Who owns the Dreamfoam Bedding brand?
Dreamfoam is essentially Brooklyn Bedding's budget brand. And everyone knows the latter as one of the most established online mattress manufacturers in the US. Some of their mattress offerings include the Signature, Bowery Hybrid, Spartan, Rubix, Bloom Hybrid, and Aurora.
Does this bed have any other certification?
Aside from its CertiPUR-US certification, it's also certified by OEKO-TEX. This means that every textile used in this mattress was evaluated in every step of its production and was found free of toxic emissions and chemicals.
Recap
Dreamfoam Bedding's Arctic Dreams is an excellent bed for its affordable price. Its medium firmness means that it can accommodate a wide variety of sleepers. Its edge support might not be too impressive, but its cooling capabilities will prevent you from getting too warm. It's a solid option for people on a strict budget but still want a quality mattress.
Dreamfoam Bedding Information (Product Company Information)
Contact Dreamfoam Bedding through these channels:
Or you can find them on their social media: