The Brooklyn Bedding Freya Hybrid Mattress Review
The Freya is a premium hybrid bed designed with hot sleepers in mind. It has many layers of gel-infused memory foam and polyfoam combinations to provide cooling. Then it fuses these with a layer of coils to provide additional air circulation to assure a comfortable sleeping temperature.
The Freya can be ordered through Brooklyn Bedding's website or via Amazon.com. It comes with a 120-day trial period completely free of risk. If you don't want the bed after 30 days, Brooklyn Bedding will collect it for free and reimburse you with any cost you have incurred.
In this review, we will look at Freya's construction, performance in cooling, sleeping comfort, motion isolation, and other pertinent features that you need to know to arrive at an informed purchasing decision.
We Recommend For
You prefer the feel of soft foam
You build up some heat at night
You sleep on your side or a combination of positions
You are looking for premium quality bed
Your body fits all sizes and categories
We Don't Recommend For
You don't like the texture of memory foam
You sleep warm
You are a heavy sleeper who favors your back and stomach
The Brooklyn Bedding Freya Hybrid Mattress
The Brooklyn Bedding Freya Hybrid Mattress is recommended to all sleepers with all body sizes because it has great features like softness, affordability and durability
Firmness and Rating
How Firm is The Freya Hybrid Mattress?
The Freya has a firmness rating of 5 or medium-soft. The top memory foam and polyfoam layers comprise the comfort layer that provides pressure relief to contact points like hips and shoulders.

The coils in the support layer give the mattress its firmness and shape. It also stops you from sinking into the bed any further.
Sleeping On The Freya Hybrid Mattress (Sleeping Positions)
The Freya is optimal for both side and back sleepers for the light and average weight groups. They feel comfortable with adequate pressure relief and support provided by the memory foam. They also notice some lumbar support and spine alignment.
The stomach sleepers will experience some discomfort and pressure on their shoulders and hips, especially for the heavier group. They will encounter some resistance in moving or changing positions due to the memory foam's less responsiveness.
What does the Freya Hybrid Mattress Feel Like?
The Freya initially gives a soft sinking feeling that quickly changes to firmness. The lower portion consisting of coils and high-density polyfoam gives the firm impression optimal for back support. This perception changes from one person to another having different weights.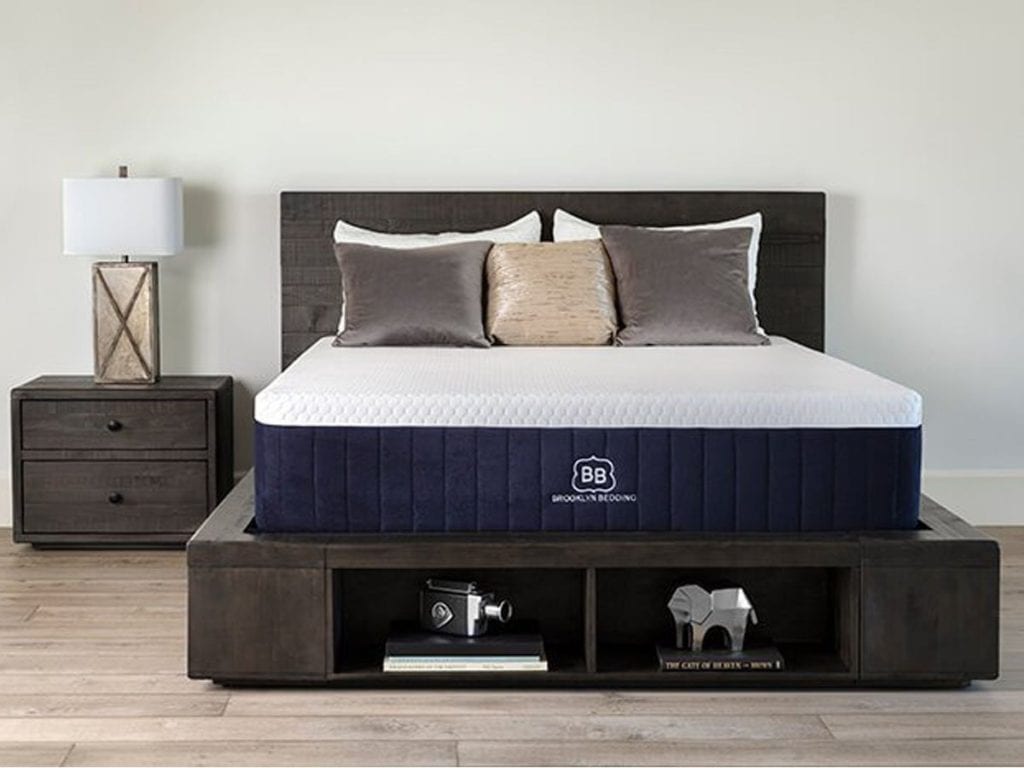 The heavier you weigh, the deeper you sink into the bed. That can have a direct effect on the contact points and on your spine.
Read on to find out more about how weight influences the firmness perception of a mattress.
Average Weight Sleepers – 130 lbs – 230lbs
This weight group will find the Freya as optimal for them in whatever sleeping position they take. The back and side sleepers will enjoy the body-conforming feel of the mattress, which provides relief of pressure at the hips and shoulders. It also offers an mpressive alignment of the spine, which is significant to people suffering from backaches.
Heavyweight Sleepers – Over 230 lbs
Heavier sleepers will find the Freya too soft for their taste. They will sink deeper into the mattress and feel pressure on their hips and spine, particularly when on their stomach. They may want to look for firmer options instead.
Lightweight Sleepers – Under 130 lbs
Sleepers in this weight class will benefit as much as the average weight group does. Their lighter weight will prevent them from sinking much further. That will give them more pressure relief in any position they take. It also allows them to move about with no resistance, especially while changing positions.
Construction and Materials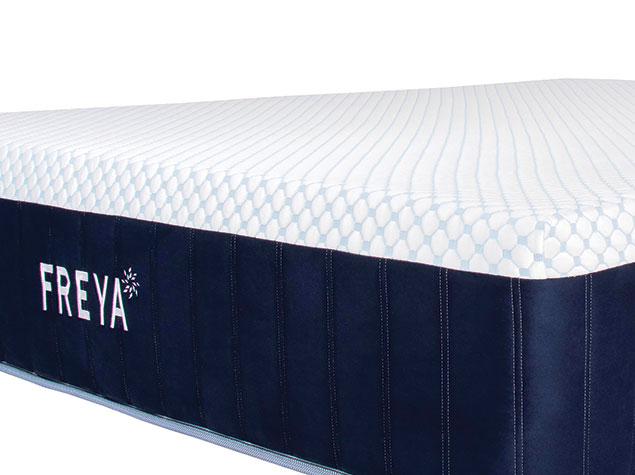 Cover
The Freya's cover is a polyester blend that is smooth and stretchable.
Comfort Layer
Freya's comfort layer has three components. First is a 2-inch TitanCool Memory Foam that provides enough body contour and has active cooling. Second is a 1.5-inch Energex polyfoam infused with copper gel for further cooling. The third is a 1-inch polyfoam that acts as an intermediate between the upper comfort layers above, and the support layer beneath. It provides some firmness and support.
Support Layer
The support layer is composed of one thousand two hundred 8-inch pocketed coils and 1 inch of high-density polyfoam. This layer provides the firmness of the bed for adequate support, especially as the sleeper weight increases. This layer is responsible for ensuring that your spine is aligned regardless of the position you sleep in.
This layer also provides additional temperature control thanks to the air-circulation ability of the coils.
Mattress Height
The total thickness is 13.5 inches. This thickness gives you that 'sleeping on a cloud' feeling and provides a very comfortable sleeping experience.
Freya Hybrid Mattress Size Options and Price
| Size | Dimensions | Weight | Price of 8" Version |
| --- | --- | --- | --- |
| Twin XL | 38" x 80" x 12.5" | 62 lbs | $1260 |
| Full | 53" x 75" x 12.5" | 84 lbs | $1700 |
| Queen | 60" x 80" x 12.5" | 89 lbs | $1800 |
| King | 76" x 80" x 12.5" | 125 lbs | $2100 |
| California King | 72" x 84" x 12.5" | 127 lbs | $2100 |
Other Beds from Brooklyn Bedding:
Aurora
Bloom
Bowery
EcoSleep
Signature
Titan
The Brooklyn Bedding Freya Hybrid Mattress
The Brooklyn Bedding Freya Hybrid Mattress is recommended to all sleepers with all body sizes because it has great features like softness, affordability and durability
Mattress Performance
Sleeping Hot or Cold
All those cooling devices employed on this mattress makes the Freya sleep impressively cool. The comfort layers provide effective regulation of body temperature while the coils provide powerful consistent airflow.
Motion Transfer
The Freya mattress can eliminate considerable motion transfer compared to other hybrids because of its thick comfort layers. However, it cannot compete with the ability of all-foam beds in completely isolating motion transfer.
It offers couples a good option for sleeping without being disturbed by the partner's movements.
Edge Support
The Freya provides a sturdy edge support thanks to its high-density foam base that reinforces the coils. However, the soft comfort layers can still allow some compression common to foam beds. With that said, couples can still move about without falling off the edges of the bed.
Durability
The life expectancy of the Freya mattress is 6.5 to 7 years. The pocketed coils with the high-density polyfoam base give adequate support for the bed.
Proper mounting can contribute to a longer mattress lifespan. A sturdy frame, with the least movement possible, is ideal to help maintain satisfactory upkeep of the mattress.
Off-Gassing
Most foam mattresses emit an odor when still new. This odor dissipates after some time but does not pose a big issue.
Noise
The Freya does not make considerable noise. The coils may make some occasional sounds but are altogether quiet.
Warranty Info
Brooklyn Bedding gives you a warranty valid for 10 years.
Here are the details:
The warranty takes effect immediately upon purchase of the product. During the validity period, the brand will repair and replace any defects.
Brooklyn Bedding's mattresses necessitate foundations that provide strong support and marginal movement. You can use slatted metal or wood foundations that feature slats 4 inches apart or less, metal or wood box foundations, and solid metal or wood platforms. You can't use box springs aged over five years or those that lack proper support, and slatted metal or wood foundations that feature slats above 4 inches.
The brand reserves the right to refuse to repair or replace beds or bed components that are deemed unsanitary.
This warranty is valid only with the original owner. Anyone who purchased the unit from the original owner, or an unauthorized retailer, is not granted the coverage.
Comparisons and Alternatives
Freya Mattress VS Aurora Mattress
The Aurora is a mattress designed with a focus on temperature control. It features a cover that combines polyester and rayon with a heat-regulating material called PCM or Phase Change Material. This material is cool to the touch! Then the layer beneath is called CopperFlex, which has copper infusion that dissipates body heat. The support layer is composed of 8-inch pocketed coils, the same as in Freya's. The total thickness is also 13.5 inches.
All these features add to the overall cooling effect that gives the sleeper a comfortable temperature regulated sleep.
Aurora has a firmness rating of 6 or medium-firm. This provides a balance between support and contour. We found that the mattress relieves pressure very well and is suited for back and side sleepers.
Aurora is a firmer mattress, more adaptable to all body types and weights, and offers more support and pressure relief than Freya. Aurora also offers more temperature regulation. And to top it all, it is 30% less expensive than Freya.
We can say that Aurora is the better option and is the "cooler" bed than Freya.
Freya Hybrid VS Bloom Hybrid
These are both hybrids in that they combine foam and pocketed coils to provide comfort and support.
However, the differences lie in the foam. Bloom hybrid uses natural and organic foams. To be specific, it uses Talalay latex foams that provide firmness and longevity with the right amount of body contour. Freya uses memory foam and polyfoam.
Bloom has a cover made of natural wool and organic cotton blends that give some level of cooling. Freya has polyester.
Bloom is thinner than Freya at 12 inches and 13.5 inches respectively because the latter has more comfort layers of memory foam and polyfoam. Both models have High-Density Poly Foam as a support base to the coils above them.
Bloom provides a cooler sleeping temperature than Freya due to the better cooling abilities of the cover and comfort layer.
The Bloom Hybrid offers three options (soft, medium, and firm) compared to Freya's one. That alone makes the Bloom adaptable to all body sizes and weights than the Freya. It is also adaptable to all the sleeping positions and provides optimum pressure relief and support at any level.
Finally, the Bloom Hybrid is about 15% cheaper than the Freya.
Freya Hybrid VS Bowery Hybrid
There are two Bowery models: an all-foam variant and a hybrid. We shall compare the Freya with the Bowery Hybrid for this review. The Bowery is a combination of memory foam and pocketed coils. It has a 1-inch quilted cover made of stretch-knit cotton and memory foam.
It has a firmness setting of 6.5 or medium-firm. The Bowery Hybrid's top 2-inch Energex layer has PCF or phase changing foam. It has the responsiveness of latex with the cushioning effect of memory foam. A group of 6-inch pocket coils and a PCF polyfoam base make up the support layer. This layer provides the firmness and shape of the mattress. The total thickness is 10 inches.
The Bowery Hybrid is an adequate option for back and side sleepers in both light and average weight sleepers. Heavier sleepers will benefit more than the other weight categories due to the higher firmness rating. It gives enough cushion to the hips and shoulders without sacrificing support.
The Bowery Hybrid has a life expectancy of 6 to 7 years. It can isolate motion well and is a good option for couples. It doesn't emit odor except for the usual first-use smell that quickly dissipates after some time. It also barely makes noise when bearing loads.
Both the Bowery Hybrid and Freya Hybrid have a neutral sleeping temperature. Although the memory foam comfort layers tend to trap heat, the coil support core provides efficient cooling through consistent air circulation.
Freya is a lot more expensive than the Bowery Hybrid. The latter is the best option if you are looking for a soft bed that comes with a gentle tag price.
Freya Hybrid VS EcoSleep Hybrid
The EcoSleep is the newest offering from Brooklyn Bedding. Similar to the Freya, it combines foam layers and pocketed coils for support and comfort. However, instead of using memory foam as a comfort layer, the EcoSleep uses 100% natural latex that offers a 'cooler' sleep while providing cushion and support.
EcoSleep's unique feature is its flippability thanks to having two sleeping surfaces with different firmness ratings. It has a medium-firm (6) side and a firm (7) side. The medium-firm side has two layers of latex foams that provide body contour capability with ample support for hips and shoulders. The firm side has one layer directly above the coils that provide that bouncier quality good for spine alignment and lumbar support.
The support core is a group of 6-inch pocketed coils. Wrapped around all that is a half-inch cover consisting of natural wool and organic cotton blend that gives a breathable and comfortable texture. The total thickness is 11 inches.
The average weight sleepers favored the medium-firm side for its cushioning feel but found both sides provide them with comfort and support in all sleeping positions. The heavier weight sleepers favored the firm side more than the medium-firm because it gave them more support and enough bounce to let them move about or change positions with ease. They also had no issue in sleeping in all positions.
The lightweight sleepers, however, found the EcoSleep a bit too firm and had difficulty in sleeping on their sides even on the medium-firm side. They felt a more pronounced pressure on the contact points like hips and shoulders.
The EcoSleep Hybrid has a life expectancy of 7.5 years. It has some capability to isolate motion, but couples would still feel a little transfer. However, because it provides significant edge support, couples will be able to move around without rolling off the bed.
The EcoSleep's components provide an impressive cooling efficiency. Its breathable cover, ventilated latex layers, and pocketed coils (that provide adequate air circulation) all combine to keep your temperature at a comfortable level during sleep.
The EcoSleep does not emit any odor except for the usual 'new' smell that goes away after a few days of unboxing. It also does not make too much noise while bearing loads. The EcoSleep is priced 30% lower than the Freya. If you prefer an overall firmer bed at a reasonable cost, the EcoSleep is your choice. On the other hand, if you prefer a softer bed that can give almost the same cooling temperature while sleeping, and you don't mind shelling out more, Freya is for you.
Freya Hybrid VS Signature Hybrid
The Signature Hybrid is similar to the Freya Hybrid in many ways. They both have covers with quilted polycotton blends that have great texture and are breathable. They both have comfort layers of Titan foam and Energex foam above the support layer. These layers allow the mattress to be conforming, but maintain support and minimize sinking.
The Signature has 6-inch pocketed coils as opposed to Freya's 8-inch coils in the support layer. Both have a layer of high-density foam to reinforce the coils. The Signature has three firmness options: soft (3.5), medium (5.5), and firm (7.5). The soft option appealed to the lightweight sleepers, particularly with side and back positions.
They felt the right amount of body contour and support. The medium option was optimal for the average weight sleepers in all positions, although they found all settings comfortable. The firm option pleased the heavier sleepers in all positions.
Both Freya and Signature models exhibit neutral to cool sleeping temperatures because of similar structures. Both had fairly low noises when bearing weight. And both models had performed well on motion isolation and edge support.
Unfortunately, Freya's price is almost three times that of the Signature at basically the same performance and fewer firmness options. The Signature is clearly the optimal choice.
Freya VS Titan
The name says it all. Titan mattresses were developed with the weightier (above 230 lbs) and bulkier sleepers in mind. Its cover is a blend of polyester and memory foam. Directly underneath is a Titanflex layer that tops the 6-inch coils compared to Freya's 8-inch coils. At the bottom is a high-density polyfoam layer. All these layers are stacked up to give a firm, supportive mattress. Its firmness rating is 8!
We found that even sleepers under 230 lbs can feel comfortable with the Titan because of the cover. It gives a balance between contour and support. The Titan best suits the heavy and back sleepers. The combo and stomach sleepers will also find the Titan to their liking.
The Freya and Titan mattresses have the same sleeping temperature, with both models having polyester and memory foams. Also, both have the pocketed coils to provide adequate air circulation to dissipate any heat absorbed during sleep. Although the Titan has smaller coils, it has a high firmness rating which compensates for the coil sizes.
The polyester and memory foams on both models are effective in minimizing motion transfers. Although the Titan has considerable edge support, couples will not have difficulty in moving about in both bed models. The Titan is priced about 50% lower than Freya with better features and performance.
The Brooklyn Bedding Freya Hybrid Mattress
The Brooklyn Bedding Freya Hybrid Mattress is recommended to all sleepers with all body sizes because it has great features like softness, affordability and durability
FAQs
Is the Freya Mattress made in the USA?
Yes. Brooklyn Bedding makes it in their factory in Phoenix, Arizona.
Does the Freya need a break-in period?
Yes. The Freya will need about four to six weeks to break-in.
Does the Freya Mattress have any certifications?
Yes. The Freya Mattress has CertiPUR certification which ensures there are no toxic and harmful substances in every unit manufactured.
Will the Freya mattress work with any frame?
Yes. Freya will work with any kind of frame. All you need is to make sure that the foundation is level and sturdy, and it does not move. The Freya is compatible with most platforms, slat, box spring, and adjustable bases.
Recap
The Freya Mattress is a worthy addition to Brooklyn Bedding's line of quality products. It is made of premium and durable materials to give you adequate support and comfort while keeping your body temperature at low levels.
While it is the best option for light to average weight sleepers, they will not appeal to the heavier group. They may be better off opting for an EcoSleep or a Titan instead. Finally, if you do not have a limited budget, then there is no problem choosing the Freya.
Brooklyn Bedding Information (Product Company Information)
Contact Brooklyn Bedding through these channels:
Or you can find them on their social media: