Eight Sleep's Smart Bed Review
The main selling points of most online mattresses are value and convenience. The Eight Sleep brand tackles it a little differently. They utilize smart features to improve the sellability of their products. Their mattress model, the Jupiter, isn't technically a smart bed, but it does feature an impressive design that makes it worth looking into.
Eight Sleep drives their brand in the direction of data collection and science, with the primary goal of making a useful sleep improvement and measurement system. They aim to tackle the most common issues every sleeper has to deal with. Eight Sleep currently offers two bed models: Pod and Smart Bed. Our review mainly focuses on the latter, but we'll be comparing their performances later on. We'll be tackling everything you might want to know about this unit, like its construction, materials, special features, warranty, and more.
We Recommend For
You prefer a bed that has a mixed-foam construction
You need a mattress that's suited for light and average weight individuals
You're looking for a model that features sleep tracking and smart home tech
We Don't Recommend For
You're looking for a model with some bounce
You're a heavyweight
You want a basic bed with no extra features

Eight Sleep's Smart Bed
Eight Sleep's Smart Bed is recommended to all sleepers because it has great durability, comfort, transfer motion and edge support features.
Firmness and Rating
How Firm is Eight Sleep's Smart Bed?
When we got the Smart Bed Mattress, it came with the option of having two firmness levels in one bed, one on each side. And this is useful for sleep partners with different preferred sleeping positions. Say, for one stomach sleeper and one side sleeper, the bed can be customized to have one side softer or firmer than the other.

Sadly, Eight Sleep doesn't have this offer on the table anymore. While not exactly a deal-breaker, it was certainly a plus. The latest Smart Bed unit will have a firmness rating of medium or medium-firm.
Sleeping On Eight Sleep's Smart Bed (Sleeping Positions)
Our back sleepers felt that the sinkage was just enough to fill in the spine's curve and provide some pressure relief. The bed's medium-firm rating will support a wide range of users and should have a relatively similar sleeping experience. With that said, very heavy sleepers who prefer sleeping on their back might sink a bit too much.
Likewise, very lightweight sleepers might feel the bed be too firm. Overall, though, the sleeping support for the Smart Bed is above-average, although heavier sleepers might prefer a firmer experience of a bed that features denser foams. If you're a side-sleeper, you might feel the Smart Bed's structure as soft enough to prevent pressure buildup.
Being a mattress between the medium and medium-firm range, it creates a level surface for good spine alignment. When comparing with Eight Sleep's Pod, the latter is definitely the softer option. So if you want a bed that's more conforming, the Smart Bed is the way to go.
Stomach sleepers will get excellent support from the Smart Bed. The bed keeps the hips and shoulders in a level position to reduce pressure buildup. With that said, heavier sleepers who prefer this sleeping position might want something a touch firmer. We believe they would benefit more from a model that features a denser foam.
What Does Eight Sleep's Smart Bed Feel Like?
Beds made from memory foam are often hard to change positions in and feel a bit stuffy. With the Smart Bed, you get a bit of that feeling, but not significant enough to complain about. Changing positions takes little effort, but of course, some beds like the ones made of latex are more responsive.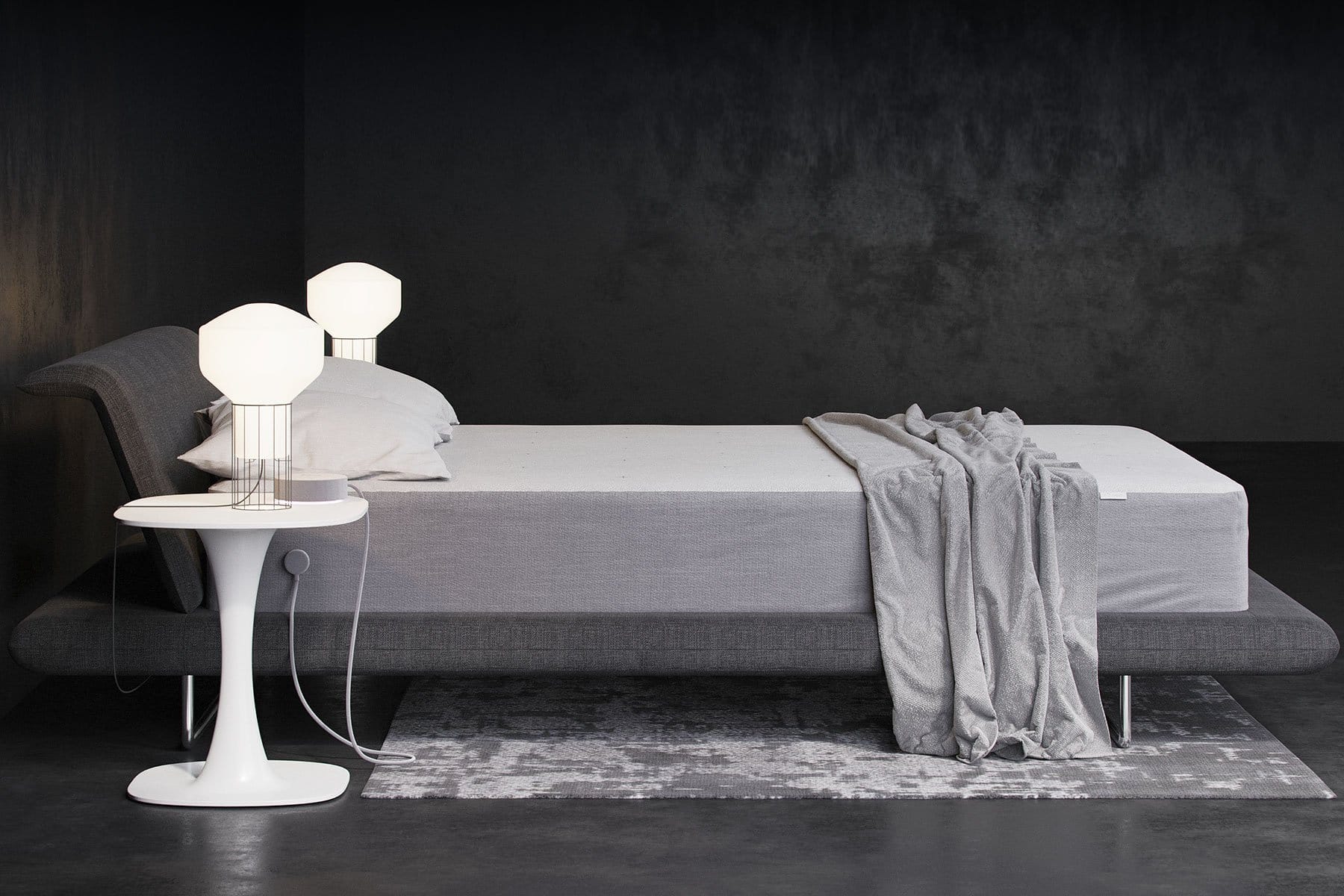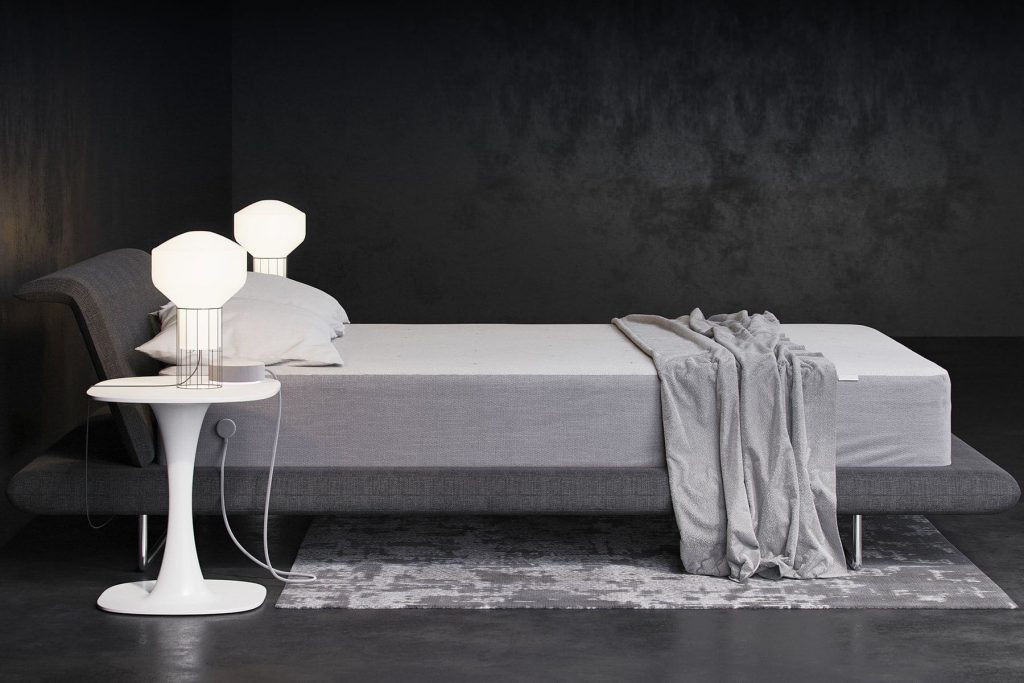 Since Eight Sleep's Smart Bed uses a combination of responsive foams and memory foam, you only get a milder memory foam experience that's similar to the Lull mattress. As you lie on the bed's surface, you get a bit of sinkage and contouring that hugs your body. And the more responsive layer does a good job of keeping you from feeling too stuck.
If you push down on the bed, you don't even notice the memory foam that much. Eight Sleep's approach to balancing the sinkage of memory foam is effective. When you lay on your back or stomach, you don't get a lot of conforming. But when you sleep on your side, that's where the memory foam kicks in and provides the cushioning that you need.
Average Weight Sleepers – 130lbs – 230lbs
Our testers under this weight range loved the balanced performance of the Eight Sleep's Jupiter. The firmness level is just enough to give back and stomach sleepers healthy spine alignment. But the material also slightly conforms to relieve the pressure you get when sleeping on your side.
We generally recommend average weight sleepers to get a bed with medium firmness. The Smart Bed is slightly firmer than that, so it's a good choice if you'd like a bed with a bit more support. It gives you the feeling that you're lying "on" the bed as opposed to "inside" it.
Heavyweight Sleepers – Over 230lbs
Heavyweights might not get the support they need with the Smart Bed. Some of our heavier testers felt that the comfort layers sank too much and made them feel "stuck." However, some also noted that they liked the deep-conforming quality of this model. So it's all down to preference.
We recommend heavyweight sleepers to get a spring or coil mattress for optimum support. With that bed type, you get enough structure to keep you on top of the bed and better air circulation that helps maintain a more comfortable sleeping temperature.
Lightweight Sleepers – Under 130lbs
This bed works fine for very petite sleepers who prefer a firmer sleeping surface. With that said, the lighter the person, the lower the pressure they can exert on the bed's surface. This means that they get less cushioning than a heavier person would. Based on our testing, lightweights who prefer to sleep on their back and stomach will enjoy this model's supportive surface.
The experiences of our lightweight side sleepers, on the other hand, are a mixed bag. Some felt that the bed didn't conform enough, while those on the opposite end of the spectrum (leaning more on an average weight) liked the feel of the mattress.
Construction and Materials
Cover
This bed's cover is where the magic happens. On the surface, it seems just like any other polyester cover, but it's more than that. It uses Silica Murtzo threads that help retard flame. And appearance-wise, it features a simple dotted design. It feels thin to the touch and slightly prone to getting bunched up when a lot of pressure is applied. This lighter surface helps sleepers feel the performance of the foams underneath more effectively.
While this cover doesn't directly affect the bed's feel, it passively improves your sleeping performance through other means. It uses a system that can track your movements, regulate the temperature, and help you wake up at the optimal time that's suited to your personal sleeping cycle. You can even access all of this data collected when you sleep through a smartphone app. This technology is powered with unobtrusive wiring that you can plug by the wall.
Comfort Layers
The whole mattress uses four layers of different materials, and at the very top is 2 inches of reactive polyfoam. This material is designed to improve the bed's bounciness, much like latex, but with a foamier feel. This helps dampen the sinkage of memory foam and provide more responsiveness.
The next layer uses deep-contour memory foam, and this clever placement allows you to enjoy the cushioning and pressure relief you get from a typical memory foam bed while maintaining most of your mobility. These comfort layers focus on contour and cooling.
Support Layer
The next layer involves 2 inches of transition polyfoam. This extra layer that separates the comfort and support layers helps with weight distribution and improves the bed's overall durability. On top of that, this layer also prevents heavier users from sinking too much and feeling the bed's harder and more uncomfortable base layer.
This base layer, unlike most pure-foam beds, is reasonably breathable. It helps the bed maintain its integrity, shape, and longevity. It's also important to note that all of the foam layers used on Eight Sleep's Smart Bed is certified by CertiPUR-US. This ensures that the brand only used safe and high-quality materials for this model.
Mattress Height
The combined thickness of the Smart Bed's four layers creates a height of 10 inches. And this the average height for a pure foam mattress. Generally, thicker beds have a longer lifespan, especially the ones with a thicker support layer.
Eight Sleep's Smart Bed Size Options and Price
Eight Sleep's Smart Bed combines a quality pure-foam bed with the convenience of a smart cover that improves your sleeping experience. Price-wise, it's still on the mid-range category, bordering on luxury. This model is similarly priced with Leesa or Brooklyn Bedding's Signature. Here's the complete breakdown of the prices and their respective sizes:

| Size | Dimensions | Price |
| --- | --- | --- |
| Full | 53" x 75" x 12.5" | $995 |
| Queen | 60" x 80" x 12.5" | $1,182 |
| King | 76" x 80" x 12.5" | $1,295 |
| California King | 72" x 84" x 12.5" | $1,295 |
Other Beds From Eight Sleep

Eight Sleep's Smart Bed
Eight Sleep's Smart Bed is recommended to all sleepers because it has great durability, comfort, transfer motion and edge support features.
Mattress Performance
Sleeping Hot or Cold
Foam beds, especially ones with slow-response memory foam, have a tendency to absorb a lot of heat. We'd say the Smart Bed is more temperature neutral due to the addition of a polyfoam layer, but it doesn't have a lot of cooling capabilities as a mattress. Some models use phase-changing material, and gel/graphite infused foams to lower the bed's temperature, that sadly, the model lacks.
If you have a tendency to sleep hot, you might want to look into cooling mattresses. However, Jupiter doesn't feel particularly hot because of its medium firmness. So most sleepers won't sink too much and retain heat.
Motion Transfer
We tested motion transfer by asking two of our testers to sleep in the unit and observe for any movement. And overall, the model performed well in absorbing movement and keeping the whole surface undisturbed. This is an excellent feature to have if you've got a sleep partner with a tendency to change positions frequently.
Edge Support
If you're the type who likes to sleep by the very edge of the bed or sit around the perimeter, you need a model with excellent edge support. Sadly, pure-foam mattresses get a bad rap for having poor edge support, and Eight Sleep's Smart Bed is no exception.
When we sat by the edge of this unit, we experienced significant sinkage. However, it didn't feel unstable or uncomfortable. When laying near the edge, you get a slight feeling of leaning off to the side, but not so much that you'll feel like falling off. Some of our heavier testers experienced this feeling, though.
We recommend that you check out a hybrid instead. Its coiled construction can provide superior edge support that gives a wider viable sleeping surface.
Durability
Eight Sleep's Smart Bed line is a relatively new offering, so we don't have enough time to test its longevity properly. However, we can still make an approximation by factoring in its materials, construction, and the brand's overall reputation.
With a pure-foam bed like the Smart Bed, foam density plays a big factor, with a denser foam generally being more durable. These foams stand better at maintaining their resiliency and shape for longer periods of time.
The Smart Bed mattress uses foams with above-average densities, which is pleasantly surprising considering its price. This bed should last about seven years with proper care and maintenance.
If you want to improve your bed's longevity, we recommend rotating it every few months or so in order to help prevent body impressions from developing.
Off-Gassing
We noticed some very mild odors after we unboxed Eight Sleep's Smart Bed. While not exactly pleasant, this smell comes from the foam manufacturing process that escape the bed after it's unpacked. These compounds are completely harmless and shouldn't last more than a few days.
Based on our experience, the smells completely dissipated in half a day. This is pretty quick considering that this model uses a pure-foam construction. This is a testament to the high-quality of its materials. These have even passed the standards of CertiPUR-US.
Noise
We were thoroughly impressed with this bed's lack of noise. Its performance in this category isn't groundbreaking, though. Almost every pure-foam mattress is virtually silent and highly unlikely to create noise even after using them for a long time. This is due to the fact that their construction doesn't include internal components that cause noise (i.e., springs and motors).
Warranty Info
With every Smart Bed mattress, you get a generous 10-year manufacturer's warranty.
Here are the full details:
This is a limited warranty that only covers these instances under regular usage:
The foam deteriorates and causes visible indentations that are at least an inch deep. And it shouldn't be caused by sagging or indentation from the use of an unsupportive or improper base or foundation. Regular wear means that the product uses a solid foundation, frame, or base that continuously supports the bed and its occupant/s.
The foam is permanently damaged because of a physical flaw in the bed's craftsmanship despite regular use and proper setup.
The cover (which includes the zipper assembly and seams) is damaged because of a physical flaw in the bed's craftsmanship despite normal use and proper setup. If the brand replaces the bed's cover, they might replace it with one that differs in material, color, or design.
These instances aren't covered by the limited warranty:
The memory foam increases in softness. This is a regular occurrence that doesn't affect the bed's pressure-relieving performance.
Change the owner's preference
Damage and physical abuse to the bed's structure which includes its cover such as burns, tears, cuts, liquid damage, soiling, and stains.
Damage that stems from the use of an improper foundation, bed frame, adjustable base, or platform bed.
If the bed is bought from unauthorized retailers
If the bed is bought in a reconditioned, preconditioned, as-is, returned, comfort return, or previously owned state. And any other wording that indicates that it isn't brand new.
This warranty is only usable by the original owner who made the purchase.
Comparisons and Alternatives
Eight Sleep's Smart Bed VS Eight Sleep's Pod
The Smart Bed comes at a significantly more affordable price-point than the Pod, at the expense of fewer features. So if you're looking for a smart bed that's a bit more budget-friendly, Eight Sleep's Smart Bed is the better choice. However, you might want to consider spending those few extra bucks for the features that the Pod provides.
Each Smart Bed can accommodate the sleep data of two users with the brand's app through the sensors located in the cover. However, the Smart Bed lacks its pricier cousin's water-based temp regulation feature. The Smart Bed also doesn't come with the Pod's white noise feature and alarms (thermal and audible). You can integrate both of these bed models into your home's smart system, though.
These two units also have differences in construction. For one, the Smart Bed is one inch shorter and only has four layers, with the Pod having five. This lower material count reflects the Smart Bed's cheaper price-point.
The comfort layers of the Smart Bed uses traditional polyfoam and memory foam, giving it deeper contouring and less bounciness and resilience compared to the Pod, which has a more responsive alternative latex layer.
Lastly, the Smart Bed is a touch firmer compared to the Pod (medium-firm). So it's a better choice for heavyweight users as well as back and stomach sleepers. And the Pod offers a more comfortable sleeping experience for lightweights and those who mainly sleep on their side.

Eight Sleep's Smart Bed
Eight Sleep's Smart Bed is recommended to all sleepers because it has great durability, comfort, transfer motion and edge support features.
FAQs
Are there any physical establishments where I can buy this model?
This brand operates one showroom located in New York, and that's about it so far. At the moment, Eight Sleep mostly sells their models online. We're starting to see some similar brands like Casper, Purple, and Tuft & Needle start selling their units in-store, but a majority of these companies are still mostly selling online.
Can I pair my bed with Alexa?
Of course. This model is compatible with Alexa, and you can trigger several smart commands. While not exactly a groundbreaking feature, it's still a good plus.
Did this mattress have a change in design?
Kind of. Eight Sleep slightly changed their model lineup last year. Back then, they offered a lot of bed models, one of which featured two firmness levels. Today, though, they cut back down to two: their Pod and Smart Bed. We think it's a solid move on their part because their brand is built entirely on their "smart bed" concept.
Is this mattress a good choice for environmentally-conscious buyers?
If you're looking for a mattress that uses sustainable manufacturing practices and natural materials, this bed is an ok choice. While there are a couple of bed models out there that are entirely eco-friendly, more often than not, they're costly.
The brand doesn't really use natural materials intrinsically. But all of the foams they use have been certified by CertiPUR-US. This verifies that their foams don't emit as many volatile compounds and don't have chemicals or substances that are considered harmful by the CPSC.
Recap
The Smart Bed is a decent mattress overall, with a specialized cover that helps improve your quality of sleep. It's a 10-inch pure foam bed with a medium-firm construction. We believe this unit is an excellent choice if you want to track your sleep or want a unit that you can pair with your home's smart devices.
Eight Sleep Information (Product Company Information)
Contact Eight Sleep through these channels:
Or you can find them on their social media: